This TikTok Edger Hack Totally Changes The Yardwork Game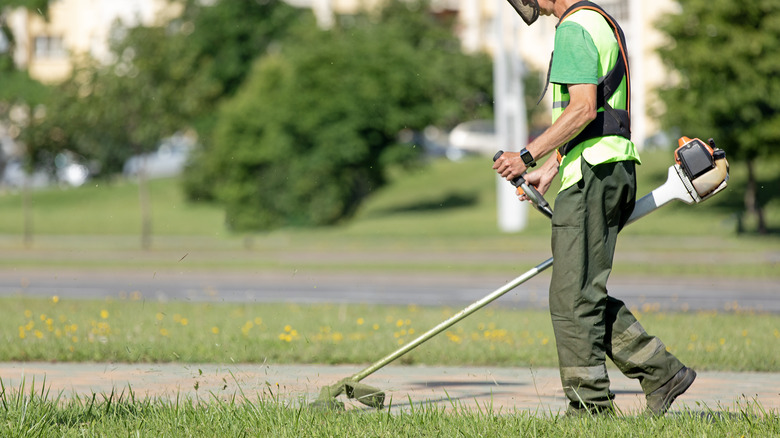 Vadim Ratnikov/Shutterstock
Saturdays are for yard chores and the smell of freshly cut grass. Beautifying the lawn might be one of your top priorities; however, that doesn't make it a simple task. Mowing your grass might not be a big deal, but when it comes to neatly edging your lawn's boundaries, especially if there are curves, it can get a little tricky.
After trimming the grass, the edging is what makes the difference between a gorgeous lawn and one that looks like a half-baked idea. It's not easy getting the lawn sides edged to perfection, but this hack makes it quick and easy by using a lawn string trimmer, also known as a weed whacker. 
A lawn string trimmer is usually used to cut longer grass in outlying areas of your yard, such as near objects like a birdbath. Instead of a metal blade, a string trimmer uses a fast-spinning nylon filament to chop the grass. 
Unlike a lawn edger which edges up your grass to create gorgeous landscapes for your yard, the trimmer isn't exactly built for that type of precision. However, that doesn't mean you have to go out and purchase an edger just to give your lawn some proper shaping. There's a helpful TikTok edger hack that you can try with your trimmer that will change your entire yard work game enough to raise your neighbors' brows.
Turn your lawn trimmer upside down for more precise edging
A lawn isn't complete without a good line-up along the edge, which is difficult to do with a regular lawnmower. In order to properly shape your lawn's edges, there is an easy hack you can try. TikTok creator @justgarden explains that by flipping your trimmer upside down, you can position the blade directly over the edge of the lawn and give it a clean trim. The machine may be a bit heavy to hold, so be careful while handling it to avoid injuries. 
After cutting up your lawn edges to your desired shape, clear away the rubbish with a shovel. TikTok lawn enthusiast @growthenmow also posted a video showing how to finesse an edge-up on your lawn and also demonstrated how to get rid of the excess grass and dirt that fall off during the shaping. You can even opt for a leaf blower to scatter the debris after shoveling it.
Although the lawn trimmer is made up of just a nylon string, it can still do serious damage to your body if you mishandle it, so gearing up for safety is important. You should have protective work boots, standard goggles, a safety hat, and anti-cut gloves as well. Additionally, you can invest in protective face gear, and don't forget to don your long-sleeved and long-legged clothes. The sun may be scorching, but your safety is the priority.