HGTV's Keith Bynum & Evan Thomas Reveal A Genius Tip For Small Shower Spaces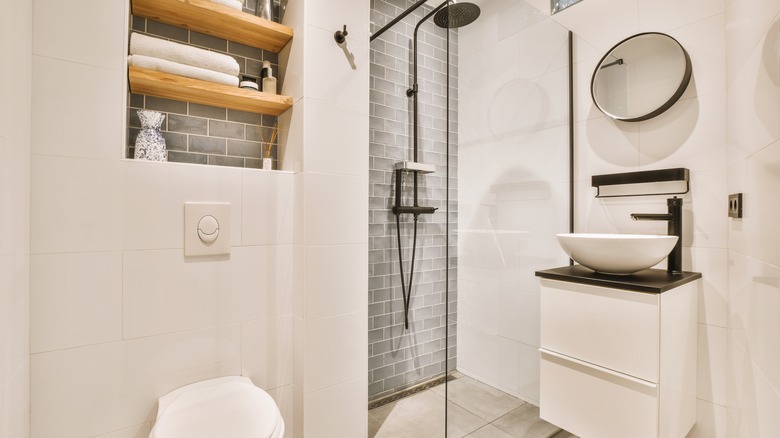 Procreators/Shutterstock
When designing a small shower, it goes a long way to prioritize features that maximize functionality, comfort, and aesthetics. A sliding glass door, for example, is a space-saving solution that looks elegant and makes the shower feel more open while a proper-sized window facilitates ventilation and lets in natural light. Another good feature for small shower spaces is stylish waterproof wallpaper, as seen through one of Keith Bynum and Evan Thomas' Bargain Block projects on HGTV.
For the tight bathroom space, the expert duo applied a bold, plaid, waterproof wallpaper to both the walls and the inside of the shower to make it feel more spacious than it is. Combined with a waterproof shower curtain, mold is less likely to develop even with the high humidity levels that are typical of a small, wet space, giving the homeowners peace of mind about maintaining the appearance and integrity of their new bathroom walls.
Waterproof wallpaper
Waterproof wallpaper is a type of wall covering designed to withstand the effects of moisture without becoming damaged or discolored. This type of wallpaper is often used in wet rooms in the home like bathrooms, kitchens, and laundry rooms so you don't have to worry about dampness or splashing on the walls. It is generally easy to clean, usually only requiring a simple wipe-down, and can be trusted to last for a while.
Vinyl and fiberglass are two common materials for waterproof wallpaper. Vinyl wallpaper has been around since the 1970s and offers a wide variety of patterns, textures, and finishes for whatever your décor style is. Like the black and white plaid used by Keith Bynum and Evan Thomas, you can easily find a design that tells a story or shows your personality. It comes in different types of coatings, which determine the level of washing or scrubbing it can endure when it comes to removing tough stains. Fiberglass is good if you have allergies or asthma. Overall, waterproof wallpaper is a way to achieve style and practicality in the bathroom.