Use This Simple Trick To Fix Snagged Carpet In A Pinch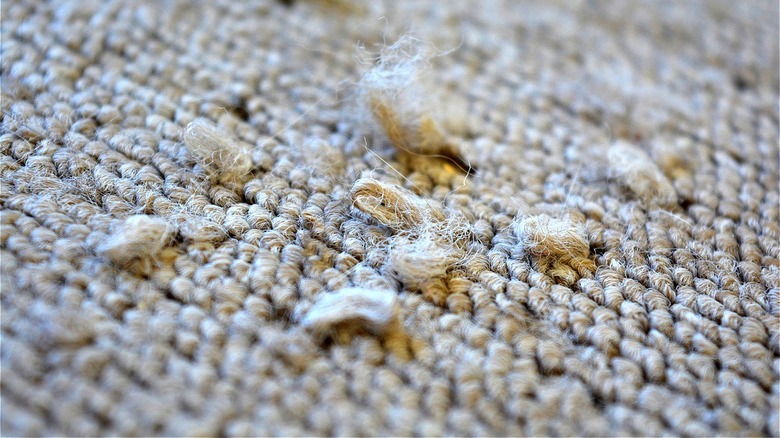 Maliflower73/Shutterstock
Although carpeted floors offer warmth in the winter (not to mention come in a variety of colors and patterns, perfect for any home décor), they're not without their issues. Namely, carpet snags. Luckily, you can easily repair even the trickiest carpet snags with nothing more than some glue, scissors, and a tiny piece of rug.
This genius trick makes a carpet look like new again in a matter of minutes. You can apply this flooring hack to a variety of carpet styles, although it works best on Berber and low-pile rugs. However, if your rug is in a low-traffic part of the house, this hack will work on any type of pile.
This fix is simple and inexpensive (you likely have the needed tools already in the house) and keeps your living room rug out of the landfill. And if you have kids or pets, you know the importance of DIY hacks that also repurpose items in the home.
Glue a snagged carpet back together
To begin this hack, you'll want to snip off the snagged part of the carpet or rug and then use a marker to fill in the empty spot. With a gloved finger, blend in the marker. Next, apply your glue. You can use super glue, but you'll need to work quickly. Instead, opt for regular Elmer's school glue, which will give you more time.
Once your adhesive is down, smooth it out again with your gloved finger. You'll now fill in the area with cut-up carpet. If you have the snagged threads, you can simply use them. However, if it's been some time since the snag occurred, you'll need to cut some threads from an inconspicuous section of the carpet or rug. For most snags, though, it shouldn't require very many carpet fibers to cover it up, and chances are you have still the snagged thread somewhere (like, for instance, if the thread was sucked into your vacuum).
To complete this hack, start snipping the fibers of your rug/carpet into tiny little pieces, as if you were giving it a haircut. Arrange these fibers onto the glue and push them firmly into place. If you used super glue, push the carpet fibers down with a separate object: Don't use your fingers. Once the glue dries with the carpet fibers in place, the previous snag in your carpet or rug should no longer be detectable.