The One Detail Martha Stewart Pays Extra Attention To In Her Garden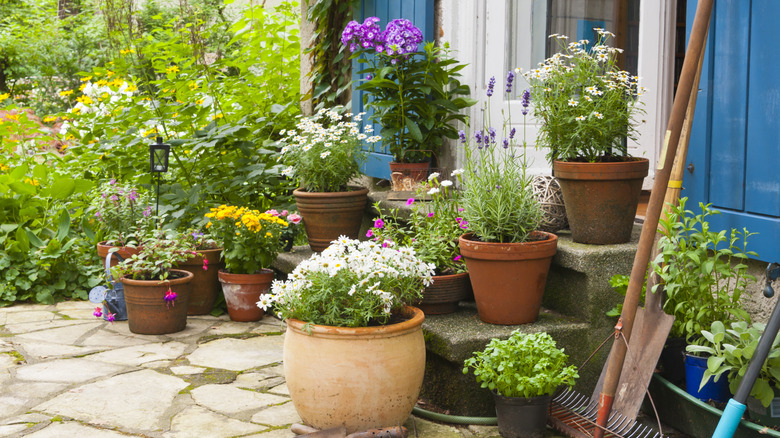 Copit/Getty Images
Whether it's tips on how to clean your home or organize your closet, Martha Stewart has heaps of advice for every household-related situation. However, Stewart also has plenty of garden tips up her sleeve, and one of her best bits of advice is to color-coordinate your outdoor plant pots. In an Instagram post showing some of her outdoor garden pots, the domestic goddess expanded on why she likes to stick to a color scheme.
"I love having all my outdoor pots, or at least most of them, match in color. One way to accomplish this is [to paint] the pots the same shade even if they are made from different materials such as [terracotta], fiberglass, resin, iron, or concrete. Experiment with different types of outdoor paints to find the correct types to use," Stewart wrote. Instead of uprooting your entire garden or buying heaps of starter seeds for new plants, Stewart's simple tip will transform the look of your garden without the hassle of the former options.
Matching your pots is a simple way to upgrade your garden
As stated by Martha Stewart, painting a new garden pot is an easy way to have it match the ones you already own. By painting the pot, you ensure you'll still have a cohesive garden aesthetic, even if the pots are made from different materials. If you do plan to paint your pots, it's best to look for some in lighter colors, as the original paint color will be easier to paint over. A light terracotta or beige will be much easier to cover than a black planter pot. Painting is additionally a good way to transform a pot into a luxury planter if you have a set amount to spend, as you don't have to be as strict with colors and are more likely to find a pot within your budget.
However, you don't have to commit fully to a matching color look. Looking for pots and planters with a similar pattern will create a look that's put-together without being so strongly coordinated. Matching textures rather than colors is also ideal if you don't like the idea of a matchy-matchy garden space and want something a bit more dynamic. You could look for plant pots with three lines or ones that have a similar finish, like matte or glossy.