HGTV's Christina Hall's Bold Paint Choice Adds Drama And Contrast To Her Kitchen Reno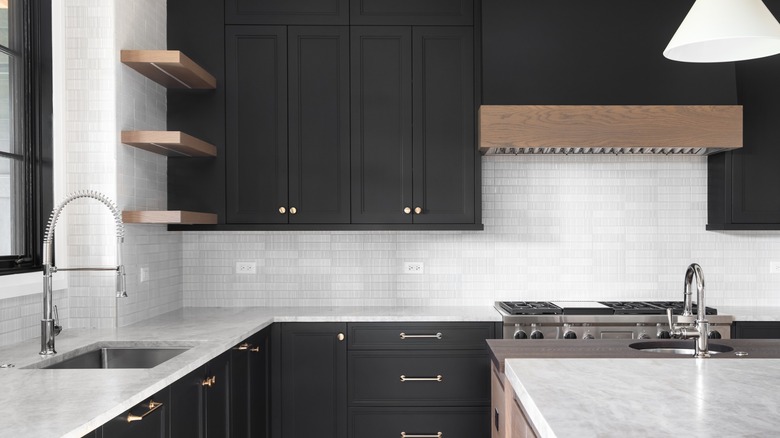 Joe Hendrickson/Getty
A great kitchen renovation can completely re-create the feeling of a home, transforming a high-traffic space into a beautiful centerpiece. But pulling off a good kitchen remodel is more challenging than a regular room — from floors and countertops to appliances and backsplashes, there are plenty of decisions to be made about materials and colors. Christina Hall, host of the HGTV renovation show "Christina on the Coast," proposed a surprising idea when revamping a kitchen: paint the cabinets matte black. While it's tempting to play it safe and stick to shades of gray and white, there's a more interesting (and far more rewarding) path to take with creative color choices. 
For a kitchen color palette that's eye-catching while still maintaining a timeless aesthetic, check out this awesome design concept Hall created for her client.  A bold and moody choice, dark cabinetry can add a pop of contrast and open up space in a modern kitchen.
Matte black kitchen cabinets
Black cabinets might sound like a strange choice for a kitchen, but, as Christina Hall demonstrates, the right shade of black can take your kitchen design to a whole other level (although it's worth noting that dark cabinet colors can hurt your resale value, so this design idea is best for folks planning on staying in their home for the long haul). The key to making dark cabinets feel current and fresh is the matte finish. Unlike a shiny finish, which reflects a lot of light and has the potential to overwhelm the kitchen, a matte finish absorbs light and adds new depth to the space. 
If you want to try matte black cabinets in your own kitchen, be mindful of the overall color scheme: every detail in the room will interact with the black and create a certain aesthetic. In the kitchen Hall works on, the black cabinets contrast nicely with the white marble countertops. Hall also incorporates a warm, luxurious feeling into the kitchen by using bronze metallic hardware on the cabinets and appliances, drawing on the glamour of the marble counter. So, with a little planning, matte black can be the perfect hue for taking the leap into creative kitchen colors.