Why You Should Put A Bar Of Soap In Your Closet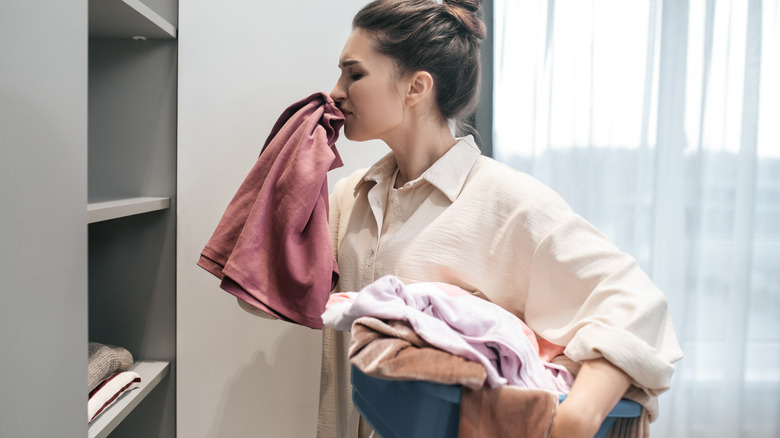 Zinkevych/Getty Images
It doesn't matter what you keep in your closet — a stinky smell is often unavoidable, especially if your laundry hamper is inside a small space. Luckily, you can use soap to deodorize any closet, instantly giving it a clean and fresh scent. This doesn't mean you need to grab your gloves and start scrubbing. You only need to place a bar of soap in your closet to benefit from its deodorizing properties. When you let musty smells sit for too long, they can invade your clean clothes and, eventually, your room. You'll have an unpleasant odor wafting from your closet, but with a bar of your favorite scented soap, you can toss expensive sachets in the trash and say goodbye to stinky smells once and for all. 
If you have a smelly closet, don't stress; several people can have closets in need of some freshening up. After all, these spaces are often compact areas just waiting for odors to accumulate, thanks to bacteria. And if you stash your gym sneakers in your closet, you're guaranteed to add a layer of stink to this space. But thanks to this handy hack, you can quickly and efficiently remedy the problem with nothing more than a bar of soap. 
Place a bar of soap in your closet
This soap hack is as simple as can be and keeps your closet smelling fresh. To start, simply grab a bar or two (we won't tell) of soap and place them in your stinky closet. You'll instantly deodorize the entire area. As for drawers, if one has a particularly unpleasant odor, place your bar of soap inside it. Even better, you'll have clean-smelling laundry without resorting to any chemical additives. 
When you directly spray your clothes with odor-fighting products, you're exposing your body to a host of chemicals. Many of these chemicals are artificial fragrances that can irritate the skin, eyes, and respiratory tract (via MedCrave). But a bar of soap is a great alternative you don't have to directly put on your clothing. But, if you're concerned about a bare soap touching your clothes or find the scent to be too strong, you can keep it in its packaging. That's what TikTok user @lorafied. A bar of soap can repel so much more than odors — it can also keep pesky insects out of your closet.  Although @lorafied uses Dove soap, you could use something lavender-scented as it keeps a variety of insects away, including closet moths. Not only will your clothes smell great, but you'll keep pesky insects far from your clothes thanks to this soap hack for a stinky closet.