The Added Feature That'll Make Guests Feel Right At Home When Staying Over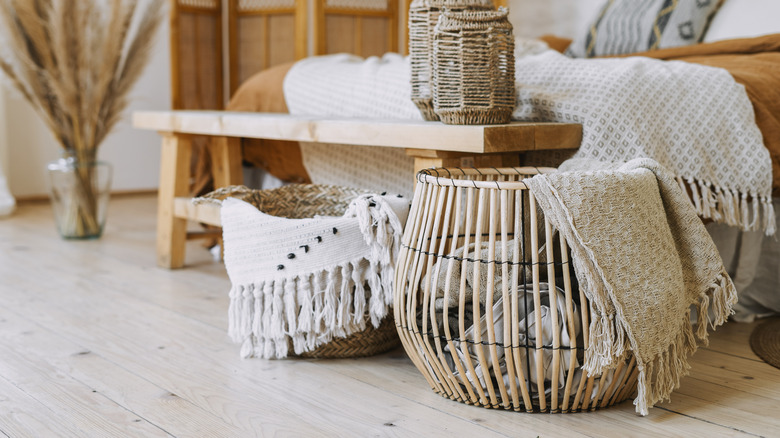 brizmaker/Shutterstock
Are you ready to transform your guest room into a stylish and inviting retreat? Decorating a spare bedroom is your chance to let your personal style shine and create a space that will make your visitors feel right at home. Whether you're revamping an existing room or starting from scratch, there is one savvy addition that will take it to the next level: a laundry hamper.
Think about it — everyone has a trusty clothing bin in their own home, right? So why not give your guests the same convenience and style? It is a win-win situation, where you can effortlessly add a touch of flair at an affordable price while ensuring your guests feel pampered. And guess what? By adding a laundry hamper to the room, you just might motivate your visitors to strip the linens themselves for easy cleaning. So, hamper your worries and elevate your guest room with the simple addition of a laundry bin.
Stylish and practical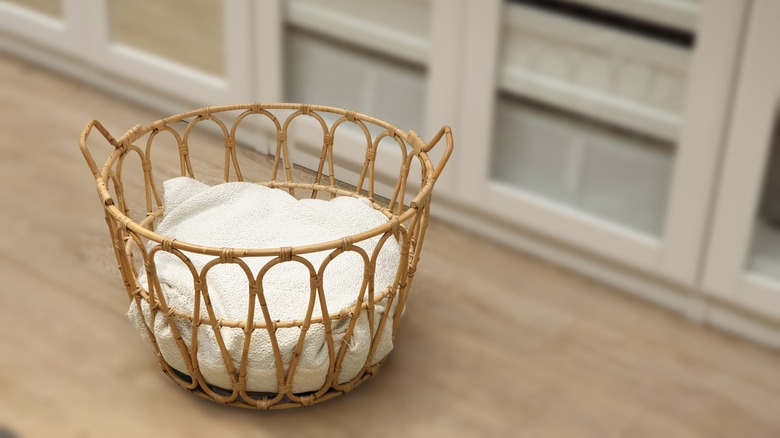 SkyroseStudio/Shutterstock
Gone are the days of needing to stash laundry hampers out of sight. Nowadays, laundry bins come in an array of patterns and designs, from wicker baskets to woven cloth options. As a result, these hampers look great on display and can easily fill up empty spaces or corners in any room. What's more, they are also budget-friendly, making them perfect choices for sprucing up spare rooms and even for staging a home.
Adding a laundry hamper in the guest room offers more than just an aesthetic touch. It provides guests with an added layer of practicality and convenience. Even if they opt not to use the hamper themselves, it proves to be useful for you when it comes time to wash the linens after their stay. Simply toss all the dirty towels or bedding into the conveniently placed bin, and you just made the task of cleaning a guest room an easy slam dunk too.