How To Steal The Look Of Cameron Diaz's Stunning Minimal Kitchen In Your Own Home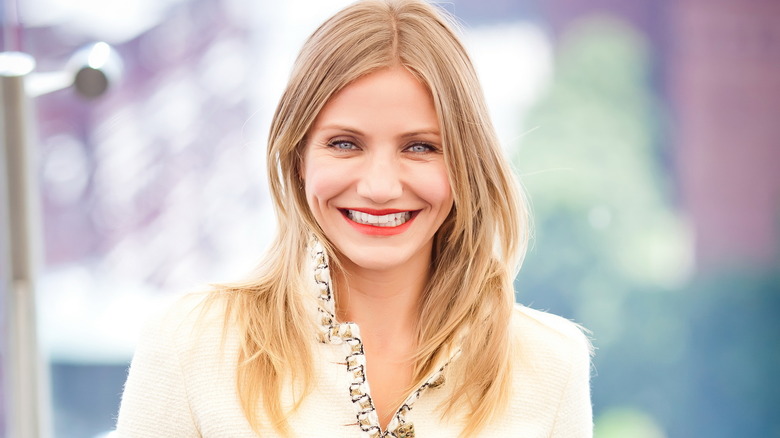 Andrey Bayda/Shutterstock
We may receive a commission on purchases made from links.
Cameron Diaz is well known for her red carpet style and a film career that spans over three decades, but it's her kitchen and its gorgeous design that has caught the attention of design experts over at Livingetc., who expect that Diaz's cozy and stylish kitchen sets a bar for many developing trends for 2024. The success lies in the luxe materials and minimalism of the kitchen, as well as its nods to Cameron's personality with displayed pottery and small trinkets.
Diaz recently revealed the kitchen in her home on Instagram, complete with warm wood cabinetry, marble, brass accents, and a whole lot of personality. The effect is both minimalistic and clean, yet homey and relaxed — a combination that promises to be a hit in the coming year — as homeowners move away from stark white and cooler gray-toned woods and other materials that have dominated the past few years.
What makes Cameron Diaz's kitchen beautiful
The showstopper of Cameron Diaz's kitchen is definitely the deep-veined statement marble that decks out both her countertop and backsplashes. The sculptural effect of the lines in the marble becomes almost a work of art in itself, reigning as a dominant focal point in the room and adding additional visual interest to an otherwise neutral space.
The warm wood cabinetry presents a cozier alternative to white or cooler-toned woods that have been popular in the past decade. Warmer tones offer a more vintage-inspired look that is modernized both by the simple and clean lines of the cabinets and open shelving, as well as the shiny brass hardware that adds a contemporary edge.
In addition to these cosmetic details, Cameron Diaz's stylish kitchen is also magnified by more functional elements like the very useful pot-filler tap in a shiny brass that matches both the cabinet hardware and the stove hood. Katie Orr and Rachel Humphreys of Humphrey Orr Interiors tell Livingetc. that "typically you see hoods that are all wood or all metal. The brass banding on the edge is unique and ties in the brass hardware and fixtures throughout the kitchen."
Get the look of Diaz's kitchen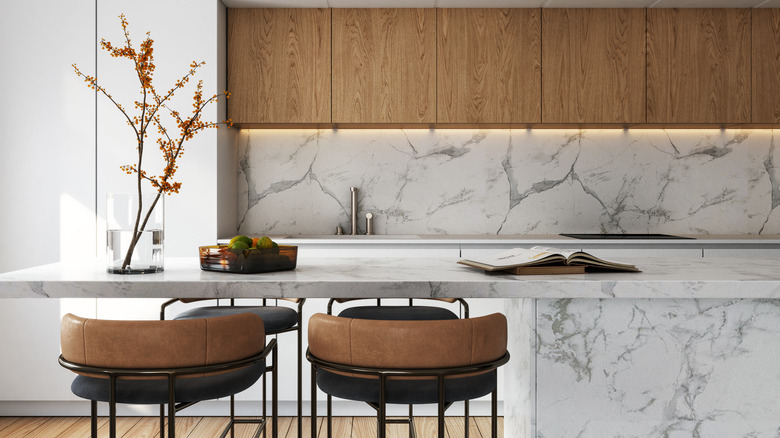 Creativastudio/Getty Images
Getting Cameron Diaz's coveted kitchen style may be easier than you think. The rich materials and sense of luxury come greatly from the colors, tones, and personality of the room, all of which are available at various price points, with many inexpensive options available to create a similar look.
For cabinets, choose a warmer wood finish with warm metal hardware in brass or gold, which can be repeated as an accent throughout the kitchen in places like the faucets, stove hood, and lighting choices. IKEA's ENKÖPING cabinets have a similar feel in a rich brown walnut finish, while this Delta Champagne Bronze Pot Filler is similar to Diaz's kitchen essential. For a more budget-friendly option, try Amazon's AYIVG Kitchen version. While filling your kitchen with deeply veined statement marble throughout may seem like a somewhat drastic change, you can also incorporate small touches of the material like a limited surface such as a backsplash, island, or tabletop to add visual interest.