The Modern Fireplace Finish HGTV's Jonathan Scott Uses For A Unique Living Room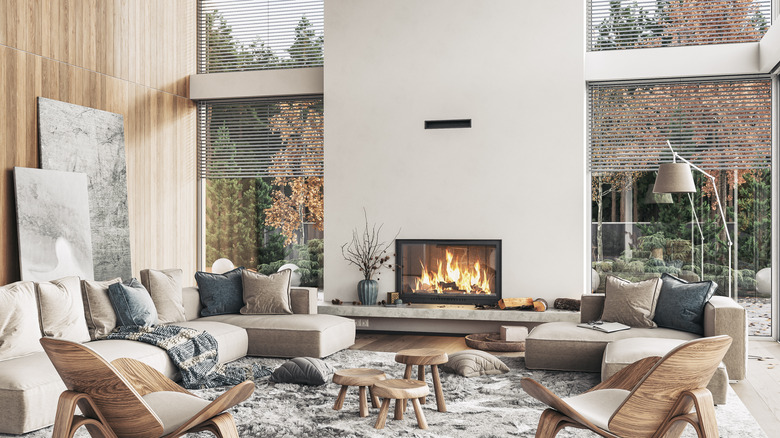 Gladiathor/Getty Images
When redesigning a dated home, the Property Brothers have a lot of work to do to deliver on their client's desire for a fresh, modern look. Fireplaces, while wonderful, can be difficult to design a room around, especially if the style doesn't match your updated decor. In one episode of Property Brothers, Jonathan Scott he uses Venetian plaster for the new fireplace, which is a huge upgrade from the old-fashioned brick one the clients currently had, per Realtor.
Venetian plaster, also known as stucco, is a decorative finish for walls and ceilings that originated in Venice, Italy. It is a technique that involves applying multiple layers of a special plaster mixture to create a smooth, polished, and textured surface that resembles polished marble or stone. This modern finish is often used in interior spaces and can be applied over different types of surfaces. Venetian plaster makes the surface breathable and is made of natural materials that are non-toxic and anti-bacterial.
More on using Venetian plaster as a fireplace finish
Using Venetian plaster for your home's fireplace can be a fantastic way to add a touch of elegance, warmth, and texture to the space. The plaster's reflective properties can play with light and shadow, giving the surface an organic and dynamic quality. In this case, Jonathan Scott chooses the plaster in a smooth white, matching the rest of the room and tying together that clean look that the client wanted.
"I want this to be the standout focal point of the living room, and texture is going to add subtle visual interest without being totally in your face," explains Jonathan, per Realtor. Because of how much texture it offers, Venetian plaster can be used as is in terms of color but can also be tinted to be a bit darker if you want even more visual interest through depth and dimension. Regardless of your home's decor and the aesthetic you want to achieve in your living room, you'll be able to find the right color and shade.
The process of applying Venetian plaster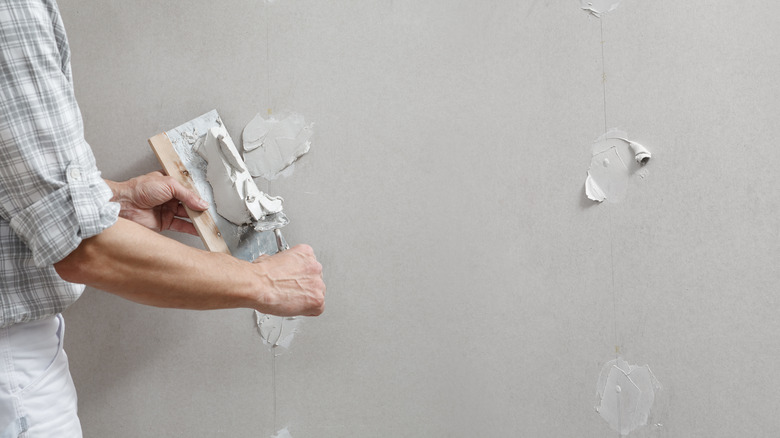 amedeoemaja/Shutterstock
Venetian plaster can be expensive—it cost $2,500 for the Property Brothers' client—mainly because of the labor required for its application. To get the best results during the application, it is recommended to hire a professional. However, DIY is still possible if you are experienced and prepared to do a lot of research and testing.
Before applying this finish, you'll need to thoroughly clean the fireplace and repair any cracks or imperfections so it's smooth and even. The method requires a lot of skill and experience because it is a multi-step process involving layering thin coats of plaster onto the surface and then burnishing (polishing) them to achieve the desired smooth and shiny finish. Once the plaster has been applied and burnished, the surface then needs to be sealed. Venetian plaster is relatively durable, but it's essential to care for it properly. Clean the surface with a soft, damp cloth to remove dust and debris, avoid abrasive cleaners that could damage the finish, and maintain it regularly to preserve its beauty.