Bobby Berk's Stunning Window Design Is A Show-Stopper You'll Want In Your Own Home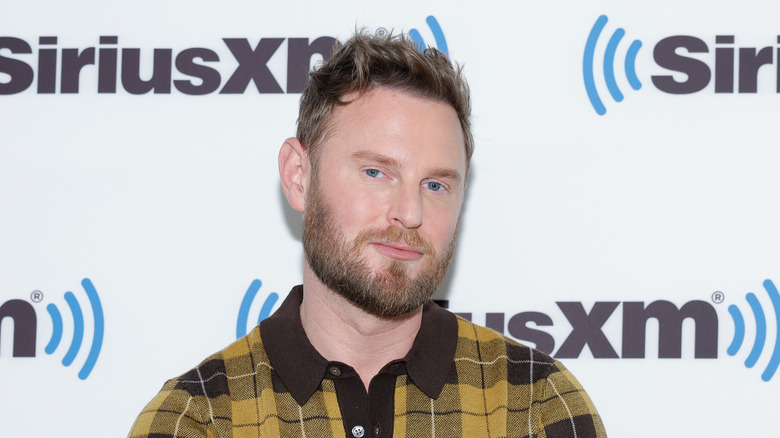 Mike Coppola/Getty Images
"Queer Eye" design expert Bobby Berk recently unveiled his clever new kitchen window on Instagram. It prompted a flurry of praise for the stylish interior and exterior pass-through of everyone's dreams. The home, which Berk shares with his husband, features a design that does double duty as both a conventional window and a bar top for outdoor entertaining. 
Similar pass-through windows were once common in mid-century home designs, allowing both a more open feel and the ability to pass things easily from the kitchen into other spaces like dining rooms and family rooms. Kitchen design in recent decades has trended generally toward more open-concept spaces, eliminating the need for pass-throughs. However, the outdoor version has been steadily gaining popularity, often adapted from traditional windows during remodels. It's a perfect way to more fully integrate outdoor living spaces and make them more of a continuation of the rest of the home.
Style and convenience
Bobby Berk's design features a sleek black tri-part folding window, which allows plenty of light in while also contracting to save valuable space. The open window connects the interior to a marble outdoor bar counter surface supported by L-brackets. The overhang allows a couple of stools on the exterior side, making it a perfect spot to allow guests to sit and converse with people in the kitchen, easily integrating both spaces.
It's also very practical, allowing chefs and grillmasters alike to pass things easily from the inside to the outside. This saves the time of going all the way in and out through the door. It also makes cleaning up from outdoor events much easier since dishes and leftovers can be placed on the counter and easily reached from over the sink. 
Designer Artem Kropovinsky, founder of Arsight, tells Home & Gardens "With the growing emphasis on adaptable living spaces and merging indoor-outdoor experiences, designs like Bobby's showcase not just aesthetics but also clever utility. Such innovative window designs are bound to gain traction as homeowners seek dynamic solutions that cater to diverse situations and moods."