30 Ideas To Build The Best Outdoor Bar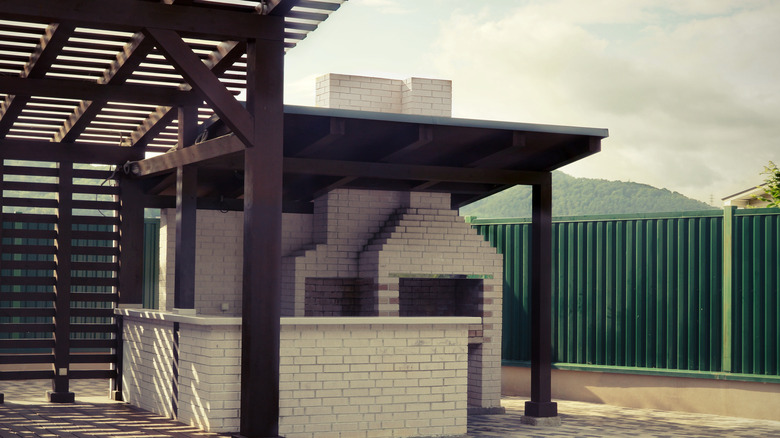 AVN Photo Lab/Shutterstock
Backyards can be one of our favorite places to spend time while at home. We look to our backyards to create an ideal oasis as we move into spring. After we've planted our favorite flowers and vegetable gardens and spruced up our patios, we take a look around and think, what more could we add to create the most incredible space imaginable? And, do we have the perfect answer for you ... how about adding an amazing outdoor bar to your lush, plant-filled backyard, which is a brilliant idea if you ask us!
Who needs to leave the house if the best bar in the neighborhood is in your backyard. It's time to move the bar from the basement and create a stylish, outdoor bar that is not only a great place to socialize with your friends but also great to use while you are hanging out solo for a little "me time." As Country Living pointed out, you don't need to spend a ton of money to have the perfect watering hole, although you could go all out on lavish bar buildouts. The Spruce noted that while you can add elaborate kitchens to your bar, you can use repurposed materials to make your outdoor bar shine. Whichever direction you decide to go in, one thing is for sure; there's plenty of inspiration for the perfect outdoor bar. Keep scrolling to get several ideas.
A dreamy oasis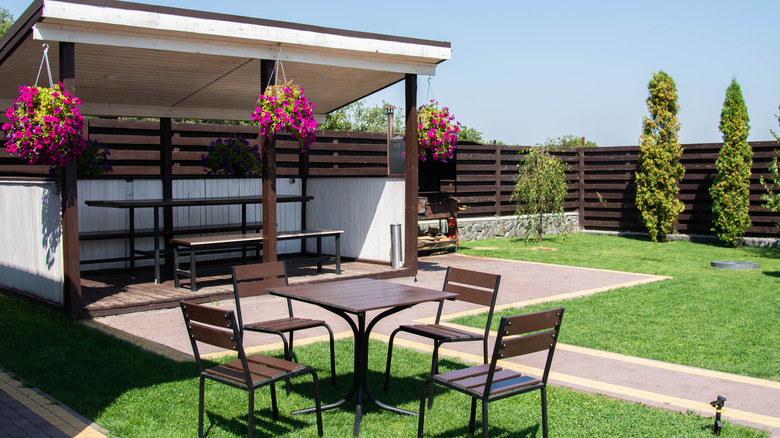 Drummer_vn/Shutterstock
This gorgeous and private backyard couldn't get dreamier. With plenty of seating, our eyes are drawn to the wood pergola with a bar counter just waiting to be stocked.
Made in the shade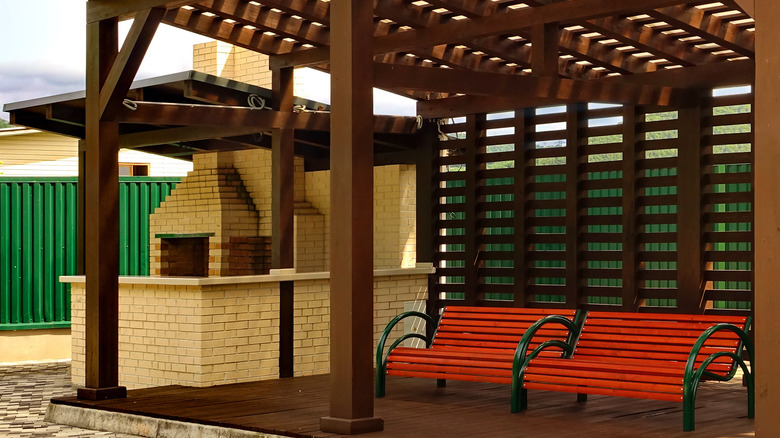 AVN Photo Lab/Shutterstock
Create an ideal outdoor pavilion summer situation by building a luxe pergola with an elaborate brick bar and an oven perfect for entertaining.
A secret bar garden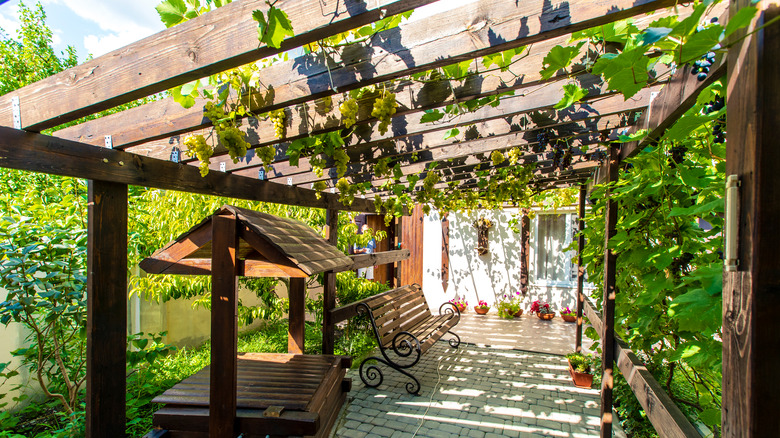 AleksNT/Shutterstock
What could be more fitting than sitting under a wooden canopy of lush goodness (and visible grapes)? We can't think of anything but stocking that rustic wooden bar and enjoying the quiet.
Modern outdoor kitchen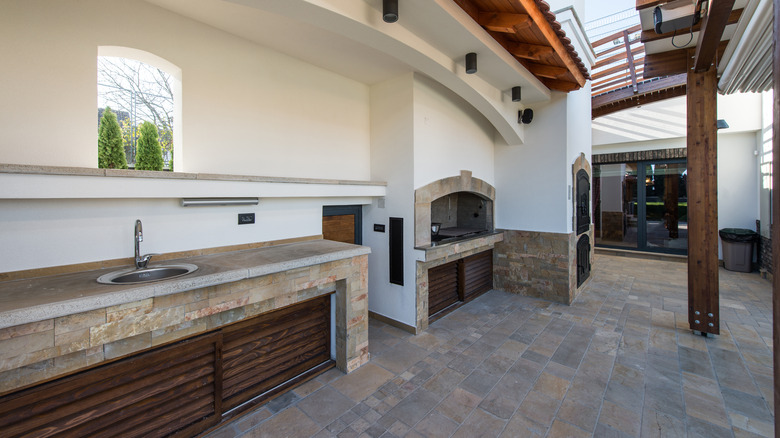 Marko Poplasen/Shutterstock
This shared modern outdoor kitchen features plenty of room for a bar atop the luxe countertop and plenty of cooking opportunities.
In the jungle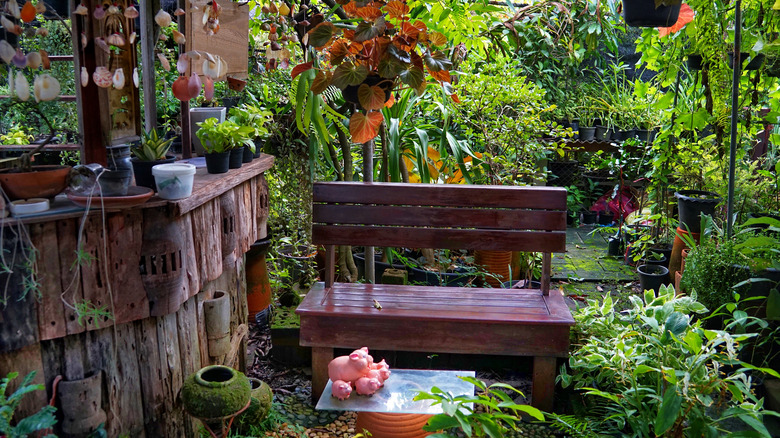 suchai.guai/Shutterstock
If your backyard resembles a lush jungle, then you may want to consider positioning your bar right in the middle of your lush greenery. We can't think of anywhere we'd rather be (with a cocktail, of course!).
Perfect for entertaining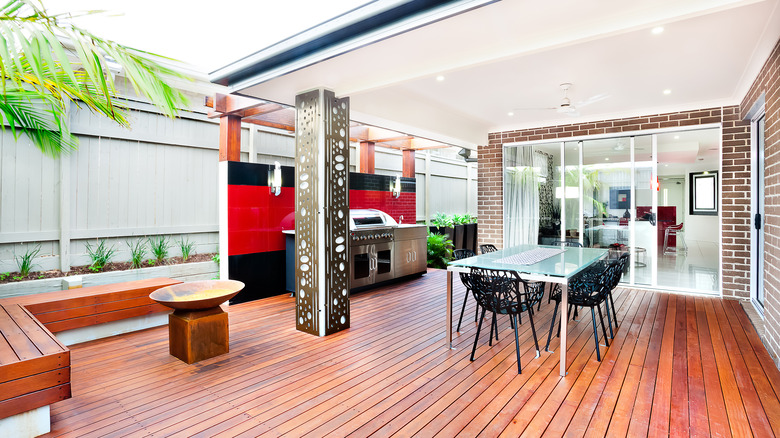 JR-stock/Shutterstock
This expansive patio with luxe wood floors has everything you could want to enjoy an expensive evening of entertaining. If this were our abode, we'd position a built-in bar next to the grill, which would really pop in front of the red and black wall.
A gorgeous terrace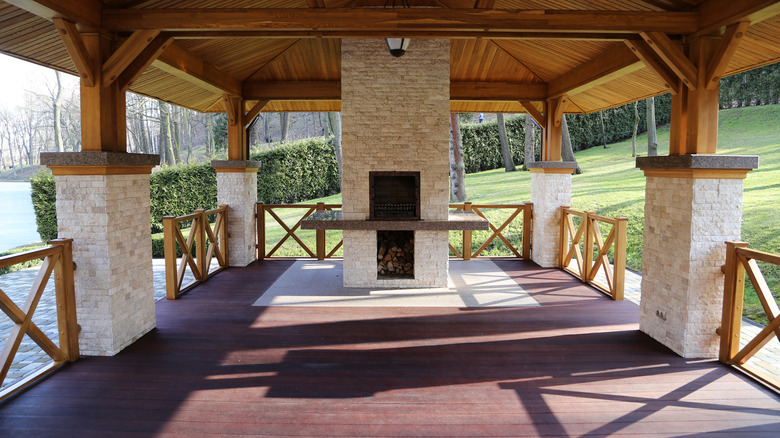 Shyripa Alexandr/Shutterstock
We can't think of a better place to entertain than this beautiful terrace. We'd put an immaculate bar opposite the beautiful brick fireplace and stock it to the brim with our favorite beverages.
Open concept outdoor kitchen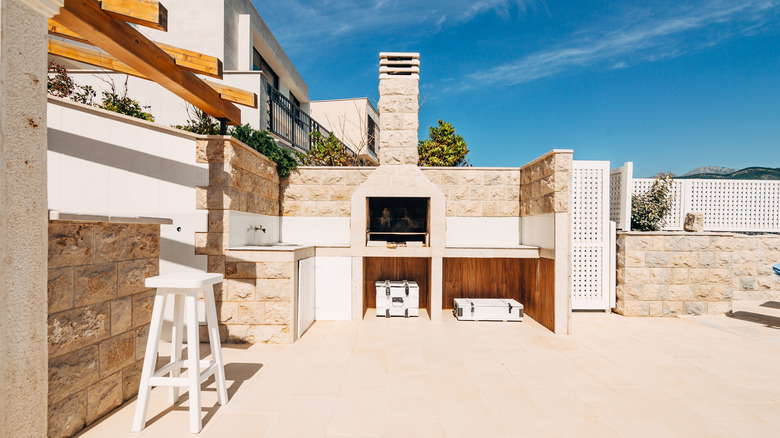 nadtochiy/Shutterstock
This large courtyard-style kitchen is close to the ocean (which might be its biggest asset); however, we may stick around with a fully stocked bar, just like this stone option.
A brick stunner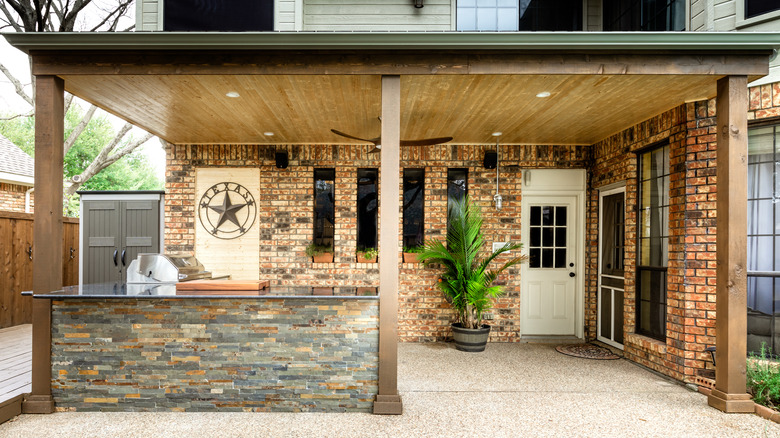 Martina Birnbaum/Shutterstock
This stunning brick outdoor kitchen with plenty of counter space for a bar is a total inspiration and gives us a reason to never go indoors.
A luxe stone kitchen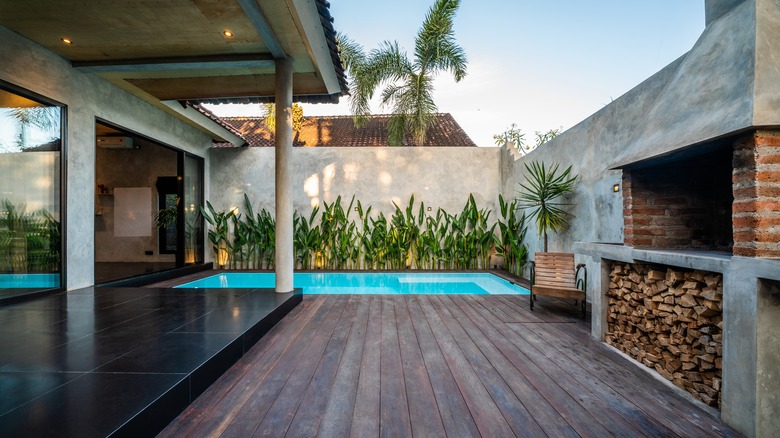 Sanatana/Shutterstock
This private oasis with a plunge pool and stone grill features the ultimate outdoor kitchen all done up in luxurious stone ... which just so happens to be the perfect locale for a bar.
A luxe, tropical escape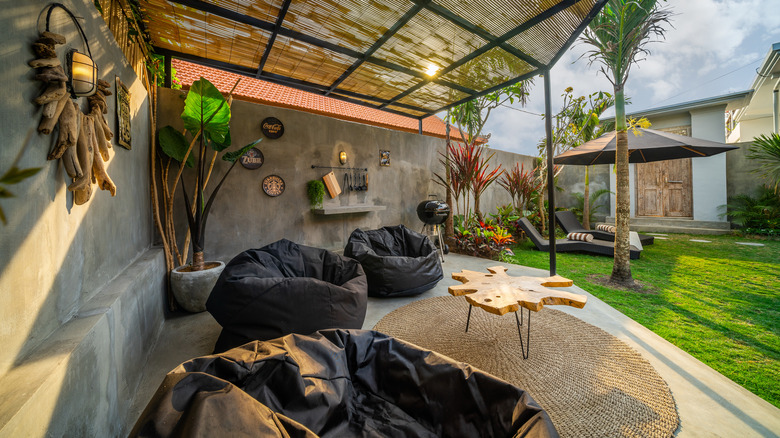 Sanatana/Shutterstock
This outdoor backyard bar in Canggu, Bali, Indonesia, has all the right lighting, tropical greenery, and comfortable, grown-up beanbag style chairs. All it needs is a bar cart within reach to create the perfect escape.
Stylish alfresco dining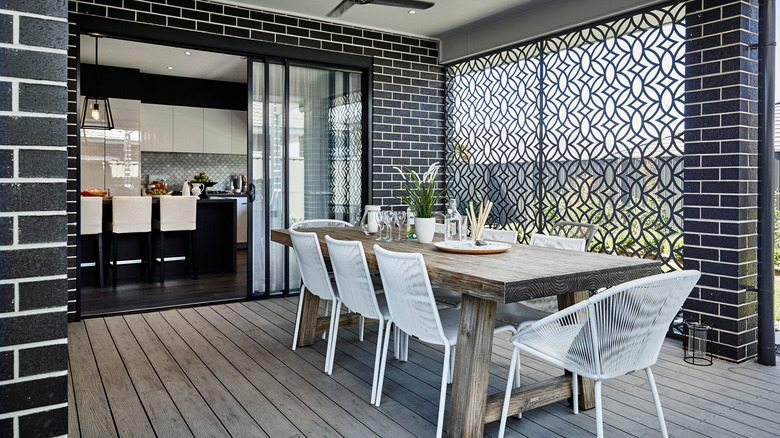 PhotoMavenStock/Shutterstock
This open-concept living area features an ideal indoor-outdoor flow. We'd position a bar cart right near the large oversized doors for entertaining made easy.
A bohemian-style option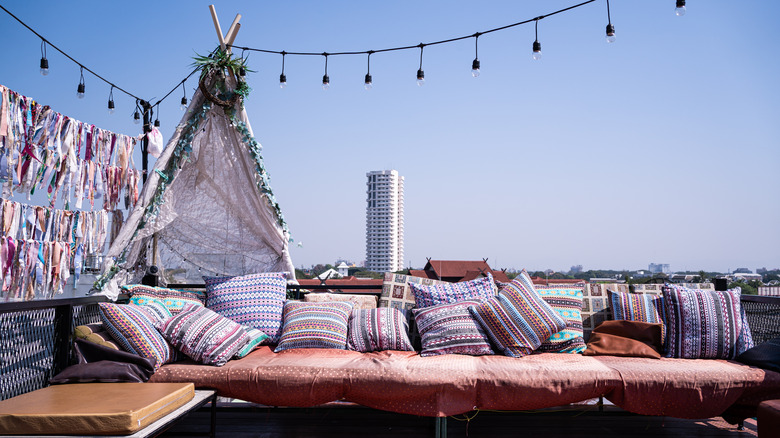 wuanxiang/Shutterstock
This boho-style rooftop has a large outdoor sofa with patterned pillows, a teepee, and string lights. We recommend building a wooden bar and draping it with fabric and greenery to complete the stylish look!
An all-encompassing outdoor kitchen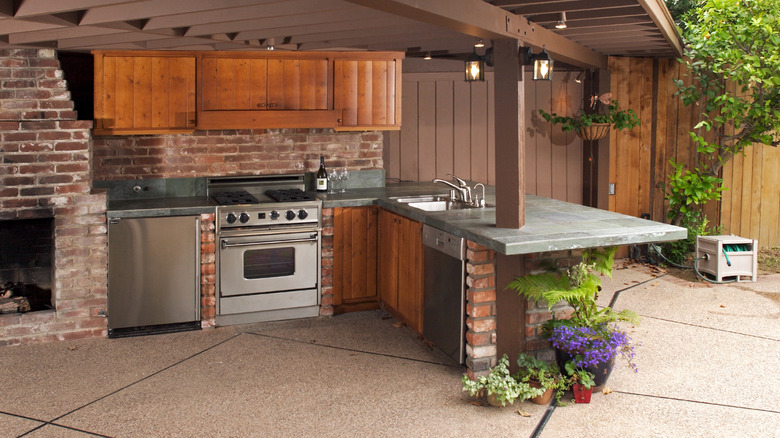 imging/Shutterstock
This modern outdoor kitchen with plenty of storage has all of the bells and whistles and enough space to set up a bar on the oversized slate countertops.
A serene setting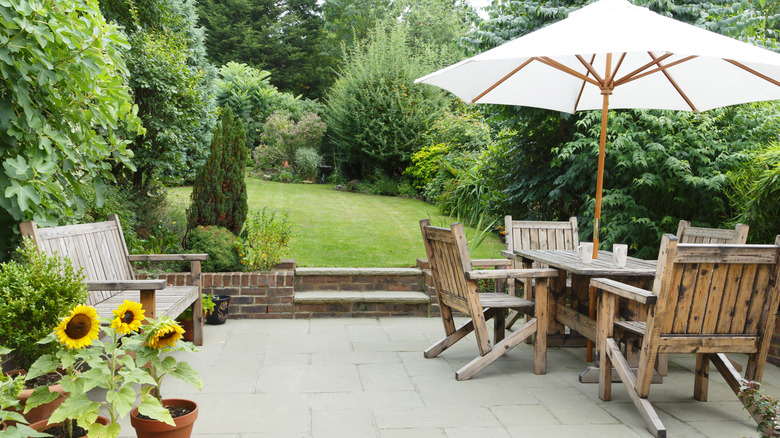 Paul Maguire/Shutterstock
There are no expensive built-in kitchens with luxe bars, but we can imagine a movable bar cart next to this idyllic dining area.
A whimsical bar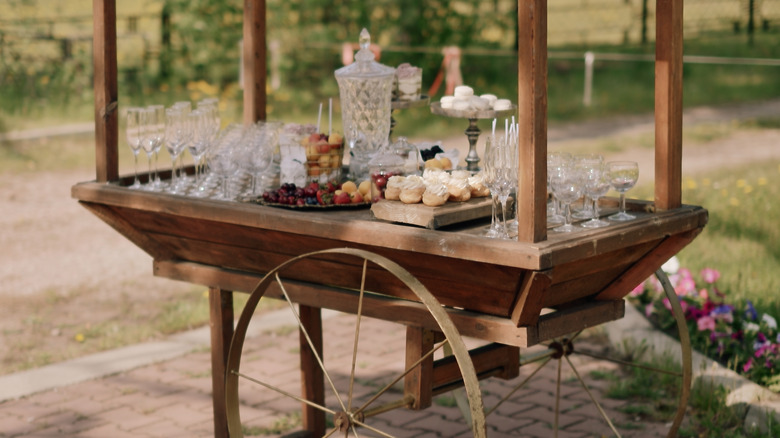 Darya Chacheva/Shutterstock
This wooden bar cart is a showstopper for any backyard soiree, and since it is movable, you can effortlessly move it around your outdoor space.
A rustic cart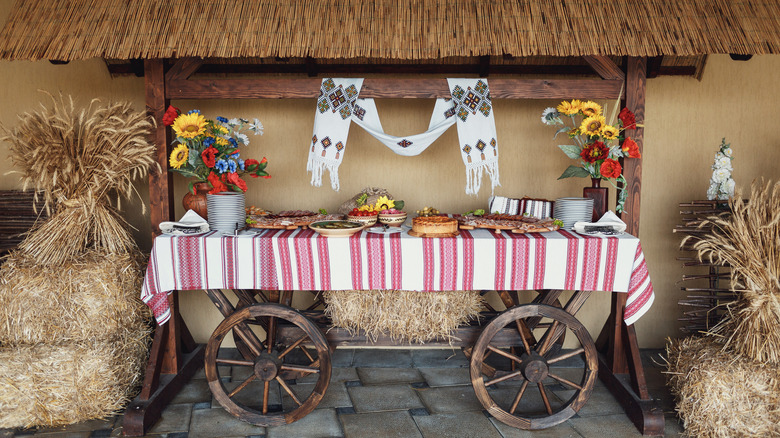 Myronovych/Shutterstock
This wooden cart with oversized wheels is the perfect accent piece to a spectacular, rustic backyard fete with a natural canopy. It just needs your favorite cocktails added, a mix of flowers, and bales of hay to round out the style!
A patio with a modern pergola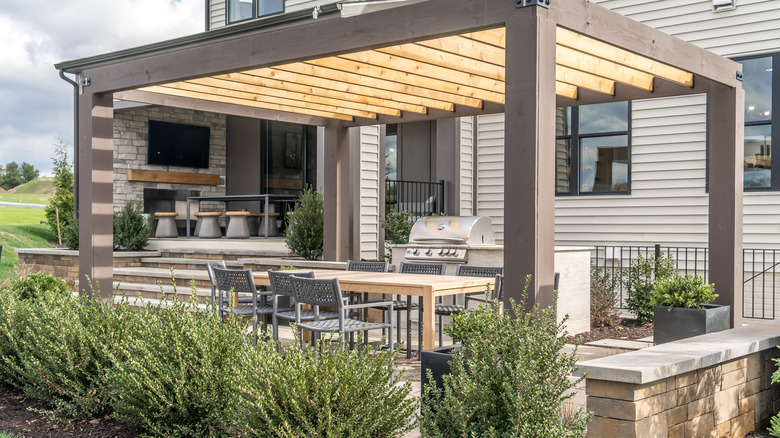 tokar/Shutterstock
This two-tiered patio has it all. An upper level with seating to watch the large-screen TV and a lower level under a modern pergola with a dining table and grill with just enough room for an ample bar!
A desert oasis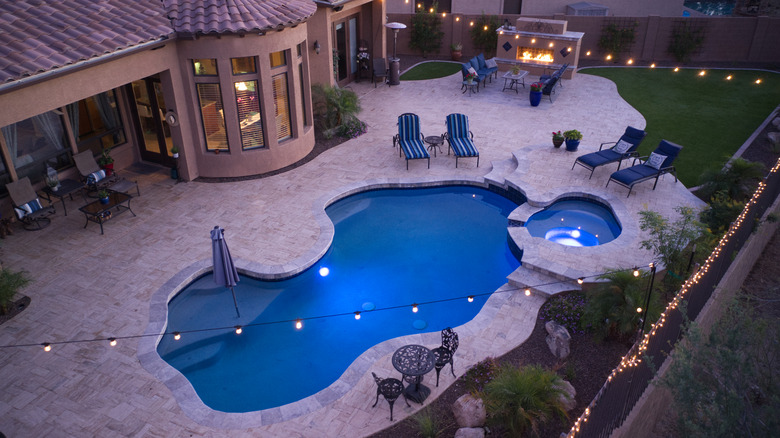 CactusPilot/Shutterstock
This epic backyard features a desert landscape, a uniquely shaped pool, and a fireplace perfect for chillier nights. All the space needs is an outdoor bar.
An outdoor, greenhouse-like oasis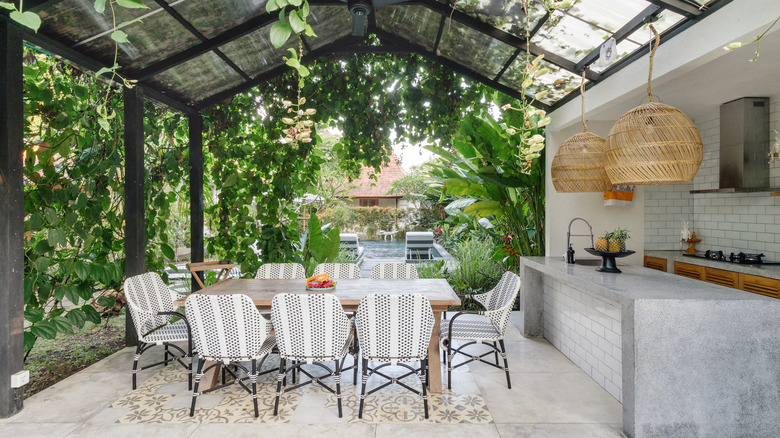 brizmaker/Shutterstock
This outdoor kitchen features a greenhouse-like structure with overhead hanging plants, but our eye is drawn to the ample countertop space with rattan lighting overhead that gives us plenty of inspiration for our outdoor bar build.
An outdoor bar with a view
Olesia Bilkei/Shutterstock
Who needs to go out to a restaurant when this outdoor patio has stellar ocean views? Whether you choose to do a built-in bar or a rolling bar cart, those views are all that matter!
Tropical vibes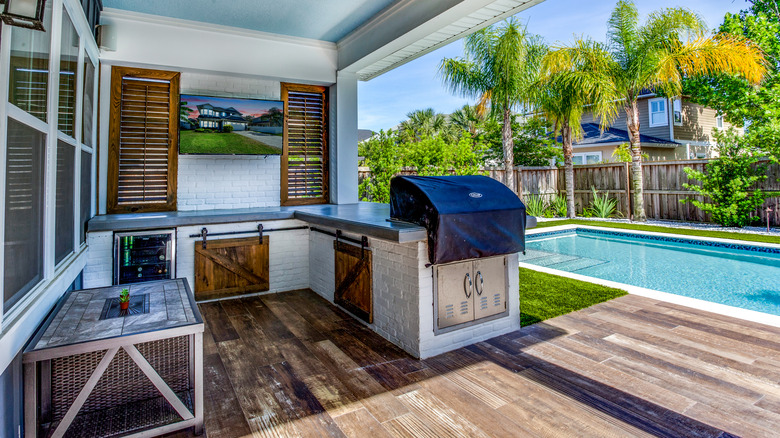 Pipas Imagery/Shutterstock
While it's not exactly a swim-up bar, this is a vibe we can get behind! This outdoor kitchen and built-in bar have plenty of counter space and an expensive grill for an epic pool party. All we need now is a margarita!
Luxe living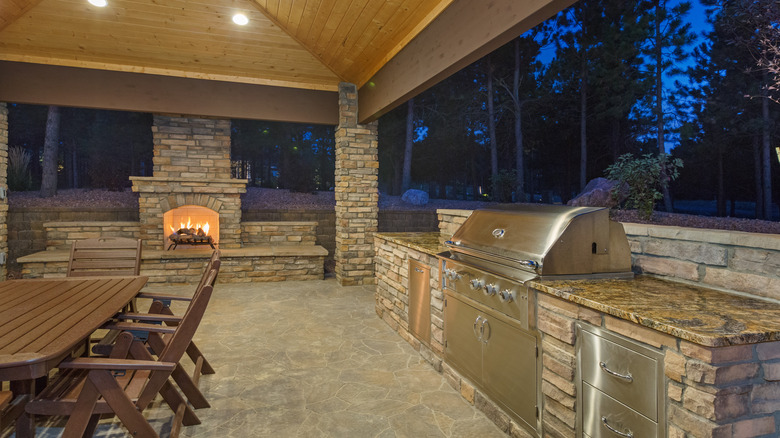 Neil Podoll/Shutterstock
This next option is the perfect example of luxe living. With upscale materials seen throughout the space, from stone to granite, we could spend hours in this entertaining space with plenty of room for a stocked bar.
A brick patio with outdoor kitchen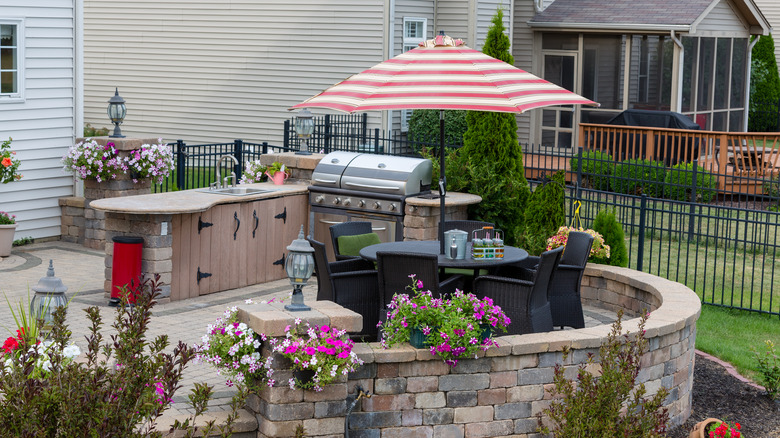 Ozgur Coskun/Shutterstock
This defined space has the perfect setup for hosting cocktails with friends and family. It has plenty of counter space for a bar set up right next to the dining area for guests to have an enjoyable afternoon.
A standout bar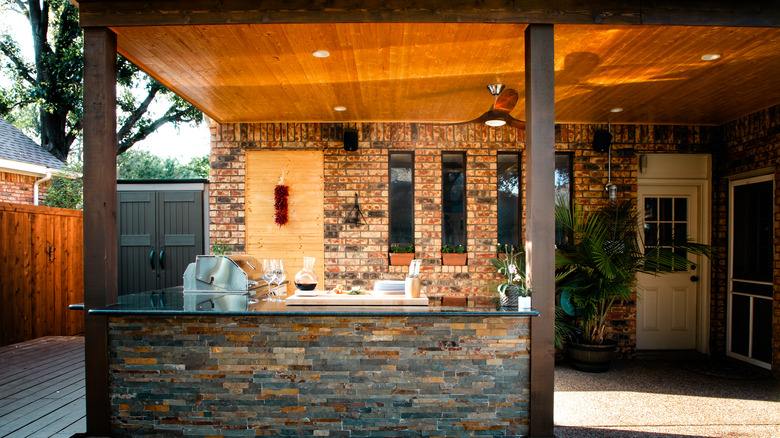 Martina Birnbaum/Shutterstock
If we had this epic outdoor bar situation, we just might hire bartenders to tend to guests. We can't get enough of its modern look and upscale finishes!
A stylish setup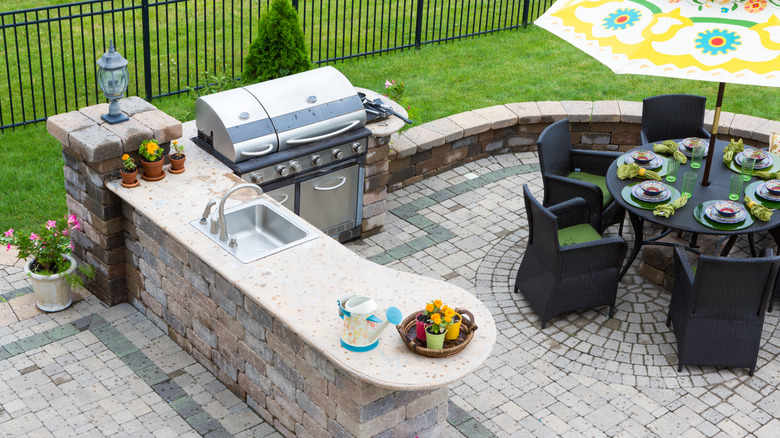 Ozgur Coskun/Shutterstock
With massive counter space, we'd set up our bar atop the beautiful stone built-in, which is the perfect spot and close enough to the dining area for guests to indulge in a refill.
Patio with mountain views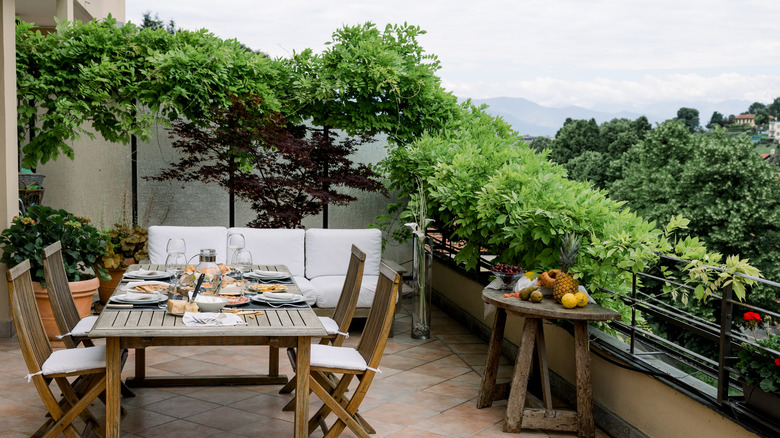 darynahuz/Shutterstock
This patio features epic mountain views with plenty of surrounding greenery, but it's the simple dining set-up we can't get enough of. This rustic side table could be the perfect place to set up your bar.
Luxury at home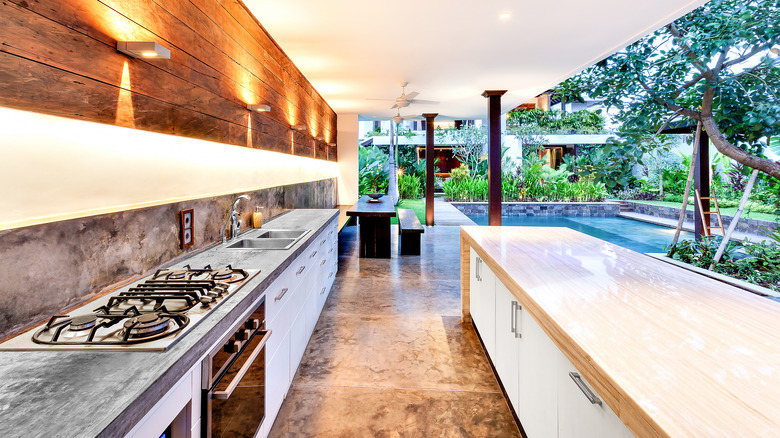 JR-stock/Shutterstock
This outdoor kitchen is what dreams are made of, reminiscent of a hotel. Situated next to a garden and pool, we'd set up our bar on the island countertop space and store any of our bar essentials in the cabinets below.
A stainless steel stunner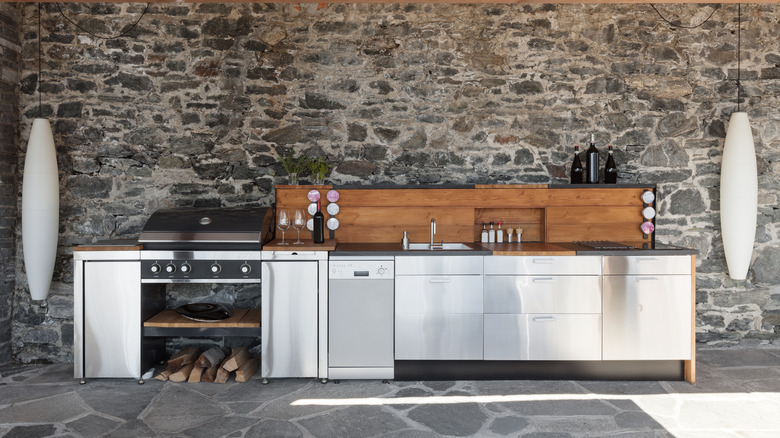 alexandre zveiger/Shutterstock
This modern kitchen offers enough space for a bar and has stainless steel cabinets, the perfect contemporary backdrop for the rustic stone wall and wood backsplash.
Indoor-outdoor oasis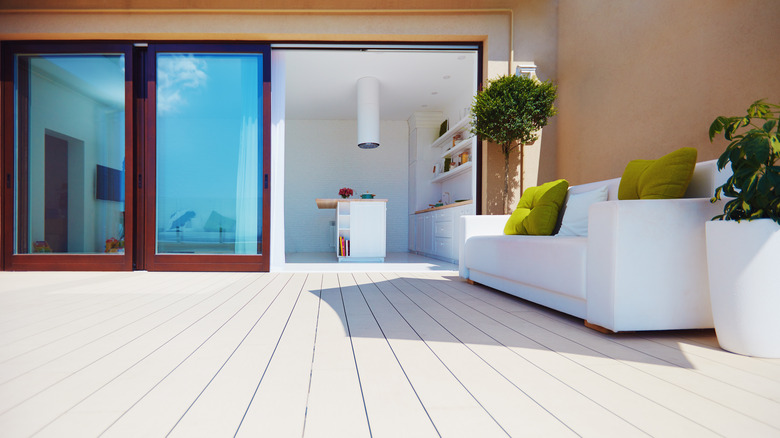 Olesia Bilkei/Shutterstock
We can't help but love a great indoor-outdoor bar situation like this one. We suggest adding a movable bar that can be easily stocked with our favorite boozy beverages since the luxury kitchen is steps away from the patio!