The Affordable IKEA Item That Will Totally Transform Your Dresser Storage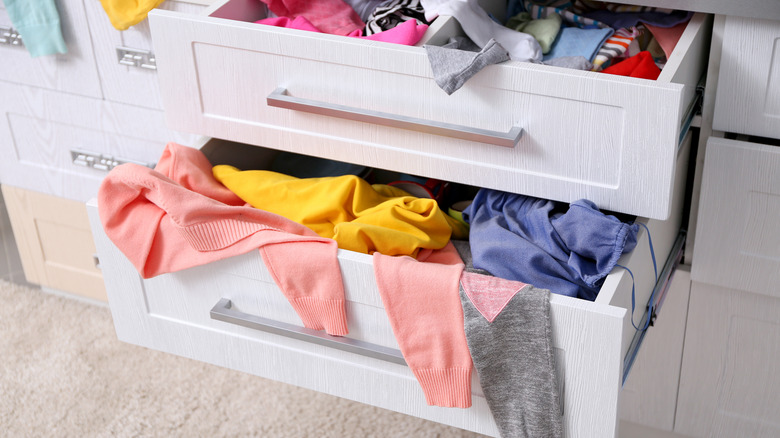 Africa Studio/Shutterstock
Having messy dresser drawers can be inconvenient when you're in a rush and can't find your favorite clothing item. Instead of aimlessly flinging your garments out of your drawers and making a huge mess in your bedroom, there is a better solution. Organize your items with the IKEA SKUBB Boxes, which come in a set of six with three different sizes and two color options, namely white or gray. These storage boxes could help you completely transform your drawers from complete chaos to an incredibly pristine layout, making it much easier for you to navigate around all your different clothing items. 
Alongside helping you organize your clothing collection, these items from IKEA are also very affordable at under $10, so you won't have to spend a fortune to achieve your goal of a perfectly-organized dresser. Of course, this should also save you plenty of time when changing outfits or getting ready in the morning. What more could you possibly ask for? Now, all you need to do is set them up correctly and get your clothes organized. Let's look at how you can make these boxes work for you.
Purchase the IKEA boxes and organize your clothes
After you've purchased the SKUBB box organizers from IKEA and they've arrived to your home, empty out all the clothes from your drawers and insert the boxes. You should put them side by side to maximize the amount of space you have. Once this step is complete, simply organize your clothes into categories. For example, you could keep the same colors or types together, like all your t-shirts in one pile and your shorts in another. Fold them up so they lay nice and flat. Stack them on top of one another and simply slot the pieces into each of the storage boxes. Now, you should be left with a much neater dresser storage space than before. 
As it turns out, the reason this hack works so well is because each box helps to separate your garments into categories, making specific clothing items easier to find. This makes it a great budget-friendly way to store your clothes. However, it only works if you fold your items into neat piles. Without taking this step, it will be easy for things to become messy in the organizers, which will put you back at square one. This hack could also reduce your stress levels, as you'll be met with perfectly-organized drawers every time you open your dresser.