How To Turn A Basic IKEA Cabinet Into A Stunning Floating Coffee Station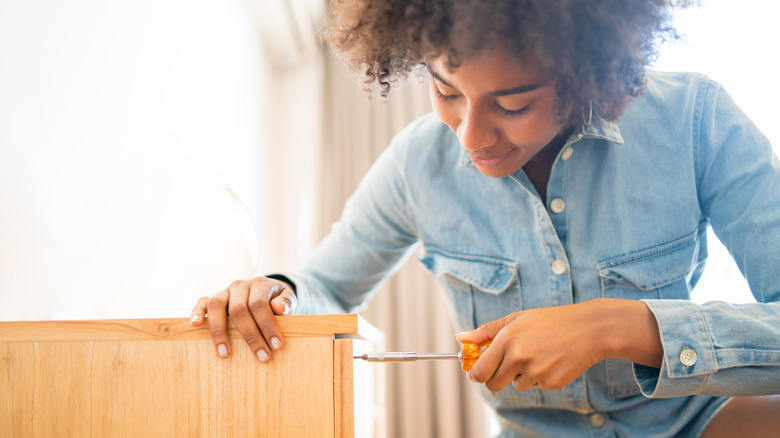 Mix Tape/Shutterstock
Is there anything better than a fresh cup of Joe first thing in the morning? If you're the kind of person who craves their caffeine fix morning, noon, and night but also values a sleek, stylish space, then you need a floating coffee station. And, thanks to the IKEA IVAR cabinet, you can have a custom, solid pine floating coffee station in no time. You can use it in your kitchen, dining room, or living room — the possibilities are endless. 
A floating coffee station offers your space a bespoke, sophisticated piece of furniture while freeing up some coveted floor space. Depending on how high you install it, you'll have space under it to stash bins or baskets for stylish storage. And if you're someone who craves the satisfaction of a DIY project, then this incredible TikTok hack is for you. Even better, if you one day decide you no longer want to use your IKAR IVAR as a coffee station, you can use it to store a variety of items, dressing it up with some stylish decor. 
Transform your IKEA IVAR
To get the ball rolling on this awesome TikTok project, @createbeautifulthings removes their IKEA IVAR floating cabinet from the wall. If you don't already own one, take a trip to the popular Swedish retailer and grab one. In addition to the cabinet, you'll also need a power drill, a staple gun, wood stain, and enough burlap to cover the doors. 
Begin by assembling your IKEA IVAR. If it's already installed and attached to your wall for other purposes, you'll need to remove it to transform it into a coffee station. Then, drill a wire opening in the top of your cabinet, big enough for coffee pot cords to fit through. Since the IKEA IVAR is made from natural pine wood, you get to pick a stain (or paint) for the surface. For this hack, you don't need to stain the doors. Instead, lay two pieces of burlap flat on the ground and place a door frontside-down on each one. Then, pull the burlap taught to cover the surface of each cabinet, and use your staple gun to secure it in place on the back. 
Once your cabinet is dry, reattach the doors, and attach it to your wall. Set up your coffee station on top and be sure to add all your coffee pods, sweeteners, and coffee cups on the shelves inside. You'll have a custom coffee station unlike any other!