The Sneaky Trick That Instantly Makes Any Regular Throw Pillow Look Luxe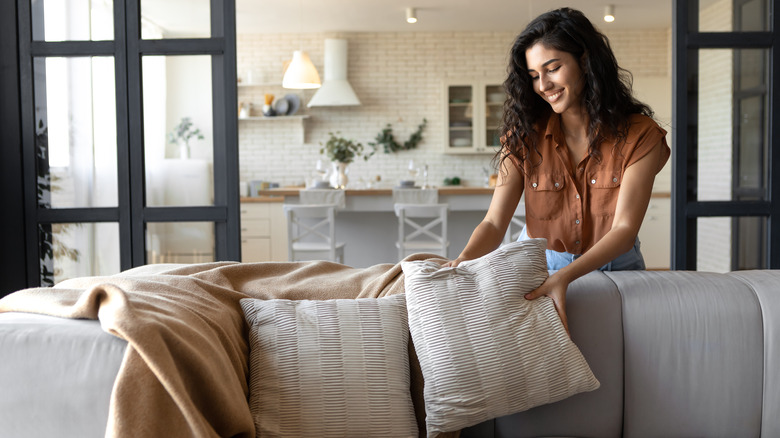 Prostock-studio/Getty Images
Throw pillows are a perfect way to add a touch of softness to your sofa and play around with color, texture, and patterns in any living space. There is a pillow to fit every decorating scheme and aesthetic, from more practical cotton and twill pillows to sumptuous velvets, furs, and chenilles. If you feel like you want your throw pillows to be even thicker and more luxurious than they already are, a great suggestion that has been making the rounds on TikTok is to simply use a pillow insert that is slightly larger than the dimensions of the pillow cover.
The extra stuffing will give any pillow cover, no matter how inexpensive, an overstuffed feel that usually accompanies cushions and pillows from higher-end retailers. If you spot a cover in-store that you must have, but the pillow seems flat or structureless, you can easily swap the original insert out with a larger, fluffier one to give it more dimension.
How to get luxuriously thick throw pillows
Tik Tokker @apartmentno3.com recently revealed her strategy for adding the larger insert, suggesting that you opt for one pillow size larger to get the best results. If your current pillow cover has a zipper, simply swap out the insert for a larger one, readily available from craft and home stores. For example, for a 20 x 20-inch cover, choose a 22 x 22-inch insert. You can find inserts at many retailers like Amazon up to 36 x 36 inches in size. 
With more bulk, pillows will feel thicker and more luxurious, as well as hold their shape better when in use. If your favorite cover does not have a zipper or button insert, you easily open the bottom seam of the original pillow, place the new insert inside, and sew it up again. This is also a great solution for much-loved but worn-out pillows that need a refresh. Simply swap out the existing pillow insert for a new fluffier one.