HGTV's Keith Bynum & Evan Thomas Share How To Make A Guest Space Feel Inviting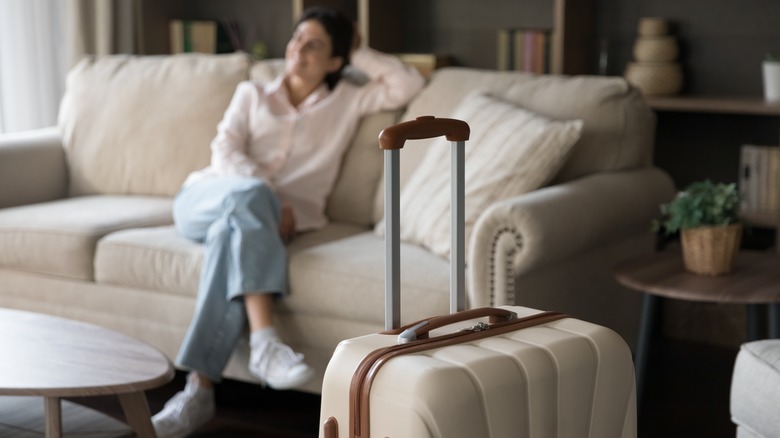 fizkes/Shutterstock
Have you been considering a special guest room overhaul? You know, one that will make friends and family feel right at home in not only comfort but with style. If so, looking back at the episode on the finished room over the garage (F.R.O.G.) on HGTV's "Rock the Block" offers some insight on how to create an inviting spot guests will relish visiting. How did Keith Bynum and Evan Thomas pull it off as competitors on the show? They turned up the color and created a boldly appointed suite as an alternative to the ubiquitous modern guest room so often outfitted with neutral tones.
When Bynum and Thomas came up with their plan, they wanted to create an area that would be cozy for familiar guests and inviting to potential renters if the homeowners decided to go that route. All the touches of home combined with bold choices, including lots of bright hues on walls and furnishings, were designed to make anyone who happened to stay there feel comfortable but also wowed.
All the details that make the F.R.O.G. space so inviting
Have you ever looked through online vacation rental listings and thought just from the photos, "It sure would be cool to stay there?" That's the type of space Bynum and Thomas were going for when they created their F.R.O.G. guest suite. "We wanted to have a boutique hotel vibe – something that will pop on rental sites," the design duo shared on Instagram, "And those colors sure do pop!"
Among those color choices for this unique guest space are a kitchenette with a bright green tiled backsplash and a groovy turquoise blue fridge. Bynum and Thomas also chose teal paint for the walls in the main room of the suite with contrasting deep red in the bathroom. Eye-catching furniture choices include a turquoise-blue plush velvet chair and a coral-colored side table.  
With so much going on in a space like this, it's hard not to find something that can be used as inspo to create an inviting guest room of your own. Keep in mind that both form and function are key. Look for items that are both stylish and welcomingly comfy like bright plush chairs or cozy graphic throws. When selecting paints and finishes, carefully curate a bright yet complimentary color palette for a cheerful vibe. Then, look for finishing touches like unique art or whimsical decorative accents that say, "You're going to love it here!"