The Designer-Approved Alternative To Wall Art That Adds A Dose Of Glamour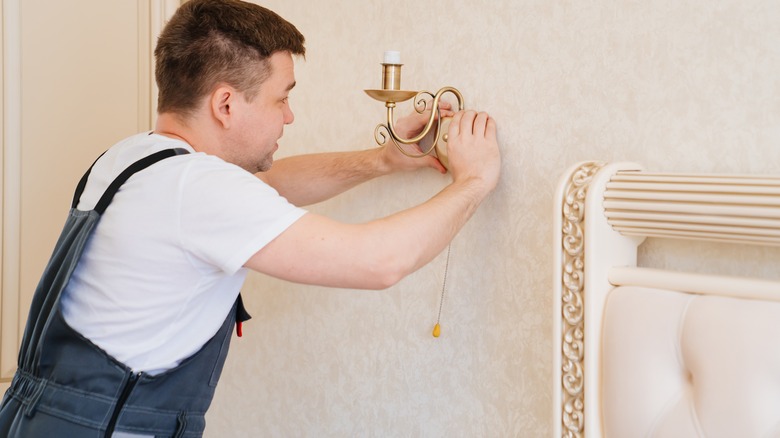 Andrey Sayfutdinov/Shutterstock
We may receive a commission on purchases made from links.
Any blank wall provides its own unique challenge that varies given its placement, dimensions, and impact on the room. The traditional choice would be to use artwork to add visual interest to a blank wall, or perhaps cover it with wallpaper, accent colors, or frame molding. There is, however, another solution that gives just as much architectural interest as it does functionality. Wall sconces provide an excellent way to both illuminate and add dimension to a wall.
Because they are three-dimensional, the sconces can look like they are built-in and expensive even when they are not. Whether purchased from higher-end retailers or created as a budget-friendly DIY, they make a perfect finishing touch in any space. Designer Shalena Smith tells Apartment Therapy, "Chances are, if I'm designing a space, these will be in it. [They] add a touch of elegance and make a statement, yet they have a clean simple look."
Beauty and functionality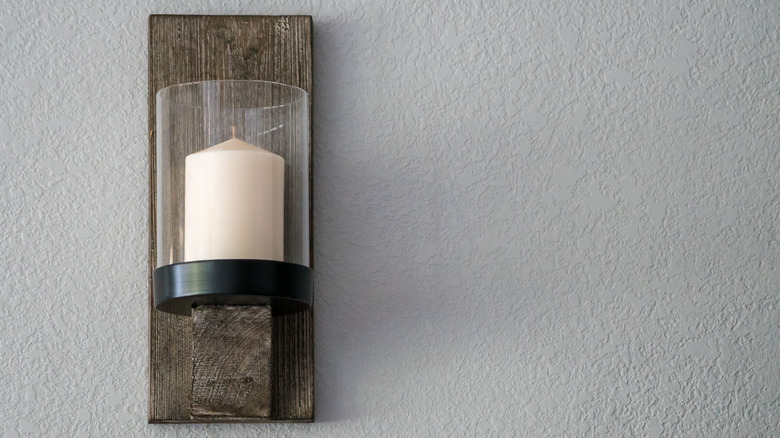 Fusaromike/Getty Images
Numerous retailers offer sconces, wired or unwired, with candles or bulbs, that can instantly transform a room. If you are trying to avoid the electrical work of wiring electrical sconces, many sell options that plug into outlets with carefully concealed cords. Others, like these luxe Artisan Candle Sconces from Pottery Barn, operate with flame-less battery candles, which are a great solution to spots where there are no outlets or electrical wiring. Many flame-less candles and LED light bulbs operate by the touch of a remote, instantly casting a warm glow.
Wall sconces come in a number of designs that match many different kinds of aesthetics, including beaded and vintage-inspired colored glass fixtures perfect for boho-inspired rooms, black metal lantern accents for farmhouse decor, and cleaner, more minimalist sconces for contemporary rooms, like these sleek black wood sconces from Amazon. Fabric-covered shades and taper candle sconces are another option to add more lighting and visual interest to a wall.
DIY alternatives
You can also make your own version of a DIY candle sconce, like this one from YouTuber treshaja, which shows how to create a simple wall sconce from inexpensive materials like wooden wall plaques, square dowels, and wood glue. For a glam look, try these sparkling glass sconces created from an old wooden plaque and adhesive mirror tiles. You can create a stylish and inexpensive DIY fabric sconce from a popular IKEA plastic bag holder. 
Sconces can be perfect for filling in around existing artwork configurations or gallery walls. They are also great used in pairs flanking other large things like doorways, windows, and fireplaces. They can be a perfect solution for a small wall that needs something dynamic yet narrow, such as those in hallways and entryways. The sconce is also an excellent way to cast more illumination on other wall pieces, like this excellent hack for creating LED sconces for hanging over paintings.