Create A High-End Looking Display Cabinet On A Budget With This Clever IKEA DIY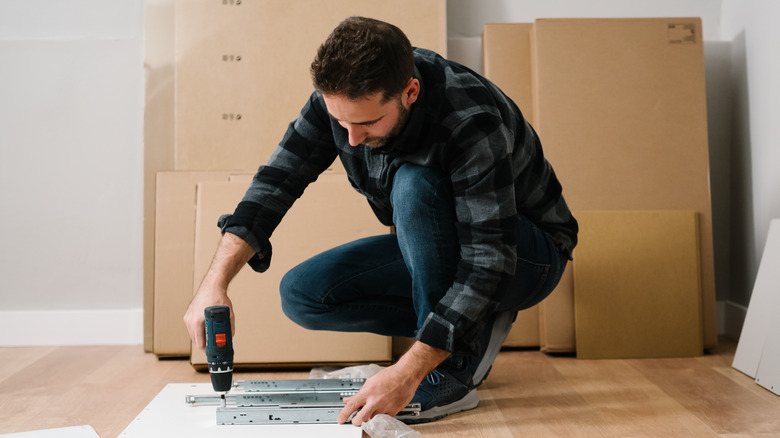 Manu Padilla/Shutterstock
There's something truly addicting about the thrill of wading through a Goodwill or an antique shop to find vintage treasures. So addicting that your finds can quickly overwhelm the space you have in your home. Sooner or later, you might find yourself in need of a cabinet to display them in. And if you've shopped around for one, you'll find that they can be extremely expensive. We're talking over $1,000 expensive. If you're not willing to shell out that kind of cash for the discount trinkets you've found, you can recreate the same look for a fraction of the price at IKEA.
TikToker @theflippedpiece bought an IKEA RUDSTA cabinet and spent less than five minutes hacking it to make it look identical to one she would have spent almost $1,300 on for about $216. With a little styling, she created a high-end cabinet that looks just as nice, if not better, than something she would have paid five times more for in the store.  
How to make a high-end display cabinet from IKEA
To recreate @theflippedpiece's high-end IKEA display cabinet hack, you'll need the 31 ½ x 14 ⅝ x 47 ¼" IKEA RUDSTA glass door cabinet, which costs $169.99. You'll also need a roll of wood print peel-and-stick vinyl. You can buy the vinyl from Home Depot for $45.94. While you can use a cheaper wood print peel-and-stick paper as opposed to vinyl, the vinyl will look more authentic and give off more of a high-end vibe.
First, put your IKEA RUDSTA together according to the directions. Then, you'll cut out a piece of vinyl peel-and-stick paper to fit the dimensions of the back wall of the cabinet. If your roll isn't large enough, you can do this in pieces and hide the seam behind each glass shelf. Since you'll have items on your shelves, it will be hard to tell that the wood isn't real, so it will look more like one of those expensive cabinets.
To finish up, you'll add the rest of your glass shelves and start decorating. @theflippedpiece placed several items inside with neutral tones that match the charcoal coloring of the shelf and the wood print peel-and-stick vinyl. She also placed a small plant on top of the cabinet and a small tree taller than the cabinet on the floor next to it. Her styling, combined with the wood backing, makes this cabinet look extremely chic.