The Kitchen Island Alternative Christina Hall Chooses To Use In Small Spaces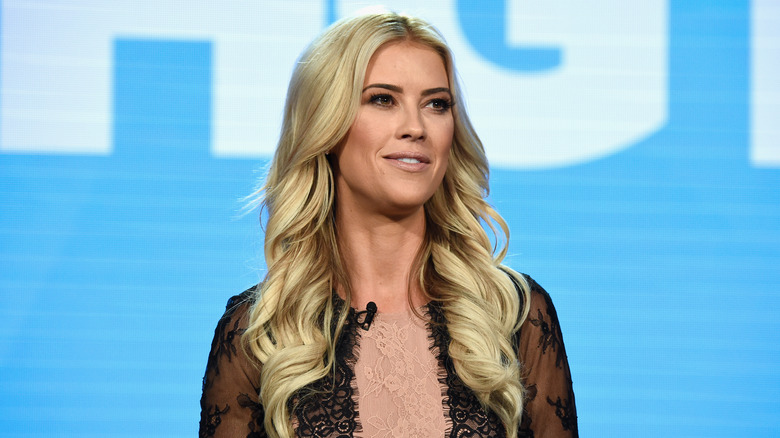 Amanda Edwards/Getty Images
If there's one room you can never have enough functional space in, it's the kitchen. But what if your kitchen is too small to plop an island in the center of it? Where will you get that extra workspace to prepare lunches or storage space to hide your new air fryer? HGTV star, Christina Hall, knows. She uses a kitchen peninsula as an alternative in small spaces.
"Normally, I would suggest an island, but because the space is a little more narrow as opposed to wide, I like the idea of a big peninsula," Hall told a pair of empty nesters whose midcentury modern home she was remodeling in a recent episode of "Christina on the Coast". 
A peninsula is similar to an island except that it connects to a wall or existing counter space instead of being an independent unit with space on all sides. This creates a seamless workspace, making food prep a lot easier, and freeing up unused, wasted space that can be left by an island. And if you have a small kitchen, you know just how helpful every inch of usable space is, making a peninsula an invaluable addition. 
How to incorporate a kitchen peninsula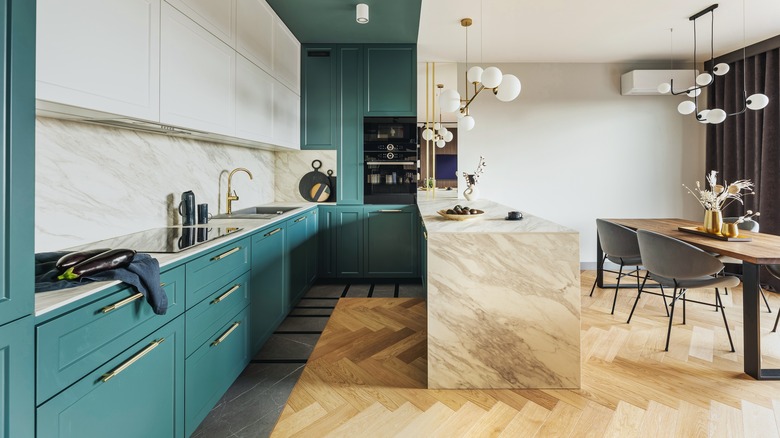 Followtheflow/Shutterstock
In addition to eating up valuable space, a kitchen island can block the natural flow of your kitchen, making the already tiny space seem more confined. It can also make it harder to navigate your kitchen since it will be too cramped for you to comfortably cook and move around in. That's why Christina Hall opts for a peninsula in smaller spaces, which she points out is more "open, much more airy, more functional."
A kitchen peninsula goes against the wall and is perpendicular to a row of cabinets. The L-shape creates a delineation that separates the kitchen from the rest of the room while still providing an open feel. Having clearly defined areas in a small space can help it to feel larger. If your kitchen is narrow, you can still get a ton of countertop workspace by building a wider peninsula.
To create a peninsula, you can add cabinets that match your existing cabinetry topped with the same type of countertop. So, you'd just extend your cabinetry in a different direction to create an L-shape. This can be a more budget-friendly option than an island. A simpler design, like attaching a countertop to the wall with supporting legs at the opposite end, still adds workspace. Or, simply place a rectangular table at a perpendicular angle to your current cabinetry to simulate the design.
Kitchen peninsulas are multi-functional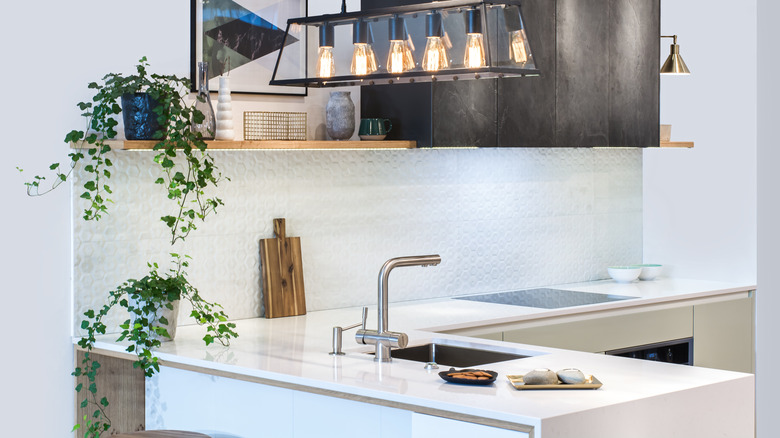 Richard Salamander/Shutterstock
Christina Hall is also an expert at elevating the style of a kitchen while enhancing its ease of use. "I love the idea of doing a functional gas stove in the peninsula." Adding appliances to this space allows you to use your small area more wisely. A sink or stove allows you to cook or clean while interacting with people or watching TV in the adjacent space.
Some kitchen peninsulas have cabinetry and doors, giving you much-needed extra storage space. They can also feature an overhang on the external side that allows for countertop seating. This adds extra dining space or eliminates the need to squish a table and chairs in your tiny kitchen. Since peninsulas are still connected to the existing cabinetry and cooking areas, Hall says that they are "much more sociable" since you are still in close proximity to people on the opposite side.