Matcha Green Is A Trendy Color Replacing Gen Z Yellow - Here's How To Use It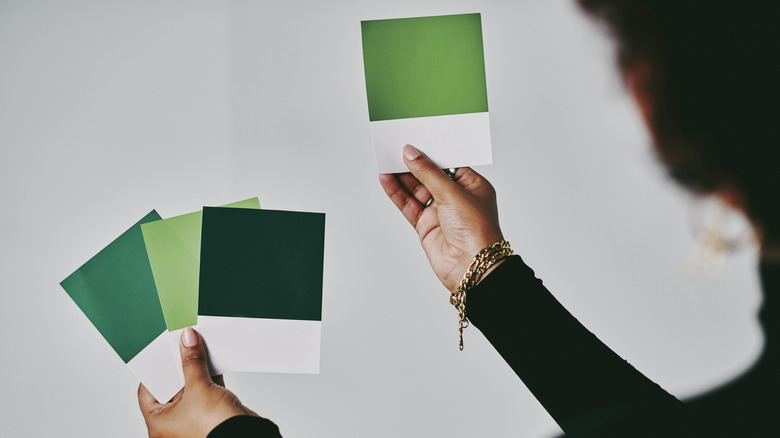 Delmaine Donson/Getty Images
There is no doubt that Gen Z is a generation of trendsetters. With nearly their entire lives documented through social media, the sharing of ideas and cultivation of individual style is shared instantly around the world. Their influence could be seen in the popularization of "Gen Z Yellow," a bright and hopeful shade that took hold of everything from clothing to interiors. In 2021, Pantone named Illuminating, a vibrant yellow, their Color of the Year.
As with most trends, there is a time in the spotlight and a time for the spotlight to fade. And Gen Z is nothing if not swift, when moving on with trends. Gen Z yellow is fading, and new colors are waiting in the wings to take its place. In particular, matcha green is a color that experts are going to see more of in the coming year, along with other shades of green. Green, as an interior color, can inspire feelings of calm and a relaxing environment. The want of a calming retreat in a chaotic world may be contributing to green growing in popularity. But this soft match shade also has a bit of brightness thanks to its yellow tones that can add some happiness and joy to a room.
How to use matcha green in your home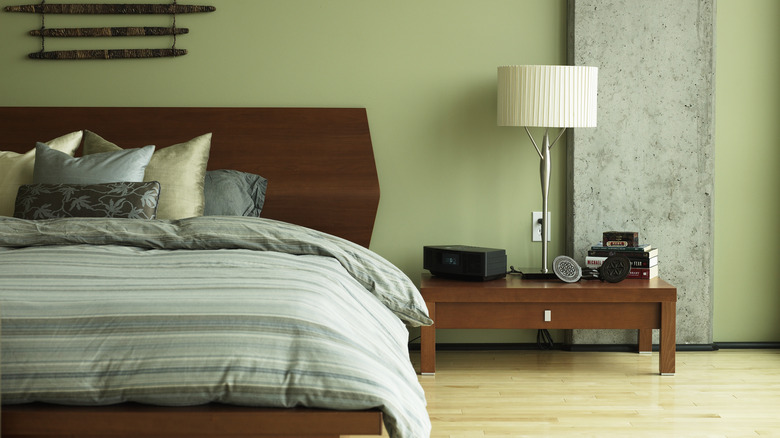 Ryan Mcvay/Getty Images
If you've completely fallen in love with matcha green, the biggest way to incorporate the color is with paint. Colors such as Match Latte from Clare, Jardin from Sherwin-Williams, Zesty Apple from Behr, and Everglade Glen from Valspar are all great options to infuse the bright shade onto your walls. For those who love color, the color-drenching technique, which paints everything from the ceiling, walls, and trim in a single color, is the best option. But if an accent of green is all you want, consider painting trims and doors or only half the wall.
When it comes to furniture and decorative accents, matcha green can be a great pop of color. Consider painting built-in bookcases or kitchen cabinets. In the bathroom, tiles on the shower walls and the floors can add a pop of color. Decorative accents like throw pillows and table lamps can also be subtle ways to infuse soft shade. Larger pieces like sofas and side chairs can be a way of making a statement with your furniture. Of course, adding a green accent also allows you to add plenty of live details. Look for light green plants, like varieties of Pothos and Philodendrons. Live plants will infuse some green accents while adding texture and breathing life into the space.
Colors to pair with matcha green
Unless you're into monochromatic designs, you'll want to create a color scheme for a room or home to follow. Naturally, the first option is neutrals like black and white. Matcha green paired with white is crisp and elegant and can err on the side of more traditional interiors. Paired with black, matcha green can become a little more edgy and modern. Matcha green will also work well with tans and beiges, particularly blonde and light-toned wood, to create a very natural-feeling interior.
As for other colors, matcha and yellow are a classic combination together, as they'll bring out the brightness in each other. A vibrant, sunny shade of yellow can make a statement, while a paler yellow brings a more calming, happy feeling. It's also perfect if you're not quite ready to give up the Gen Z yellow trend. Green and blue together are another timeless pair. This color combination often evokes feelings of the coast, which can reinforce the relaxing atmosphere. On the trendier side, dark plum shades are also being paired with matcha green. Many interiors have been retreating into the dark and moody territory, with muted dark shades becoming the centerpiece. If you love the trend but fear being completely surrounded by the darkness, break it up with the lighter matcha green. And while it may seem like an odd pairing, the colors sit across from each other on the color wheel, allowing them to complement and balance each other out.