How To DIY A Stunning Sunburst Mirror While Working On A Budget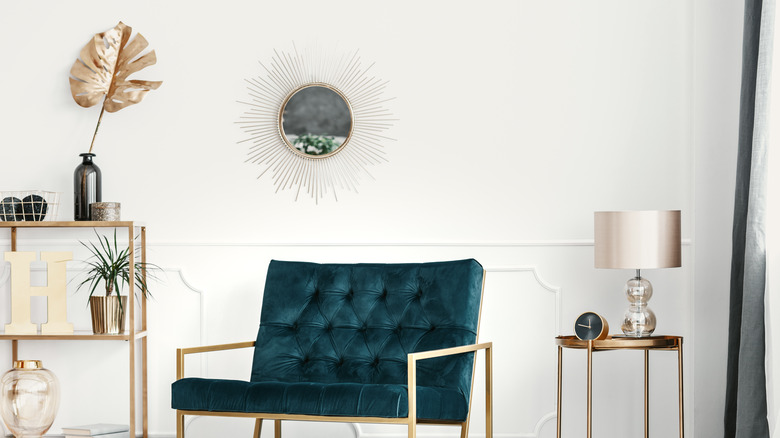 Ground Picture/Shutterstock
Sunburst mirrors are an often-seen addition to mid-century rooms, coming in a variety of sizes and finishes that complement the feel of retro atomic-inspired interiors in particular. They also work stylishly for a number of other aesthetics, including boho and glam spaces. Vintage star and sunburst mirrors, however, can be costly at antique stores and flea markets. New versions at popular home retailers can also be expensive, particularly larger renditions that can go for hundreds of dollars. TikTokker @despuesdesigns recently showed off a great hack for creating a sunburst mirror with budget-friendly materials like spray paint and wooden skewers.
These inexpensive mirrors can easily be created with supplies from the dollar store, including the circular mirror, which is available in various sizes, from small compact-size mirrors to 10 inches like one @despuesdesigns uses for her DIY. To create something similar, you will need spray paint, wooden skewers, glue (hot glue or gorilla glue), as well as optional rope or beaded trim.
Creating a DIY sunburst mirror
While some tutorials leave the skewers all one length, you can trim them as desired, creating bursts of various lengths for even more dimension. Paint your skewers in your desired colors before adhering them to the mirror. While silver, gold, brass, and black are popular options, you can also choose other shades to match your decor. Apply the skewers directly to the mirror, or create a cardboard round to attach them to, then adhere the round to the back of the mirror. Create a hanging apparatus using glue and a bit of rope, or affix a metal pop top to the back of the mirror for easy hanging.
Many DIYers also add a bit of trim to add a more finished look where the skewers intersect with the mirror, including painted rope or beaded trim. For thicker versions of the sunburst, you can also use popsicle sticks or thicker wooden dowels applied similarly to the back of the circular mirror in a sunburst pattern.