The Secret Tip That'll Make This Piece Of Furniture Seem More Massive In A Space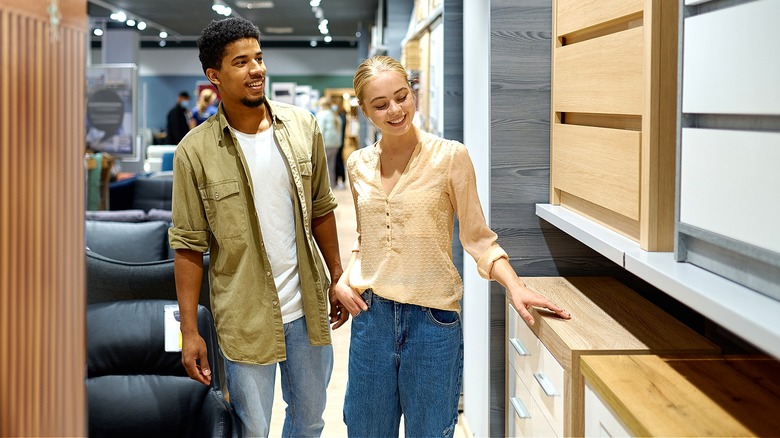 Nomad_Soul/Shutterstock
Whether you want to optimize space in a small living room or make an area more functional, credenzas make excellent additions to a home. This furniture piece is a type of sideboard that typically finds its place along an empty dining room wall to store extra plates, cups, etc., but pivoting a credenza as an entertainment center or bonus storage facility in a living room or family room is a smart use of the piece. Further, if you want to make a credenza appear larger than it actually is, you can simply combine two or more along a wall. This design hack turns a regular credenza into a seemingly massive piece of furniture, typically only available through customization.
Once combined, your larger credenza brings even more function to a room. Its lengthy top surface can be used for photo frames or other home accents, while the cabinets below can conceal belongings you want to have nearby but not necessarily out in the open. What's more, this arrangement against a room's wall keeps much of your floor space open.
Placing credenzas in the living room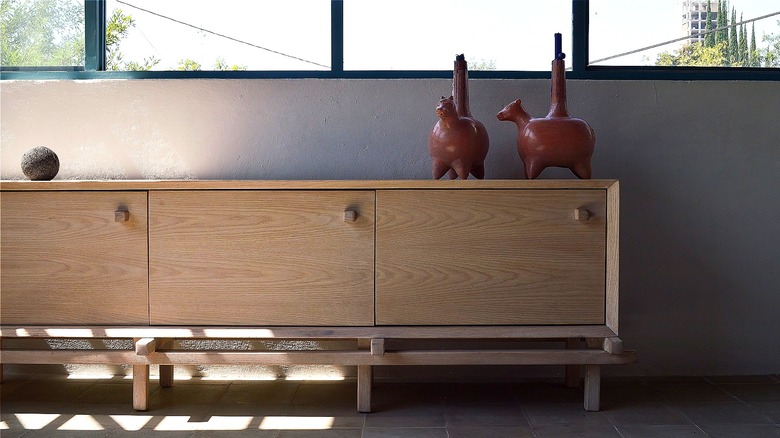 rosco.shot/Shutterstock
Combining two or more credenzas may cleverly create a massive piece of furniture, but note this size is horizontal, not vertical. Similar to short, modern entryway tables that measure under 30 inches in height, credenzas have a low profile (between 20-36 inches high), which means you have all the wall space you'd want to work with, to mount a TV or hang eye-catching wall art or, as in the image above, place below a window.
Further, these furniture pieces come in a variety of colors and finishes so it's easy to find a piece that meshes with the rest of your room's furniture so you're able to create a cohesive design. Placing two credenzas next to each other is a design hack that's streamlined and effortlessly fills in empty space without overwhelming it. It keeps the same look going.
The point of this hack is to create one massive piece of furniture, but if you're worried about two credenzas being too big for a smaller living room, you should note that their dimensions vary but are typically great for smaller spaces. The average credenza measures around 70 inches long, 16 inches deep, and 30 inches high.