The Chic Garden Staple That's Perfect For Storing Toilet Paper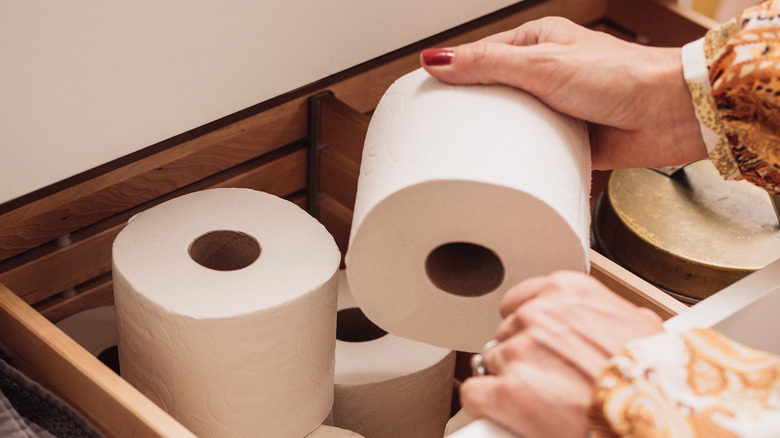 Knape/Getty Images
When considering storage options for toilet paper, it's unlikely that the word 'chic' would immediately come to mind. Many simply stick to placing extra rolls under the sink for convenience. However, what about those who don't have the luxury of under-sink cabinetry space? One TikTok creator saw this challenge as an opportunity for innovation and set out to change the way we store toilet paper – using a garden planter.
The clever idea of repurposing a garden planter into a fashionable storage accessory can suit any bathroom. Not only does it infuse the space with a stylish touch, but it also offers a practical and creative solution for storing those extra rolls. Plus, the added benefit of being able to visually see your supply ensures you'll never unexpectedly run out. So, who's ready to take the plunge with creativity and transform a common garden staple into a treasure trove of toilet paper storage?
From blooms to bathrooms
@emilycarriveau, a TikTok creator, gives us a glimpse into her bathroom, showcasing her unique approach to toilet paper storage. In her own setup, she creatively repurposes a large, white garden planter, placing it near the toilet bowl for easy access. While her planter comes with feet to elevate it, you can choose any design or look that suits your own style.
The beauty of this storage solution lies in its flexibility and versatility. Instead of purchasing a new planter for this hack, you have the option to revamp an old garden planter by giving it a fresh coat of paint. This simple transformation adds a touch of style and personalization to match your preferred bathroom aesthetic. What's more, you're not limited to using it solely for toilet paper storage either — this garden planter storage hack offers boundless potential for organizing toilet paper in the bathroom and beyond.