The Bold Hardwood Floor Color That Will Be On Trend For 2024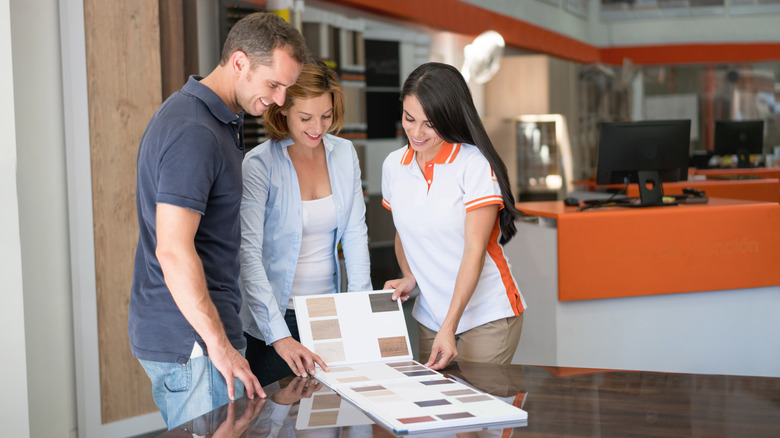 Andresr/Getty Images
Floor trends come and go, but hardwood floors will never go out of style. Still, there are certain styles and colors of hardwood that will be everywhere in 2024, so if you're thinking of switching up your floor, now's the time to do your research. No matter what your home's style may be, there's one color you should consider for the upcoming year — black. Bold and super on-trend, black isn't a newcomer to the design world. But it is certainly a more unique flooring option than the usual shades of brown.
As it is a trickier design choice to pull off, you may be feeling tentative about taking the plunge. Unlike typical shades of brown and even white or gray, black can feel imposing if styled incorrectly. Nevertheless, if you are intrigued or looking for ideas and inspiration, we've gathered up all you should know about how to style black hardwood floors so they look chic and refined rather than cramped and closed-in.
Make your home more stylish than ever with these design tips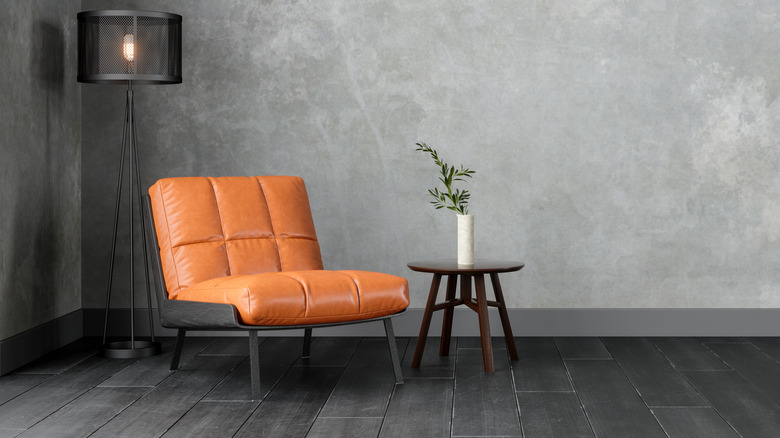 Onurdongel/Getty Images
Decorating with dark floors doesn't have to feel overwhelming. The key is to incorporate a lighter color palette elsewhere that will have the effect of brightening up the room. For example, if you plan to use black hardwood to cover the whole floor, consider adding a beige, cream, or white rug under a table or a sofa. This won't detract from the floor but will instead infuse light into a space that might otherwise appear too dark.
It doesn't have to be just neutrals, either. Speaking to The Spruce, design expert Raquel Kehler advised, "Use colorful furniture for a pop of color. If you're a fan of bright colors, a few chairs in a shade like mustard or bright yellow make a beautiful accompaniment to dark floors." 
Kehler also shared that it's important to keep a color scheme cohesive. You may love the idea of adding a bright red console table to brighten up the dark floor, but if there's no red elsewhere, it will likely look out of place. Counteract this by adding small pops of the same color with accessories like cushions, candles, and wall art throughout the space.
Get creative with styling to enhance the beauty of black hardwood floor
Next, proportion. You may have heard not to use dark floors in a small room. And, while there is some truth to that, it's how you decorate the rest of the room that matters. If a room also has dark walls and a low ceiling, dark floors might create a dungeon-like effect. However, if it gets plenty of natural light and otherwise features a bright and airy color palette, dark flooring could very much work in a tight space.
Additionally, though black hardwood floors can bring a sophisticated vibe to a space, keep in mind that it will make even the slightest bit of dirt more obvious than lighter shades of wood. It also doesn't tend to have as much texture, making marks extra visible. Because of this, it probably isn't the best flooring option if you have pets or small children. Still, if you have the time to invest in maintaining it, opting for black hardwood floors can be a design choice that pays off as a stunning statement-maker.