This Simple DIY Ghost Is A TikTok Halloween Win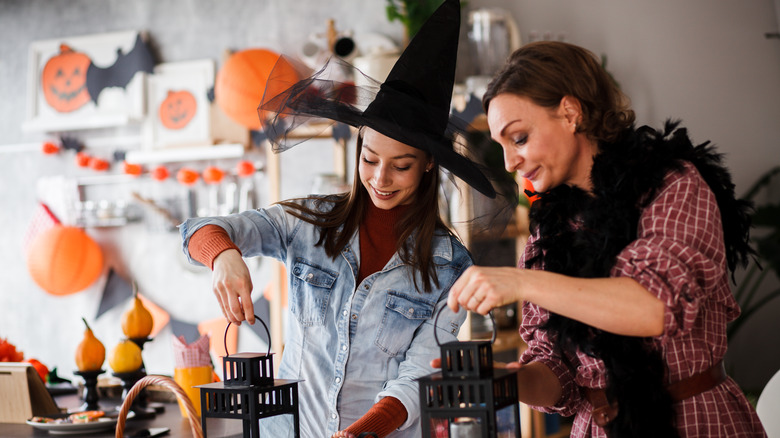 Fotostorm/Getty Images
As Halloween gets closer, you can feel a shift in the air with horror lovers getting ready to celebrate their favorite holiday. They get excited over decorating their homes in ghouls and goblins, carving pumpkins with loved ones, and seeing how many DIY decorations they can make before the season is over. If you're on the hunt for another low-cost Halloween craft to make, look no further than this cute DIY macrame ghost that TikTok user The Navage Patch came up with. 
The macrame ghost is not your average store-bought ghost in the form of a cut-out cloth. Its clever base is a nautical rope that gives the ghost texture and a wavy shape. You can find the nautical rope (you'll need two sets) at Dollar Tree, along with the other materials you'll need: foambard or cardboard, hot glue, scissors, an X-acto knife, and a piece of black felt fabric. Here's how to use your materials to make a cute ghost you can reuse yearly.
Steps for DIY macrame ghost
Once you've gathered all your materials, lay them out on a table to have everything nearby. TikTok user @thenavagepatch suggests starting with the cardboard or foam board you picked, cutting an 8-inch diameter semi-circle with your X-acto knife. It's okay if the foam board isn't perfect; you'll be able to trim any pieces once you're finished. Then, fold one set of nautical ropes in half and lay it across the upper part of the circle to create four strands on each side. Then, fold the second set of rope to create an additional set of strands, placing them within the middle of the outer strands. Ensure that the ropes are nestled tightly together to keep the board from peeking through. Once the rope is neat and secure, hot glue each strand to the foam board, starting from the center and making your way to the top outer strand.
After you hot glued all of the strands, untwist the rope to create loose, wavy strands for the bottom of the ghost. Then, trim the tips to make them as even as you'd like. Next, take your black felt fabric and cut out small ovals to make up the eyes and mouth, hot glue them to the ghost's face, and you're done! Hang your new ghost friend using Command strips or another temporary hanging method. You can even make multiple and create a whole gang of ghosts.