One Of Joanna Gaines' Earliest Fixer Upper Mistakes Involved Reclaimed Wood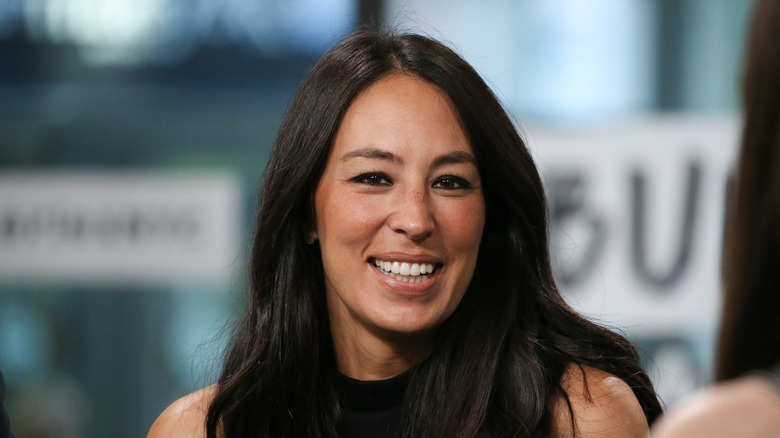 Rob Kim/Getty Images
The words "mistake" and "Joanna Gaines" almost seem like they don't go in the same sentence. The queen of HGTV and her husband are known for their fabulous renovation work that has set the tone for similar shows to follow. But what people often forget is that Gaines doesn't actually have formal educational training for her design efforts. With that being said, it's fair to say that the work the "Fixer Upper" star completed towards the later seasons had evolved since the beginning of Season 1. For example, she made a mistake early in the show's run when she threw away reclaimed wood from a client's property.
Any fan of "Fixer Upper" knows that Gaines is very fond of embracing the old. She is always creatively finding a way to showcase antiques or original staples from homes in a fresh and modern way. So, though it's been said to have been a dramatized stint, the throwing away of reclaimed wood isn't likely something the design expert would do now.
What is reclaimed wood and how do you use it?
In short, reclaimed wood is original pieces that have been salvaged from past use and repurposed into something else, like a rustic coffee table or a one-of-a-kind bookcase. In addition to the endless opportunities for using it in your home, one of the material's special qualities is its sustainability. Not only is it environmentally friendly, but it also adds stunning texture due to the raw, rustic grain. You can often find pieces of reclaimed wood from a local lumber store or places online like Etsy and eBay.
The beauty in reclaimed wood is how you can create a whole new fixture from the pieces. Expansive reclaimed wood planks make excellent kitchen islands or stunning accent beams to up the drama of your ceiling. You're also able to play with the bare planks and stain them how you want or enjoy their rustic charm by keeping them in their natural state.