HGTV's Ben & Erin Napier Have Some Genius Tips To Design A Home With Pets In Mind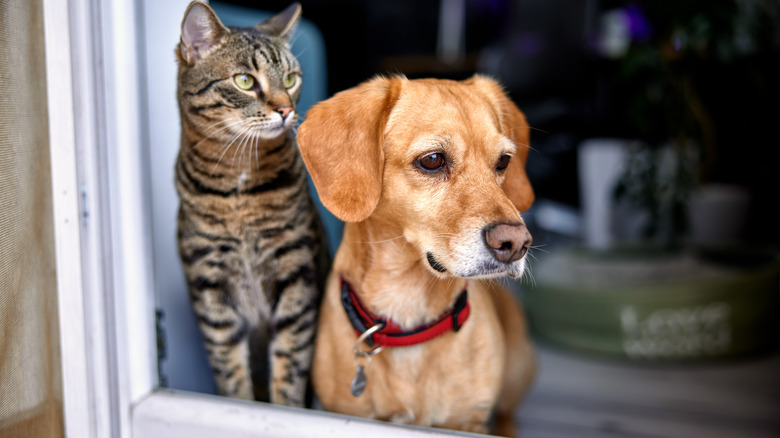 Kerkez/Getty Images
In a clip from "Home Town" on YouTube, Ben and Erin Napier flip a home for a woman who wants a dog-friendly space for her pet to stay while she's at work. The finished product has a warm and welcoming vibe and comes with a new mudroom that can be all about the pup. "You have a space here to hang things like a leash or coats, and then on this side, we'll have cabinets so you can have even more storage," says Erin.
They installed a dog bed underneath the counter with a pull-out cabinet next to it to store food while a smaller, lower, drawer holds the food and water bowls. The room also has a stylish, Dutch door that keeps her furry friend confined but not completely shut out from the rest of the house. "I love that I can put my shoes on and leave her for the day," says the happy client. 
Multipurpose spaces
By making space in the mudroom for the dog and its accessories, the Napiers show the value of multipurpose spaces when designing a home with pets in mind. One main aspect of creating a multipurpose room is having lots of storage so you can eliminate clutter. It also helps to designate some shelves or cabinets for specific purposes to keep things organized. Adding hooks also allows you to use vertical wall space as storage.
Built-in feeding stations, for example, eliminate tripping hazards by keeping bowls out of the way. This frees up more floor space and makes it easier to clean up. Keeping all pet-related things like collars, trash bags, pee pads, and medicines in one place makes it easier to access them when you need them. If your mudroom or laundry room has a utility sink, it can double as a pet washing station. Just add a few shelves to keep all of your pet-bathing supplies in one place.
Choose the right location and placement
The custom bed area is another important part of designing with pets in mind. Instead of just placing a bed on the floor in the corner, carving out an area for a built-in bed can free up space. This also gives them a comfortable, familiar spot of their own and utilizes potentially wasted space. Look for spots in your own home, like under the stairs or unused utility room cabinets, where you can tuck your own cozy pet bed.
The location of the mudroom in this home also adds to its usefulness as a pet space. When set up close to the back door, it makes it quicker and easier to take pets in and out without having to go through the whole house. There is less dirt tracked in this way and you can wipe them down in the mudroom before they go back into the main area. Any spot near an exterior exit, such as a laundry room, can be revamped into a perfect pet room.