The Design Element Jenn Todryk Says Is Essential In Kids' Bathrooms - Exclusive
The kids' bathroom is more than just a functional room; it also holds a lot of memories for a family. It's the place where kids get ready for their first day of school, where they experiment with a new edgy hairstyle, and where they go to unwind after a stressful exam or exciting competition. Unfortunately, interior design is often ignored in kids' bathrooms, simply because the family doesn't spend a lot of time there — or they'd prefer to close the door on the constant mess. 
In an exclusive interview with House Digest, interior designer and blogger Jenn Todryk gave us some key advice about creating a functional and charming kids' bathroom. When it comes to a home renovation, kids' bathrooms aren't usually the biggest focus. These important spaces deserve a little design love too, especially when they serve double-duty as a guest bathroom. 
That was Todryk's challenge while filming one episode in her latest season of HGTV's "No Demo Reno." She explained, "I wanted it to have a usefulness to it, but it was also the bathroom that all the guests use when someone's visiting their home, so I had to create an upscale or an elevated kids' bathroom." Here's what Todryk had to say about making kids' bathrooms more functional, including drawers, an essential storage element that is often overlooked.
Drawers make a big difference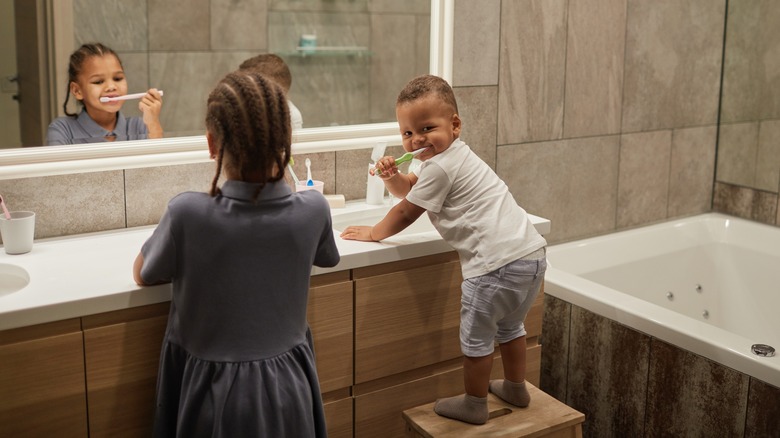 SeventyFour/Shutterstock
"I don't get to design kids' bathrooms a ton," Jenn Todryk explains., "It doesn't compete with a kitchen or a main bathroom or a living room or a dining room; it's the kids' bathroom." While they may not be the main focus of a renovation, Jenn feels that kids' bathrooms can be a fun and challenging room to design. After all, how do you corral the kids' clutter while still maintaining a fun and positive vibe? 
Todryk, who has three kids of her own, recommends "function over everything when it comes to kids' bathrooms." Anything from baskets to labeled bins and hooks should be a consideration. Every family is unique, so it may be worthwhile to try a few different storage methods until you find one that helps everyone form tidy habits.
However, there's one storage element that Todryk says wins out above all others: "Drawers seem to be better with kids, versus doors and cabinets where everything topples over and it's a huge mess on your floor, and then everything gets shoved back in and it's a disaster." Some other bathroom design tips from Todryk? Make sure the bathroom has space for everyone to coexist together and adapt as they grow. She concludes, "Everything being the right height, having enough sinks per kid — little things like that go a long way in the bathroom." 
New episodes of "No Demo Reno" release Thursdays at 9 p.m. ET/PT on HGTV and are available to stream the same day on Max.