Bobby Berk On How To Create Home Design That's Good For The Mind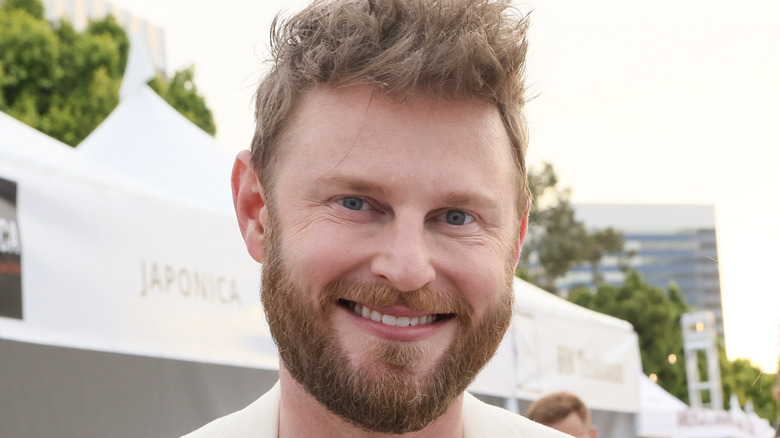 Rodin Eckenroth/Getty Images
We may receive a commission on purchases made from links.
Fans of Netflix's "Queer Eye" know of the Fab Five's uncanny ability to warm hearts and minds, while bringing out one's best and truest self. But what if our homes could do this for us? Bobby Berk, the show's interior designer, says that they can and should. In his new book, "Right at Home: How Good Design Is Good for the Mind: An Interior Design Book," Berk shows us how we can design our spaces to foster well-being and nourish our souls.
"I truly believe that homes are buildings that should not only offer us physical protection, but also mental protection. This belief is what continues to drive how I approach home design, and honestly, life," Berk says in an excerpt from the book. 
For Berk, a home should embody self-expression and the things you love. But translating that into your home's interior design can get a little abstract. That's why he's sharing a sneak peek of his book offering tips on how to create a healthful home that brings you peace and joy.
Base your home design not on looks, but on what makes you happy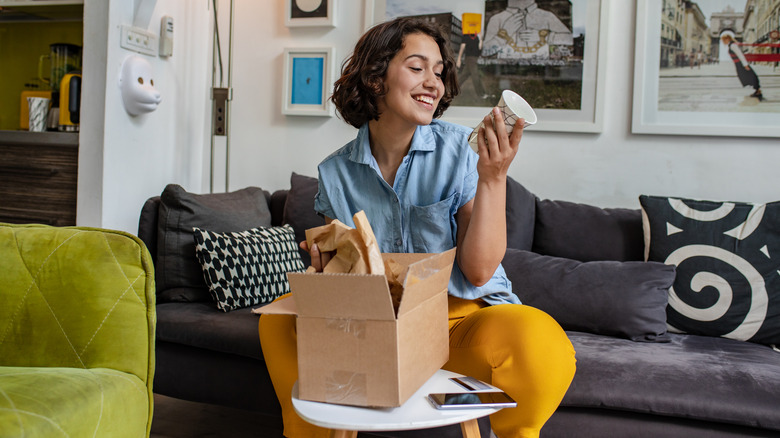 Blackcat/Getty Images
When it comes to home design, Bobby Berk says trends are out and your own personal style is in. If you find something you're absolutely enamored with but question whether it's stylish or what others would think of it, it should still find a place in your home. Personal style never goes out of style. Having pieces in your home that light you up is also good for your health and well-being.
"Your design style is literally Anything That Makes You Happy. And coincidentally – or not so coincidentally – things that make you happy are simply, profoundly, (and scientifically,) awesome for your mental health," Berk writes. Rather than worrying about trends and how it will look on Instagram, focus on choosing pieces that make you happy.
Studies from Vrije University in Amsterdam, Rutgers, and the University of Portsmouth found that family or sentimental photos, fresh flowers, and green or yellow walls can evoke feelings of happiness in your home. However, what makes us happy is unique to us and can be different for everyone, so you'll have to figure out what those pieces and elements are for yourself.
Pin down what actually makes you happy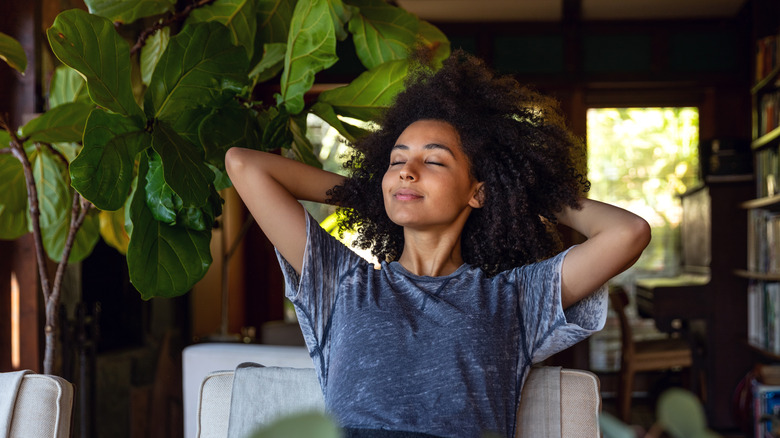 Leopatrizi/Getty Images
Thinking of the word "happy" might evoke sunshine and rainbows for some, but if that's just not your vibe, no worries! Figuring out what makes you happy can be a difficult thing to assess, so Berk gives you alternatives to start with. 
"The first thing to consider is that there are other words that can mean happy, or represent a genuine sense of happiness. So if the word happy feels too difficult to pin down, try using some of my go-tos: calm, safe, inspired, fun, joyful, purposeful, peaceful, energized," he explains. 
Start by figuring out what feelings arouse your optimal state of being and how you want to feel in your home. Though it might be hard to imagine how a couch can help you feel inspired, inspiration and any of those other feelings you're looking for can be aroused through color, texture, pattern, or images. 
Go down the happiness gut check list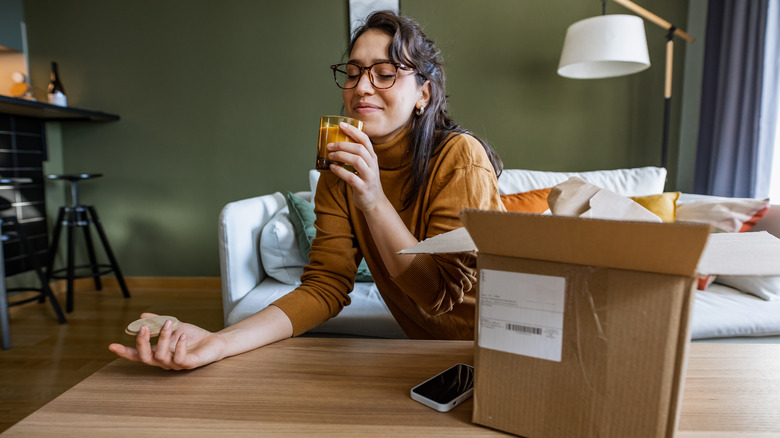 Riska/Getty Images
When you spot something that you think will create good vibes in your home, you'll know it. Berk says it's a gut thing. These pieces will give you all the feels on the inside and stir up good memories of the past, or help you envision a desirable future. You'll just need to lean on your imagination for this one.
So, when trying to pinpoint your style through objects, Bobby Berk tells us to, "Look for something that reminds you of someone you love, something that reminds you of the last time you felt safe, something that motivates or energizes you, something that engages your senses, something that elicits strong, positive emotion, something that smells awesome, something that makes you feel comforted or cozy, something that makes you feel supported or taken care of, something that takes stuff off your plate, something that anticipates your needs, something that makes you feel like you're moving toward a goal."
Think about things you love in life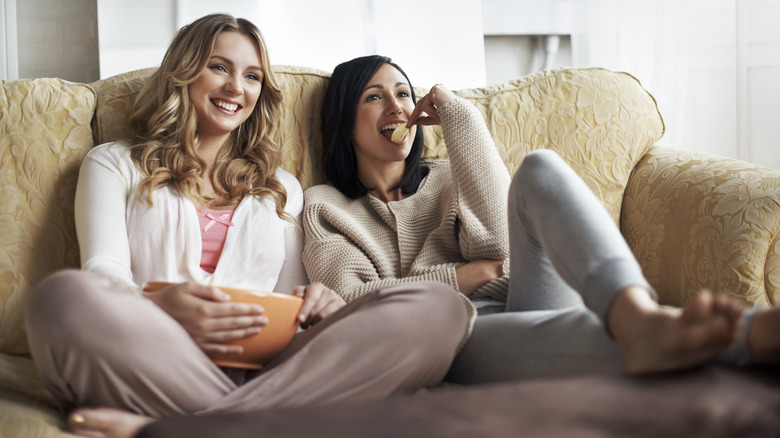 Morsa Images/Getty Images
Bobby Berk has found that the things we hold dearest to our hearts can tell us a lot about our personal style if we dig a little deeper into it. So, when trying to determine your style, you'll want to look outside of aesthetics and instead pinpoint all the things you love in life. This will reveal what your true aesthetic looks like. 
"Just think about all the other things in your life you like/love/are obsessed with. Your favorite meal, your tendency to wear sneakers over boots, that movie you can watch over and over again without ever getting sick of it. Don't get hung up on the fact that you don't know how to 'pick a design style' – just think about all the other things in your life that make you happy," Berk writes.
For example, choosing sneakers over boots means you like a more casual look, while watching Nora Ephron movies on repeat means you like a classic. A lived-in aesthetic signifies that you're more homey than polished, and gravitating towards pesto chicken might mean you like a Mediterranean lifestyle. Write all of these down and theorize about what they can mean in terms of your style.
If you love it, it will work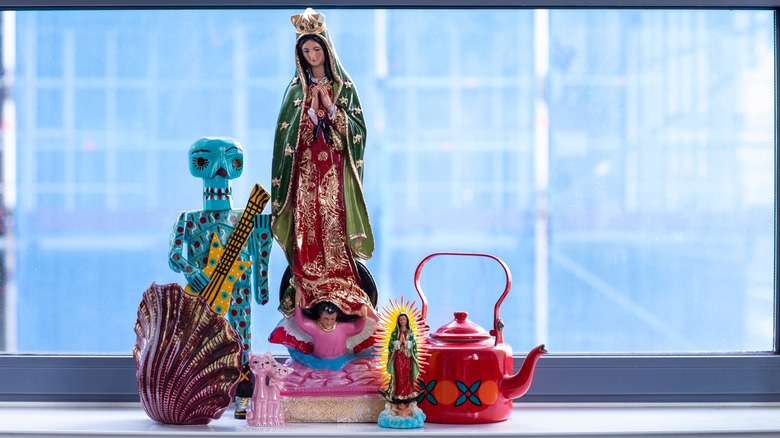 Lea Rae/Shutterstock
We can spend a lot of time going back and forth over whether or not a piece we love will fit in with the rest of our decor or home's design. Bobby Berk says you definitely shouldn't be wasting your energy this way because where there is a design will, there is a design way.
"The home design golden rule is: 'If you love it, it will work.' Don't get too bogged down about picking things that match. If you fall in love with something, no matter how big of a wild card, it will fit in your home. Simply because you'll get a serotonin hit every time you look at it," Berk explains. 
To help these beloved items fit in with your existing design, place them with other pieces of opposing texture, simplicity, style, or shape that can add interest and give the appearance of a curated collection. Try using the object as a focal point or statement piece in your home. You can incorporate mismatched pieces by using a color wheel to see what colors will complement it. Another option is to use the color or material of your piece in two other separate places in your space to make the room feel cohesive. Placing other similar-sized items around it can also help the item blend in and will keep the room balanced.
Create a mood board to visualize your joy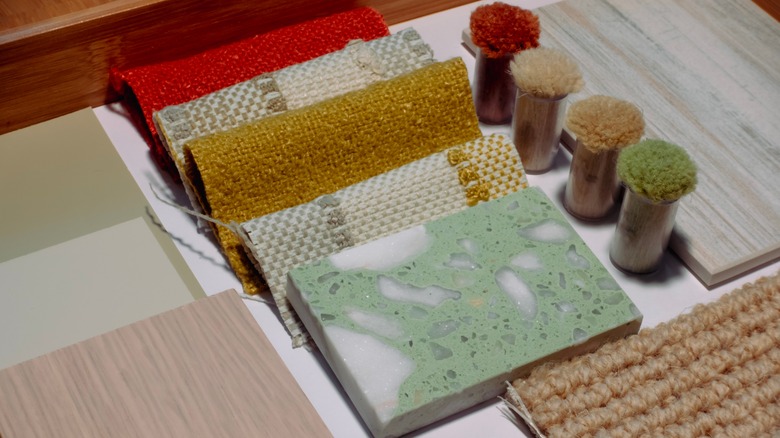 Nicholas Ahonen/Shutterstock
If you're still a little lost when it comes to how you want your space to feel, Bobby Berk says your best bet is to make yourself a mood board. It can be one of the most fun, as well as productive, parts of your design process.
"This is one of my favorite steps during a design process because it allows me to see all of my clients' interests, preferences, and personality attributes in one visual matchup. You can definitely add in design elements and photos of spaces you like and are inspired by, but don't feel compelled to. In fact, it's actually more fun if you don't at this stage!" Berk says.
You'll be able to see themes in what you love, and then be able to extrapolate it into a design style. You can make a digital mood board on your computer, on Pinterest or with programs like Canva, or make a physical one by printing out images and gluing swatches to foam board.