Why Design Pros Would Recommend Rethinking Pastel Carpets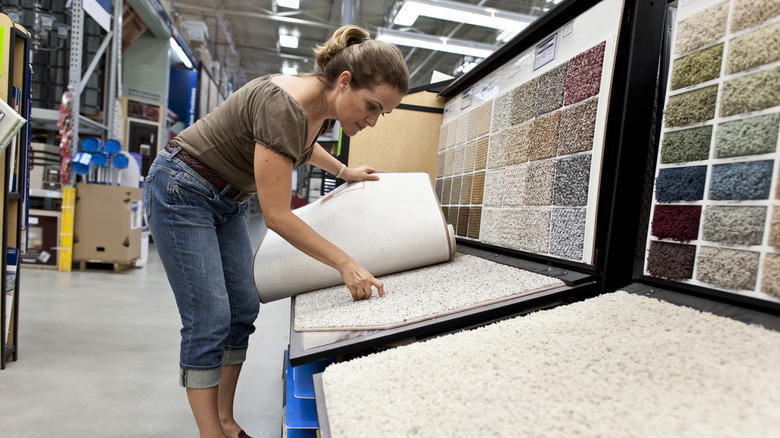 Juanmonino/Getty Images
So, you're thinking of updating your carpet. While pastel options make for a cute design, these shades are ones interior designers would try to steer you away from. Sure, everyone wants to have a clean and fresh-looking home, which lighter hues of carpeting can provide, but this doesn't last forever. Carpet colors like white and light pastels are very refreshing at first when they're brand new and clean, but over time, the pretty look starts to fade. If you have children or pets in the house or spill any food, these carpet colors do not hold up well to inevitable stains.
Pastel hues can also fade in color if they're exposed to too much sunlight. Since these carpet colors are already light to start off, they can lose their vibrant shade and alter the design you've worked hard to create. This is why you should start with a better choice to hold a like-new look for as long as possible.
Best carpet colors to choose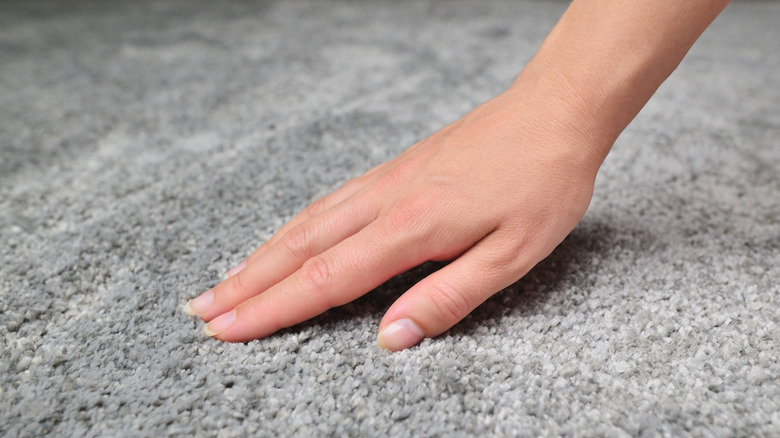 Stock liberi/Shutterstock
So, if pastel shades are definitely out, what carpet colors are best to go with instead? There's a lot that goes into picking the perfect shade such as tones that fit your preference, aesthetic, and possible resale value. If you are ever planning on selling your home in the future, carpet color is an important factor to consider. Vibrant or bold colors can be too niche and throw off buyers, so it's highly advisable to select neutral colors like light beige or grey. These shades can make your room seem more inviting and expansive, which is very appealing to home buyers since it gives the room a clean slate feel.
Apart from style and possibly selling your home, daily life should be taken into consideration when selecting a carpet color too. Homes with animals or children should steer clear from lighter shades, like white, to avoid stains and dirt showing up so vividly. Darker neutral colors like gray or brown hide dirt really well without disrupting the room's design.
Getting a pastel look without pastel carpets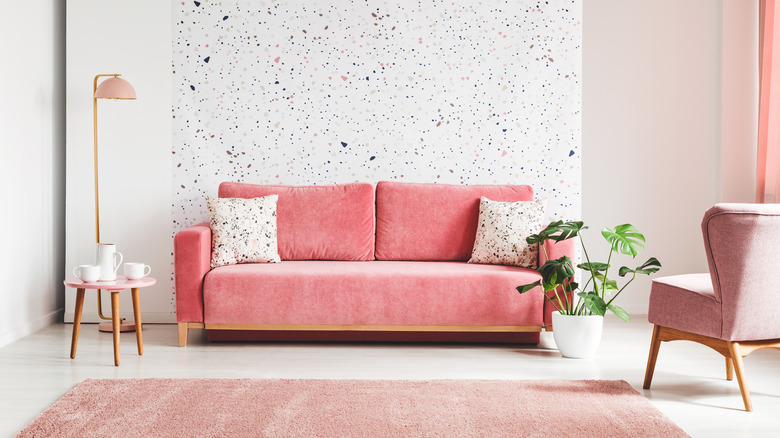 Katarzynabialasiewicz/Getty Images
If you had your heart set on pastel carpeting, there are still ways to incorporate these shades into a room with neutral flooring. Dressing up the carpet with drapes or furniture with pastel upholstery is the perfect way to add a light pop of color to the room without it covering the floor. You can even style an end table or coffee table with pastel-colored accents that match the furniture pieces.
Another alternative to pastel wall-to-wall carpet is an area rug in your desired hue. This can give you a pretty pop of color without all of the rigorous upkeep. Washable options make this even more doable, especially in high-traffic areas. The Dot Border Pink Rug from Ruggable gives you a low-maintenance option with a cutesy touch. Hook and Loom also offers a washable line including a light pastel blue hue to add sleek color to your space.