HGTV's Alison Victoria Shares The Kitchen Appliance That Helps With Resale Value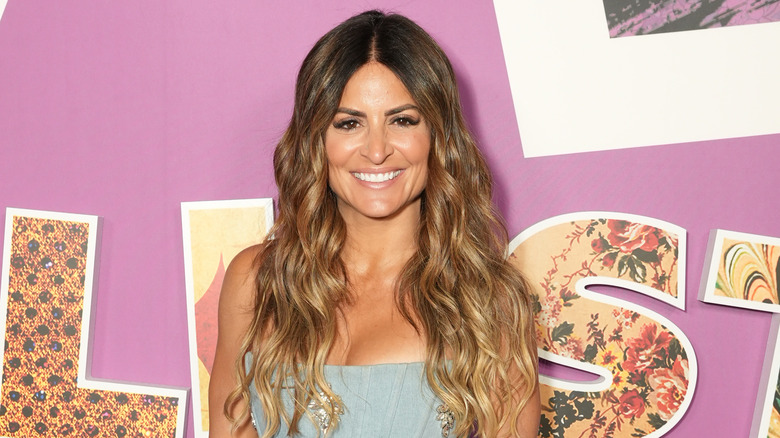 Gonzalo Marroquin/Getty Images
Whether you're living in your forever home or planning to sell your current residence in the future, you may be wondering what you can do to increase your home's value. There is certainly a list of big renovations with big ROIs (even a small kitchen remodel sees an 87% ROI, according to data from This Old House) — but before you start demolition in your kitchen, consider the room's appliances. HGTV's Alison Victoria lent fans a peek inside her home, and her kitchen contains one element that she says can boost resale value — a wine fridge.
Not to be confused with your standard refrigerator, a wine fridge is a smaller rectangular appliance meant for chilling your wine. These appliances are small enough to fit between your bottom cabinets or along your kitchen island to keep your bottles close by and serve as a modern twist to a wine cellar. Don't drink wine? These appliances are very versatile and can be used to store your favorite sodas or fruit for a luxury appeal that home buyers will love if you sell in the future.
Why a wine fridge?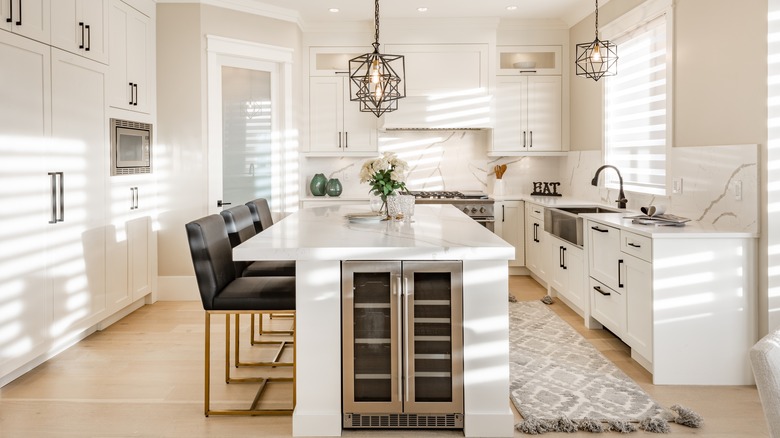 Sheila Say/Shutterstock
A wine fridge -– or wine cooler –- is the perfect touch to your kitchen remodel that attracts potential buyers. "It keeps your main fridge from getting too crowded, you can set it to the perfect temp, and it helps with resale value," Alison Victoria told HGTV.
Though there's no hard figure as to how much value a wine fridge adds, this appliance has a luxury appeal that makes your kitchen look elegant and sophisticated, which is a major selling point for home buyers. This kitchen is one of the two rooms of your home that makes or breaks a sale and is responsible for 4 to 7% of your home's value, so stocking it with a glamorous appliance like a wine fridge is going to boost the desire of a buyer.
Why does a wine fridge add so much appeal and value? Manhattan realtor Amanda Brainerd shared her opinion with the New York Times, stating, "It implies that one will entertain and have fun in the apartment. People have happy associations with wine storage." 
Since this appliance is meant for storage, not limited to just wine, it's increasing functionality in your kitchen while upping the drama, and, let's be honest, who doesn't want a functional, envious kitchen? Though wine fridges are an investment (starting around $500), it's an investment you'll definitely get back when you go to sell.
Purchase a wine fridge for your kitchen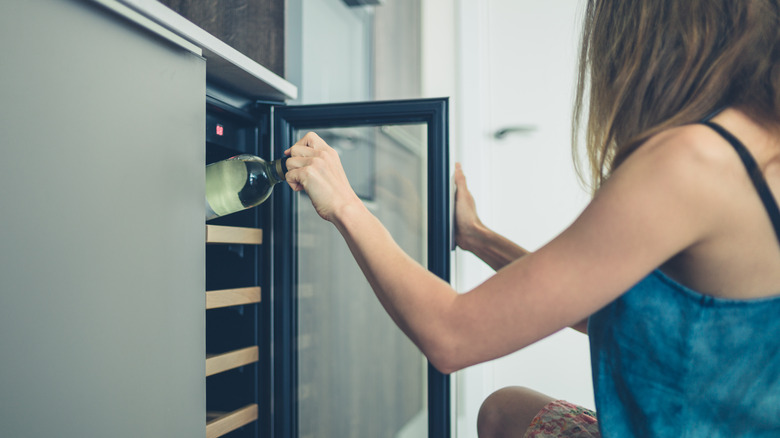 Lolostock/Getty Images
Adding a wine fridge to your kitchen may seem like a custom project, which typically comes with hefty price tags. Luckily, there's a simplified way to go about adding a wine fridge to your space that doesn't require too much work or change. There are two types to choose from — freestanding and under-counter. Freestanding wine fridges can sit on their own without being built into your cabinetry since their venting comes out of the rear (which doesn't permit them to be installed under cabinetry). Under-counter wine fridges have venting at the front that allows them to fit safely into your cabinetry. 
You can purchase wine coolers at local retail chains or through specialty stores. Since hardware chain stores have models on display, you're able to stop in-store and browse to see, in person, which model you like best. The best part is that though wine coolers have a luxurious appeal, many are reasonably priced. Smaller wine coolers are not as expensive as taller, larger ones, which is an important factor to consider for your kitchen. Deciding where you want to place your wine cooler and how big it needs to be will play into the overall cost of this new appliance.