The Beautiful Flooring Christina Hall Warns Against Using When On A Tight Budget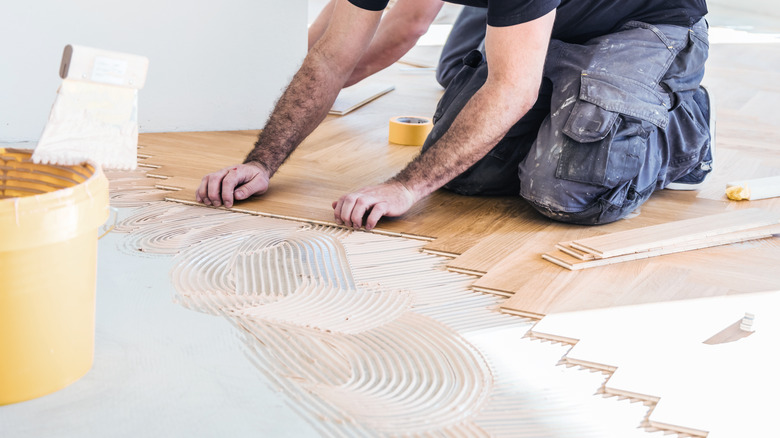 KarepaStock/Shutterstock
When you're selecting new flooring, patterns can add an interesting touch to an overall room design. One popular choice is laying wood in a herringbone pattern to create an updated version of traditional parquet floors. In fact, HGTV star Christina Hall proposed using this type of pattern to friends she was helping during a big remodel in an episode of "Christina on the Coast." The patterned mock-up worked really well with the new white cabinetry and a massive marble-wrapped island with touches of black that were being added to the kitchen after major water damage. As other upgrades to the home took precedence, though, the herringbone pattern didn't make the cut when budget became a consideration. The alternative was the same type of wood flooring in a medium brown color, only without the herringbone pattern.
"We all love the herringbone patterns of the wood floor that I pitched. But since this project is growing and growing, we're going to ditch the herringbone and just lay them like normal," Hall remarks about the floors. "The herringbone pattern costs a lot more, usually up to 40 percent because of the labor. It takes a lot of cuts to lay in that pattern." If you still personally love the look of herringbone as you consider an update — but also have budget constraints to keep in mind — Hall has another suggestion to consider.
A budget-friendly alternative for a similar look to herringbone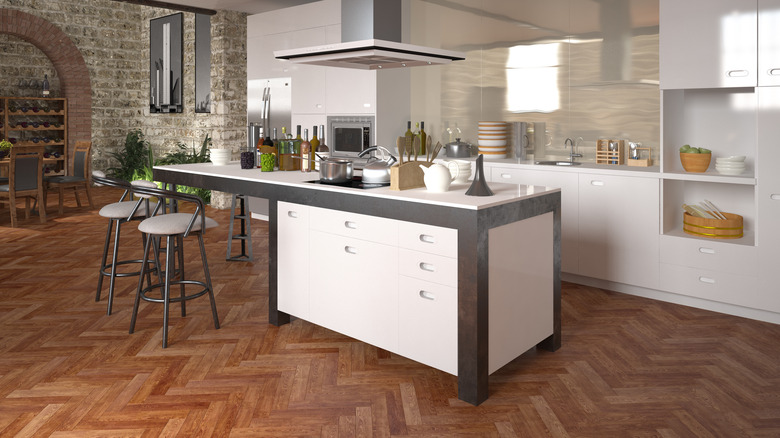 Susiweiss/Getty Images
In Christina Hall's latest show for HGTV, "Christina in the Country," one episode had her tackling a project filled with faux finishes. Even the flooring in the kitchen had a finish painted on it. The homeowners were prompted to say, "Faux no mo," so that flooring had to go. But when they expressed an interest in a pattern similar to herringbone, since they loved the look, the cost was a definite consideration yet again. Hall quickly came up with a viable solution: luxury vinyl planks (LVP) with a chevron print.
As Hall explains on the show, you can purchase luxury vinyl planks with the chevron pattern already printed on them remarking "If these weren't designed like this, as boards, then very complicated; time-consuming, expensive, so many cuts. But the fact that it comes like this, it's pretty easy." Additionally, the materials run from $3-4 per square foot, making LVP an alternative to a herringbone or chevron floor that's both beautiful and affordable.