The 7 Best Rain Showerheads That'll Bring Subtle Luxury To Your Bathroom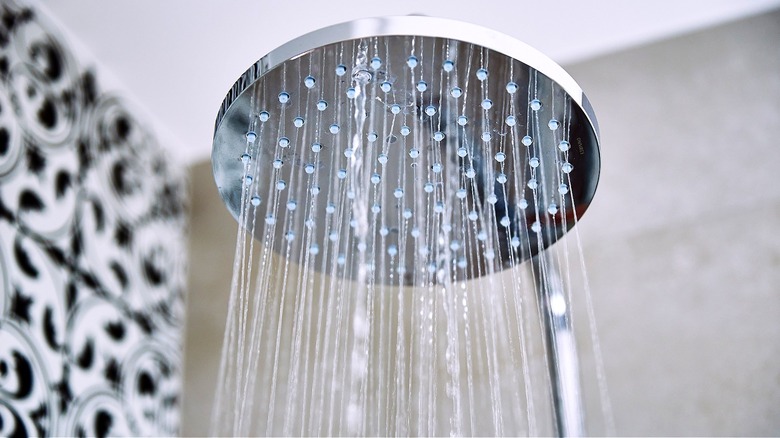 Lazy_Bear/Shutterstock
We may receive a commission on purchases made from links.
When it's time to change your outdated showerhead, then you might want to upgrade to something that will add a luxurious touch to your bathroom. In that case, you definitely need to consider a rain showerhead. Although you've surely heard of them, you might not know why they're so popular. Well, it all has to do with the nature of rain showerheads and the relaxing spa-like experience they offer.
Although a rain showerhead is the same as a typical showerhead in many ways, it also has a larger surface. In fact, they tend to be around 8 to 12 inches, which means they have more holes to let out water. Further, a rain showerhead can attach to either the wall or the ceiling, so if you'd prefer, the device can sit directly above you. This means that water will pour out onto your entire body instead of just hitting your face or back. Indeed, the water is meant to mimic falling rain, hence the name.
Of course, not all rain showerheads are the same and some are definitely more impressive than others. Frankly, some perform better while others are more attractive. Some are an ideal option if you're on a budget and others are simply worth splurging on. You just need to decide what you want from your dream showerhead, and we can help you out thanks to the fact that we've narrowed down five of the best rain showerheads that you can buy.
How we selected products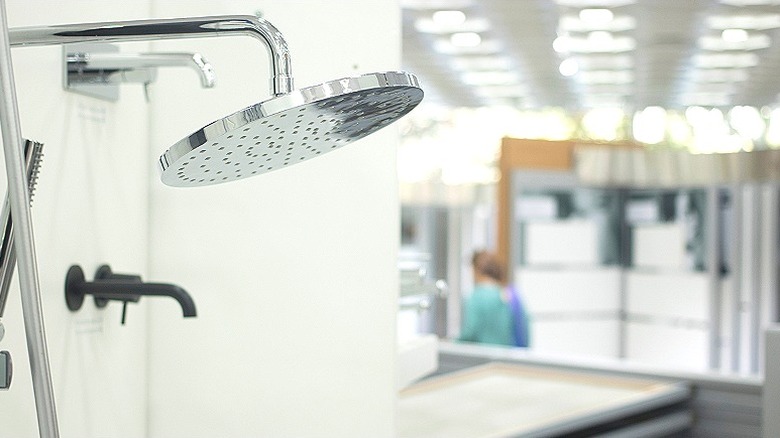 edwardolive/Shutterstock
Choosing a rain showerhead may seem like a straightforward process, however, there are a few things you'll want to consider before you pick up the first option you come across. Fortunately, we've thought about this and weighed various aspects, to help us select the best of the best. For instance, along with how well they actually mimic a soothing rainfall, we've also considered the showerhead's verall design, usability, durability, appearance, additional features, installation needs, and the materials used to make each one. We've also noted water usage, pressure, and price. On top of that, we've tracked down which ones are bestsellers and done our best to determine why they've earned that impressive status among shoppers.
Granted, you may not just want to take our word for it when it comes to finding the best rain showerheads on the market. That's why we've also taken a look at the kind of reviews each has received not to mention other potential accolades. In the end, we're pretty darn confident that we've selected some of the best options out there and when it comes to our choices, we're sure that you'll be able to find something that you'll absolutely adore.
Best Overall: Delta In2ition 5-Spray Patterns Wall Mount Dual Showerhead
For House Digest's best overall rain showerhead, we recommend the Delta In2ition 5-Spray Patterns Wall Mount Dual Showerhead. While it isn't the cheapest rain showerhead out there, it won't necessarily break the bank. This showerhead features five different settings, a handheld wand attached to the hose, and an easy installation. Reviewers enjoyed its versatility of use as well as Delta's customer service. 
Purchase the Delta In2ition 5-Spray Patterns Wall Mount Dual Showerhead from Amazon for $78.99.
Best Price: SparkPod High-Pressure Rain Showerhead
A bestselling item on Amazon with well over 45,000 reviews, the SparkPod High-Pressure Rain Showerhead has an impressive 4.5 rating. A showerhead that will make you feel like you're standing in the middle of a delightful downpour, it's easy to install and simple to clean as well as being a rustproof and energy-saving option. Finally, it comes in a range of fabulous finishes, including polished chrome, Egyptian gold, vintage oil-rubbed bronze, and "radiant rainbow."
Purchase the SparkPod High-Pressure Rain Showerhead on Amazon for $34.95.
Best Water Stream: Pottery Barn Rain Showehead
While there are plenty of aspects to consider when choosing a rain showerhead, the most important detail is surely the quality of the water stream. The Pottery Barn showerhead offers you a wide, gentle, and steady flow of water to imitate the calming feel of rain, as well as six-, eight-, or 12-jet options that allow you to choose the water pressure. Just be aware of the fact that professional installation is needed.
Get the Pottery Barn Rain Showerhead at Pottery Barn starting at $299.
Best Appearance: Everstein Multifunctional Shower System
Although the Everstein Multifunctional Shower System features a contemporary design with sleek panels, the chic hardware, which can be installed in a range of ways, is just one reason this rain showerhead is so stunning. Beyond the handheld piece and body jets, the large flat head boasts waterfall and rainfall streams as well as LED lighting that allows you to choose between 64 colors. Each shade changes the ambiance and allows you to set the vibe of your shower.
The Everstein Multifunctional Shower System is listed at Bed Bath & Beyond for $1,040.39.
Best Features: Cranach Thermostatic Complete Shower System
The Cranach Thermostatic Complete Shower System is the kind of product that goes way beyond the basics. Not only does the rain showerhead use water-saving technology that ensures pleasing water pressure, but the base of the piece also offers a 59-inch hose, six massaging 360-degree adjustable body jets, and three head-stream varieties that can be enjoyed separately or all together. That's not to mention the anti-scald, anti-corrosion, anti-rust, and anti-leak features that are more than just a little appealing.
Purchase the Cranach Thermostatic Complete Shower System on Wayfair for $399.99.
Best for Easy Installation: Moen Magnetix Engage Spot Resist Brushed Nickel Round Rain Showerhead
The Moen Magnetix Engage Spot Resist Brushed Nickel Round Rain Showerhead will give you not only give you dual rain showerhead action but will also be easy for you to install. This showerhead also features six different functions and Moen's magnetic docking system. The showerhead itself requires very few parts and can be installed right on existing plumbing.
Purchase the Moen Magnetix Engage Spot Resist Brushed Nickel Round Rain Showerhead from Lowe's for $99.00.
Best for Switching to Handheld: Delta Faucet 5-Spray In2ition 2-in-1 Dual Hand-Held Showerhead
The Delta Faucet 5-Spray In2ition 2-in-1 Dual Hand-Held Showerhead is one that perfectly marries the luxury of rain showerheads with the convenience of having a handheld system. The great thing about this showerhead is that you're not actually taking the showerhead itself down but are using a separate hand-held head. Delta brings the quality you would expect from such a well-known brand with the versatility needed for a modern lifestyle.
Purchase the Delta Faucet 5-Spray In2ition 2-in-1 Dual Hand-Held Showerhead on Amazon for $208.30.