The Simple Way Joanna Gaines Uses A Gallery Wall To Welcome The Fall Season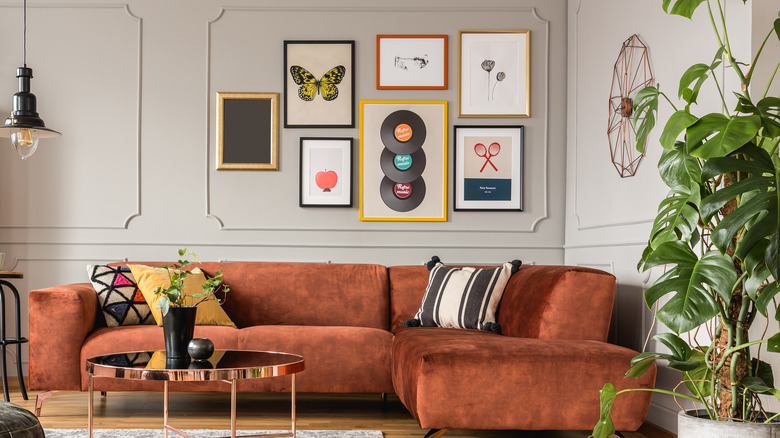 Ground Picture/Shutterstock
When decorating for the fall season, using natural, rustic decorations is the perfect way to make your home festive. In addition to your typical fall décor, such as pumpkins, fall leaves, and other seasonal items, HGTV's Joanna Gaines recommends incorporating a gallery wall filled with still-life paintings and landscapes in your home to welcome the fall season.
Gallery walls are perfect for every home, especially when you have a large blank wall you don't know how to decorate. They're an excellent backup option that will elevate any room in your home. Most gallery walls consist of various eclectic artworks you might find on Etsy or at vintage shops and family photos you compile together to match your home's interior and tell your story. For the fall season, you don't have to get too sentimental with your chosen portraits; they should reflect what autumn represents. However, you can integrate what fall means to you and how it makes you feel through the art you choose.
Hang calming fall paintings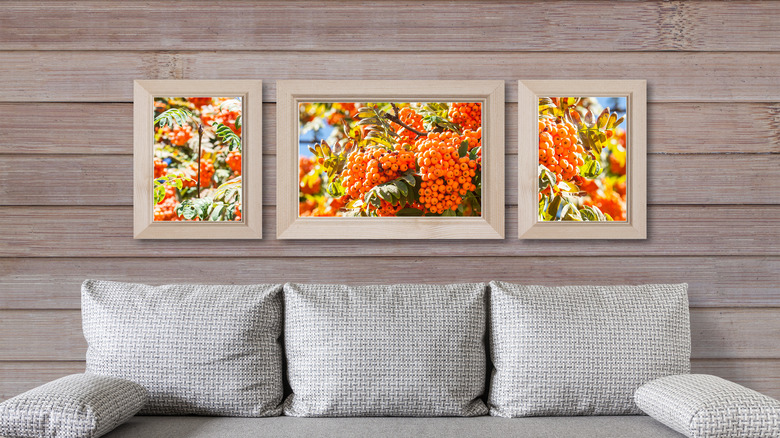 SUN-FLOWER/Shutterstock
Autumn symbolizes change and transformation in the world around us and within us. We see the leaves change throughout the season, and they fall before winter while we reevaluate our goals, plans, and aspirations. When deciding what paintings to hang in your home, "Fixer Upper" star Joanna Gaines suggests using calming still-life paintings and landscapes. You might enjoy horses standing in an open field at sunset or a lonely, gloomy meadow with a massive tree in the center. Fall colors, like orange, yellow, red, and brown, are also ideal contenders in fall artwork. If you're having trouble finding paintings that inspire you, Gaines created a list of potential candidates on her website that could make their way into your home.
Gallery walls consist of different-sized frames to add interest to the space. You can have a large painting in the center of the wall and add various minor, equally spaced frames to make them look neat and chic. As you're gathering and choosing paintings, pick styles that complement each other and the wall they're hung on, whether through colors, figures, or moods. On the other hand, you could use different-colored frames to make them stand out. However, using the same finish, like black or brown, will create a cohesive look. For example, Gaines used the same colored frames in her bathroom's horse-themed gallery wall that complements the striped wallpaper. Anything that relates to autumn will look right at home on your wall.