The 8 Best Pet-Friendly Couches Dog Owners Swear By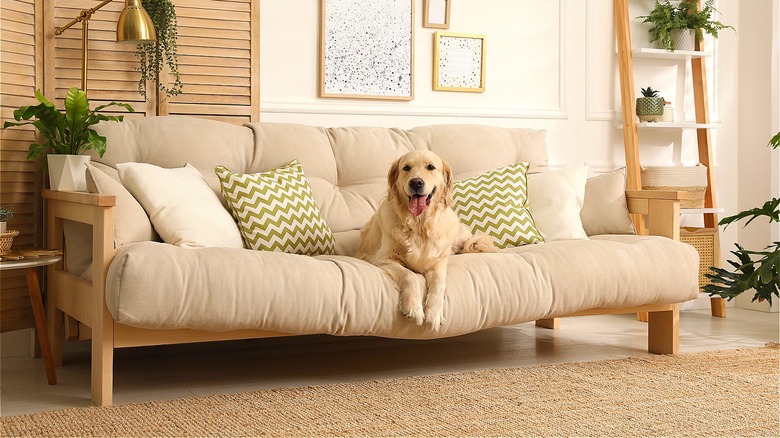 New Africa/Shutterstock
We may receive a commission on purchases made from links.
Having pets can be a source of great joy, but one of the downsides of living with animals is the dirt and hair that can accumulate anywhere and everywhere from your pets coming and going as they please. If you don't want your regular couch to become ruined by marks and stains, one of the ways to make your living space more pet-friendly is to buy a pet-friendly couch. This isn't a separate sofa for your pet, but rather one that you and your pets can enjoy without worrying about the damage they could cause.
The features to look out for when searching for a pet-friendly couch include the fabric of the sofa (i.e., can it be cleaned easily or will it show scratches), the overall design (e.g., if it's easy for your pet to jump up and down by itself), and extra features like removable headrests that will also contribute to good maintenance and easier cleaning. The color of the couch is also key, as lighter colors are more likely to show imperfections.
How we selected products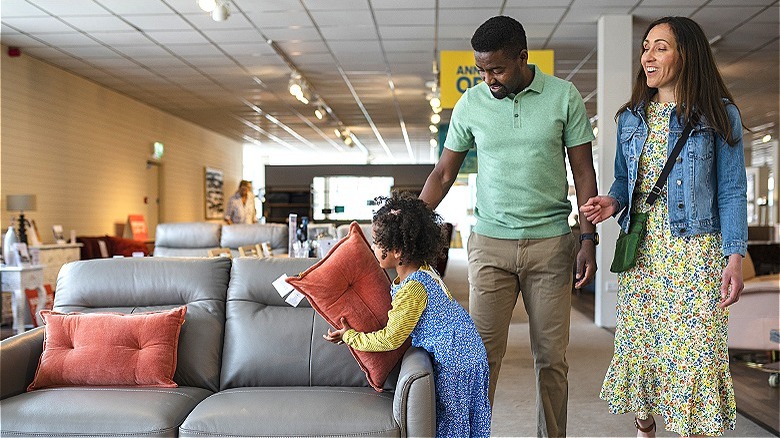 Solstock/Getty Images
Picking out a sofa is tricky enough without the added element of looking for one that's pet-friendly, but our selection criteria ensure there's a couch to suit everyone's needs. Good reviews of a product always matter, but there are several other aspects that contribute to whether a product is featured or not. Firstly, design and functionality. It's important that the sofas on this list look good but will also serve as a functional furniture piece in your home. Secondly, price. All sofas have been chosen with a variety of budgets in mind, and the majority are under $1,000. 
Finally, we considered bonus features, like cup holders, which may not impact how much you like a sofa but will make relaxing a whole lot easier on those all-important chill days. From sleek midcentury modern sofas to classic tufted designs, the couches we've chosen below have all been approved to fit the above criteria and scored positively when it comes to the above-mentioned features. Sit back, relax, and browse our handpicked selection so you can snuggle up with your beloved pet on your new pet-friendly couch.
Best Overall: Mercury Row Garren Square Arm Tufted Sofa
Featuring a solid wood eucalyptus frame that will hold up against the heaviest of pets, this sofa is available in either dark gray or navy blue. Not too large or too small, the back cushions are removable for easy cleaning, whereas the tufted seat cushions add a sophisticated look. However, reviews do note that this sofa is on the firmer side, so you might want to look elsewhere if you like soft cushions.
You can buy the Mercury Row Garren Square Arm Tufted Sofa on Wayfair for $299.99.
Best Budget-Friendly: IKEA KLIPPAN Loveseat
There is no doubt that when it comes to looking for budget-friendly yet stylish solutions, IKEA is an absolute go-to. For this choice, we speak from personal experience. After owning the sleek and stylish IKEA KLIPPAN loveseat for ten years, this small but mighty couch is a must-have for the budget-conscious household. Our KLIPPAN survived four cats, two dogs, two energetic children who went from preschool to teenagers, and three household moves. The couch is still like new. And the best part of this IKEA staple product? You can purchase many different covers for it both through IKEA and through third-party retailers.
The IKEA KLIPPAN loveseat can be purchased at an IKEA retail location or online for $399.
Best for Small Spaces: Costway Convertible Folding Futon Sofa Bed
Studio apartment or small living room? No problem. This convertible sofa has got you covered for all occasions. You can lie down with your pet when it's time to relax, or sit up properly when it's in the sofa position. The upholstery will be easy to keep clean, whereas the cup holder function means you can keep drinks out of the way of your pets. It comes in black, white, or brown.
You can find the Costway Convertible Folding Futon Sofa Bed at Target for $307.99.
Best Sectional: Linsy Home Small Reversible Sectional Sofa
Another great option for small spaces, this couch features fully removable and washable cushions on the seat and back so you can get any marks or leftover pet hairs out with ease. It comes in five color options, including dark gray and beige. Two USB ports, a side pocket, and an ottoman that can be shifted around are all included, making this budget option more than good bang for your buck.
The Linsy Home Small Reversible Sectional Sofa is available at Walmart for $359.99.
Best Large: Wade Logan Arhab 10-Piece Upholstered Sectional
Sitting low to the ground so your pets can jump on and off with ease, this sofa is large enough to seat the whole family plus pets. As well as the cushions being removable for easy maintenance, this sofa is reversible, so you can switch the configuration around to better suit your space. It also comes with a cool cup-holder feature for movie nights. In addition to the sofa, a small ottoman with storage is included.
The Wade Logan Arhab 10-Piece Upholstered Sectional is available to purchase at Wayfair for $1,659.99.
Best Stylish: Z-hom Top-Grain Leather Sofa
This couch has a chic and refined look that's perfect for elevating a living room or office. Crafted in a midcentury modern style from real cowhide leather, its smooth surface can be cleaned easily with a cloth and some warm water. You can pick from a two- or three-seat design and from a black or tan finish. Reviews also mention this sofa being very easy to put together, a major plus if you wouldn't exactly call yourself a DIY expert.
You can find the Z-hom Top-Grain Leather Sofa on Amazon for $799.
Best Covered: IKEA KIVIK Sofa
If you're looking for a couch that is not only pet-friendly, but you can change the cover on, then head on down to IKEA. One of the company's newest couches, the KIVIK, is already receiving high ratings on its website and also from reviewers. It is comfortable, has a wonderful look, and you can purchase machine-washable covers in several different colors, including Gunnared light brown-pink and Kelinge gray-turquoise
The IKEA KIVIK sofa can be purchased at IKEA retailers or directly from its website for $849.00.
Best Bang for the Buck: Home Reserve Tux Couch
When looking for a couch, sometimes prices don't always indicate the quality of the product you'll purchase. That sentiment cannot be said about Home Reserve's Tux couch with washable and stain-resistant fabrics. This company prides itself on making durable furniture that will hold up to kids and pets alike. Home Reserve allows you to customize not only the fabric but also what you want from your couch, from storage to size. One reviewer noted how easy the fabric is to keep clean and the extra storage space.
The Tux Couch by Home Reserve Adaptable Furniture Co. can be purchased on its website starting at $1,095.