The 5 Best Toilet Paper Holders For Keeping Your Bathroom Neat And Tidy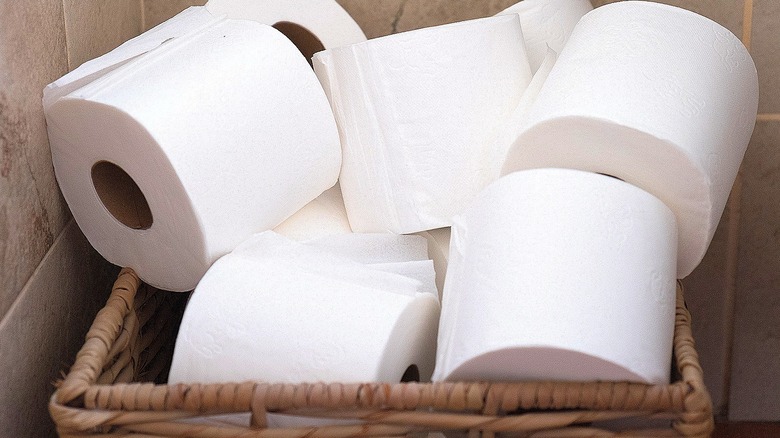 Standbypictures/Getty Images
We may receive a commission on purchases made from links.
Bathrooms can be short on space but big on bathroom storage needs. Whether you're looking for room to store toiletries, towels, or personal care products, space is at a premium, especially for essentials like extra rolls of toilet paper. While many people resort to nearby cabinets or linen closets to stock their toilet paper rolls in bulk, these locations aren't always a reachable distance when you most need a roll.
That's why a nearby toilet paper roll holder can be a blessing in emergencies, making the bathroom experience better for both homeowners and for guests. Retailers offer a variety of designs and features for toilet paper holders these days, including ones that also double as a dispenser for the roll in use. When it comes to purchasing a new toilet paper holder for your bathroom, the key is finding one that fits both your space and your style.
How we selected products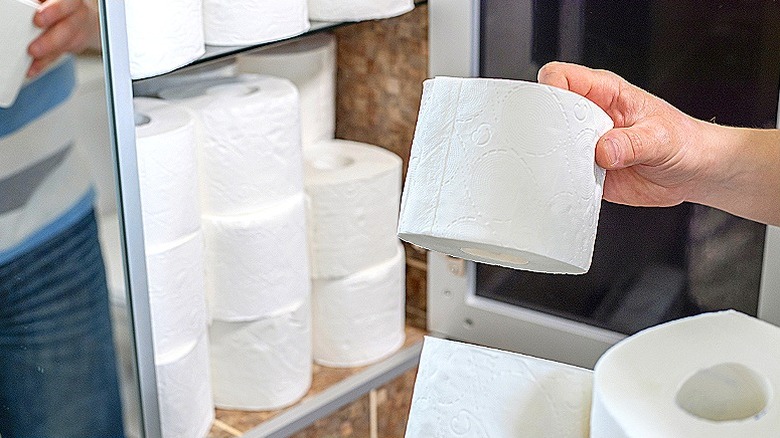 Andrii Zorii/Getty
For this list, we've rounded up five toilet paper holders we think are among the best. Each holder offers all-important bathroom storage space and easy access, but we wanted to include a few additional criteria as well — i.e., discretion, multiuse functionality, placement, and lastly, fun. All five holders are cost-friendly. Further, every product in the list can hold three or more extra rolls of toilet paper, giving you a simple way to organize your bathroom and keep things neat and tidy for your household.
As for style, we think these toilet paper holders cover a range of bathroom aesthetics, so hopefully, you'll find something that works for you. In our list, you'll find creative options for displaying your extra supply, as well as a few that allow you to hide your rolls in plain sight. To determine our picks, we took a look at what each product offers, but also weighed what customers had to say once they had a chance to use these products themselves.
Best Overall: ROLABAM Heavy Weighted Toilet Paper Holder
If your bathroom is smaller, this no-frills toilet paper holder may be the best solution for holding extra rolls of tissue.  It comes in a variety of trend-friendly sleek metal finishes like silver, chrome, and matte black and holds up to four rolls of paper. This versatile holder has a weighted bottom that prevents tipping and a waterproof and rustproof finish perfect for high-moisture spaces.  Only 22 inches high, the holder fits snuggly near the toilet or beside the sink. 
The ROLABAM Toilet Paper Holder can be purchased from Amazon for $25.99.
Best Discreet Holder: mDesign Plastic Organizer
This holder is perfect if you're looking to stash away a few extra rolls of paper out of sight from guests. A sleek inconspicuous cylinder, this plastic holder sits on the floor near the toilet and holds three extra rolls of tissue, carefully concealed under the lid. It also comes in several colors, including two shades of gray, navy, and black. It's the perfect size to sit next to the toilet or bathroom trash can. The plastic surface of the holder is impervious to rust and very easy to clean. 
Purchase the mDesign Floor Toilet Paper Organizer from Amazon for $24.99.
Best Multifunctional Holder: AOJEZOR Toilet Paper Stand
If space in your bathroom is tight and you're looking for a toilet paper holder that also doubles as some extra storage, look no further than this cabinet-style holder.  It dispenses and holds several rolls of extra paper, plus includes two extra shelves for placing other essentials or bathroom décor. The extra tissues sit behind a closed cabinet drawer and out of sight.  Made of a water-resistant matte PVC,  this holder also comes in different colors and a larger size that offers room for additional rolls and more shelves for storage or display. 
Purchase the AOJEZOR Toilet Paper Stand from Amazon for $23.48.
Best for Small Spaces: Home Magnetics Wall Mount Holder
If space on the floor is at a premium, look to the walls for extra storage space. The Home Magnetics Wall Mount Holder doubles as a fun tic-tac-toe game in stylish wood. The holder features a wooden grid available in a variety of beautiful rich finishes and X's in a number of colors to fit your color scheme. It holds five new rolls of tissue and can be a fun activity for your guests to arrange when using the facilities. 
Find the Home Magnetics Wall Mount Holder at Wayfair for $89.99.
Best Fun Holder: WHAT ON EARTH Dinosaur Holder
This fun, whimsical toilet paper holder is perfect for kids' bathrooms or for your favorite dino-lover.  It can hold two extra rolls of tissue while also serving as a piece of pre-historic culture that's sure to delight your guests and make them laugh. Made of durable resin, it's very easy to clean and lightweight. It can also work as a paper towel holder for the kitchen and is small enough to fit on a vanity or shelf if you don't have extra floor space.
Purchase the WHAT ON EARTH Dinosaur Holder at Amazon for $22.99.