The 7 Best Shower Cleaners For Keeping Your Bathroom Squeaky Clean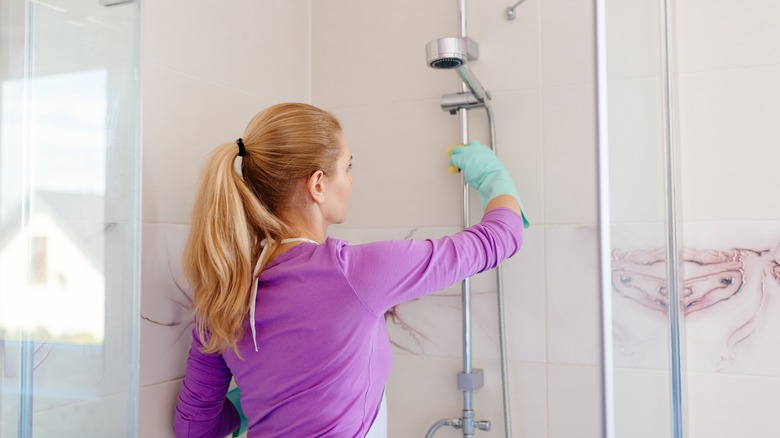 Djedzura/Getty Images
We may receive a commission on purchases made from links.
That dreaded time has cycled around again: Bathroom deep cleaning day. It's time to pull out the sponge, towels, gloves, and copious bottles of magical elixirs meant to clean the different materials used to make your beautiful en suite a spa paradise. While you may have your go-to toilet bowl cleaner in hand and your favorite glass cleaner for your mirror's crystal-clear shine, you realize that you don't have a cleaner quite strong enough to cut through your partner's soap bar that seems to have melted in its alcove and that hard water build-up caking your luxurious rainstorm-replicating showerhead.
We're right there with you. With so many different shower cleaner options out there, how do you choose what's right for you? After all, what works for your next-door neighbor's bathroom may not be right for you. In this journey to find the perfect solutions, we've rounded up five of our favorite cleaners to provide a roadmap for the journey toward your shower's gleaming perfection.
How we selected these products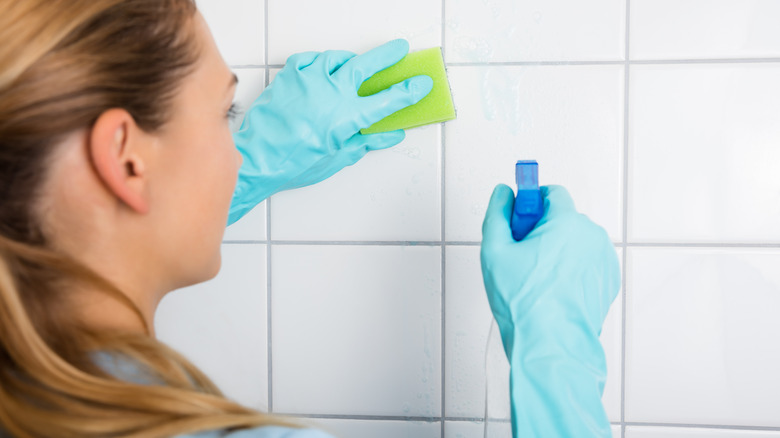 Andreypopov/Getty Images
It can be quite overwhelming standing in front of a sea of cleaners on your favorite retailer's shelves. You scan all of the labels' ingredients, read over all the promises the manufacturers make, and even go so far as to spray some of the bottles to see if the smell is something you can live with. Before you know it, an hour or two has passed while your shower still waits for the royal treatment. We see you, and we don't want you wasting your time any longer. That is why we rounded up five products to consider before even heading out the door.
We didn't put a few keywords into some sort of sophisticated algorithm. Instead, we turned to simple considerations like cost, consumer reviews, ingredients, and accessibility. We broke these down to come up with five cleaners that may meet some of your unique shower-cleaning needs. Do you want a bleach-free cleaner? We have you covered. Are you looking to not break the bank but have great results? We'll help you save your money. In fact, we'll even give you our choice of the best overall shower cleaner. Here are House Digest's picks for five of the top shower cleaners to meet any of your needs.
Best overall shower cleaner: Clorox Plus Tilex Fresh Daily Shower Cleaner Spray from Walmart
Before we dive deep into specific categories of shower cleaners, let's declare once and for all that Clorox Plus Tilex Daily Shower Cleaner is the overall best-in-show. With the forces of Clorox and Tilex coming together in this perfect marriage of cleaning power, there is no stopping this mighty spray bottle. And to boot, it's also bleach-free and affordable. Reviewers rave about its lasting cleaning power, the pleasant scent, and its ease of use (hint: just spray and rinse!). If you're looking for a daily shower spray that takes little effort to keep mildew away, then House Digest's pick for the best overall shower cleaner is for you.
To pick up a bottle of Clorox Plus Tilex Daily Shower Cleaner, head on over to Target, where it can be picked up for $3.99.
Best bleach-free shower cleaner: Lysol Power Bathroom Foamer from Amazon
One of the many things to consider when cleaning a bathroom is the chemicals that are in your cleanser of choice. This includes the age-old question of "To bleach or no bleach?" If you're looking for a strong, bleach-free cleaner to get your shower squeaky clean, then turn to Lysol for its Power Bathroom Foamer. Receiving 4.8 out of 5 stars from nearly 11,000 Amazon consumers, this spray foam gives you a deep clean without the bleach. And an added bonus? Save wear and tear on your brush because it is scrub-free!
You can find Lysol Power Bathroom Foamer on Amazon for $4.27.
Best eco-friendly cleaner: Method Eucalyptus Mint Daily Shower Cleaner Spray from Target
While some are concerned about the question of bleach, others worry about the overall chemicals in a product and the impact that it has on the environment. Known for its eco-friendly products, Method"s Eucalyptus Mint Daily Shower Cleaner delivers on its promise to not only keep your shower clean but to reduce its impact on the planet. From a company that boasts using recycled materials for most of its packaging, this product uses cruelty-free testing and a biodegradable, plant-based formula. There is no doubt — this cleaner is a slam dunk for Mother Earth.
You can roll your cart over to Target to pick up a bottle of Method Eucalyptus Mint Daily Shower Cleaner for $4.29.
Best at tackling mildew: Lysol Mold & Mildew Remover with Bleach
For the second time, one of Lysol's products reigns supreme in this battle of shower cleaners. This time, we've chosen Lysol Mold & Mildew Remover with Bleach as the victor in the showdown of mildew cleaners. This product works like a charm for not only the shower/tub arena but all sorts of different surfaces in the home. It is described as almost a magic potion, with one Target reviewer stating, "I use it in the shower and watched majority mold and grime disappear before my eyes."
To get your hands on the mystical bottle of greatness known as Lysol Mold & Mildew Remover with Bleach, head to your local Walmart, where it is available for $4.27.
Best at eliminating hard water stains: Lime-A-Way Bathroom Cleaner
Hard water stains are no joke. The disgusting residue builds up the side of your shower like some sort of creeping shadow over what should otherwise be a spa-like shower experience. If your home is like the vast majority of other households in the United States (with some estimates stating that around 85% of American homes are impacted), then you are all too familiar with this scenario. If you're ready to send hard water stains packing, we recommend that you reach for Lime-A-Way spray. This product was made exactly for getting rid of those nasty deposits left on your shower walls.
Lime-A-Way spray is available at Walmart for $4.28.
Best budget-friendly shower cleaner: LA'S Totally Awesome Fresh Scented Daily Shower Cleaner from Dollar Tree
If you want an effective yet wallet-friendly option to clean your shower, look no further than your friendly neighborhood Dollar Tree. On one of its many shelves, you'll find LA'S Totally Awesome Fresh Scented Daily Shower Cleaner. A company that is better known for its magical yellow all-purpose cleaning solution, it seems that LA'S Totally Awesome has done it again but for your shower this time. Receiving high marks from consumers (including one stating that it is the best cleaner they've ever used), this spray bottle of awesome seems to get showers shining at a very budget-friendly price.
You can purchase LA'S Totally Awesome Fresh Scented Daily Shower Cleaner at Dollar Tree stores for only $1.25.
Best powder shower cleaner: Comet with Bleach Disinfectant Scratch-Free Cleanser from Target
Remember when you were a kid, and your grandmother would pull out the container of Comet powder to clean, well, just about anything? Fast forward to today, and this nostalgic green can prove that the cleaner from your childhood has staying power. Comet with Bleach Disinfectant Scratch Free Cleanser can be used on many different surfaces, including the tile or fiberglass you might find in your shower. Reviewers celebrate the product for cleaning the toughest surfaces, including those scum-filled awkward corners in your shower.
You can add a can of Comet with Bleach Disinfectant Scratch Free Cleanser from Target for $1.19.