The Feature That'll Add A Sense Of Luxury And Privacy To Your Patio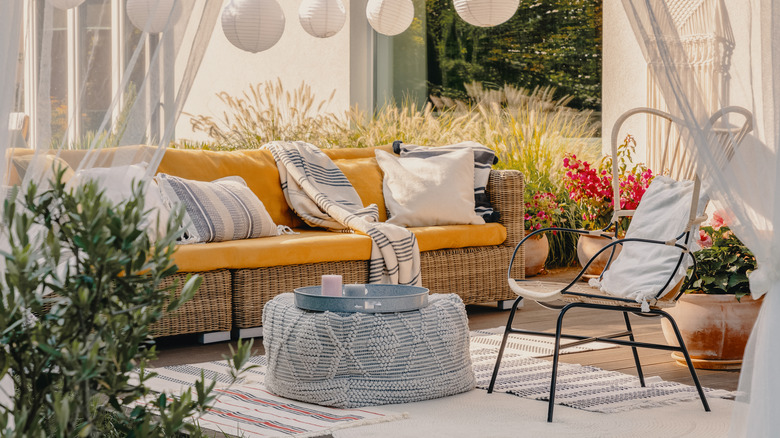 Katarzynabialasiewicz/Getty Images
If your patio needs upgrading, try giving it an upscale resort vibe. Recreating an outdoor cabana in your backyard can make you feel like you're on a tropical getaway in your own private oasis. One key feature that you can't leave out when creating a resort-like atmosphere is outdoor curtains. Curtains elevate a patio by adding style, functionality, and ambiance. They are a simple accessory to create that luxurious but relaxed cabana vibe while maintaining your privacy.
In terms of window treatments, curtains are very versatile. The material options allow you to choose the amount of opacity and thickness you want and they can always be adjusted easily to control the amount of light and airflow that comes through. They provide shade when it's hot, keep the patio cool, and offer protection from harmful UV rays, which can be beneficial for both you and your outdoor furniture. Outdoor curtains also give you the option to close yourself off while you're lounging, which is especially beneficial if your patio is close to neighbors or in an exposed area.
Outdoor curtains for your patio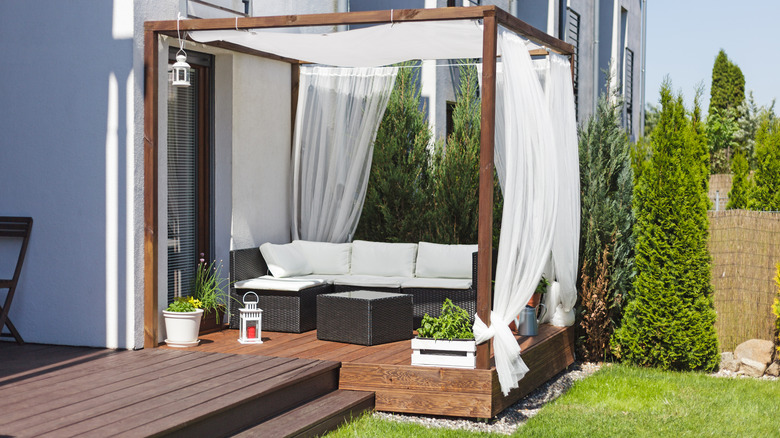 Lukasz Pawel Szczepanski/Shutterstock
The curtains, rods, hooks, rings, and any other accessories you choose for your patio will be slightly different from those you use indoors. They need to be durable, weather-resistant, fade or rust-resistant, and easy to wash. One common curtain material is heavy-duty polyester because it is thick, water-resistant, and protects against UV rays. Sunbrella fabric, acrylic, canvas, and olefin are some others. Depending on your priorities, you can search for products that are specified to be noise-canceling or light-blocking. As a rule of thumb, light, sheer colors let the light in while darker colors block it out.
You can also DIY your outdoor curtains. All you need to do is spray waterproofing spray on the cotton fabric of your choice, create holes for the curtain rings, and hem the edges. To install, you can drill holes in the wall or patio structure for the rods just like you would inside. If you don't want to make holes, opt for magnetic rods or heavy-gauge wires that can be hung up with hooks.