Jenn Todryk Loves That This Kitchen Design Trend Is Coming Back In Style - Exclusive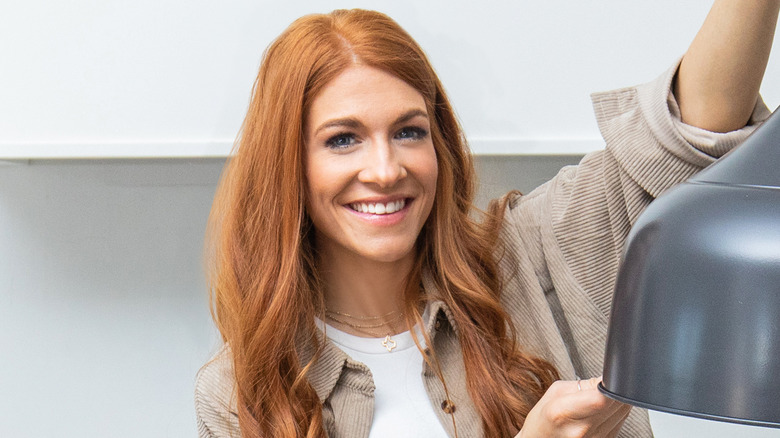 HGTV
According to a 2018 survey conducted by Houzz, kitchens are the most popular room in a home to renovate. Perhaps this makes sense, considering the kitchen is where many of us spend our time relaxing, cooking, working, or socializing. The relevance of this space is also what often makes it the epicenter of emerging — and re-emerging — design trends. While keeping up with all the latest styles may seem overwhelming to some, for interior designer, blogger, and HGTV star Jenn Todryk, it can be thrilling to see nostalgic designs come back in style.
In an exclusive interview with House Digest, Todryk expressed her excitement about the return of many design trends that have been "unpopular" for over a decade. Having just launched her newest season of "No Demo Reno" on HGTV, Todryk has seen firsthand how quickly a trend can go from popular to dated. When she first started the show, Todryk explained, "Everything was gray and white. Everyone wanted a white kitchen; no one wanted any color ... That was what was popular back then."
Now, she is glad to see some once-dated kitchen design elements are coming back in full swing. "Fast-forward to Season 3 — it's such a moody season in design. We've got dark stained wood, we've got emerald green tiles, we've got dark blue offices, we've got ceilings painted the same color as the walls, a ton of color drenching. This is a very rich, moody, organic, modern vibe, and I love it so much." Todryk told us more about how she envisions trendy kitchens today and some of her favorite elements of the dark and moody style.
Todryk is embracing the return of dark wood
It's been a while since dark wood tones were considered modern or trendy, especially in kitchens (2000s Tuscan, anyone?). But believe it or not, Jenn Todryk says the deep, rich stains of yesteryear are back and better than ever: "I love dark-stained woods right now. It's something that's coming back. It reminds me of the kitchen I had in 2010, all dark stained wood, and I could not wait to get a white kitchen. Now, these little accent pieces with dark stained wood is beautiful." The natural warmth found in dark wood complements other rich jewel tones perfectly, so if you're going for a deep gray-green, rich burgundy, or moody navy on your walls, pairing it with cozy dark wood kitchen cabinets can really seal the look. 
In addition to the return of dark woods, Todryk is enthusiastic about other forms of natural, warm design. "I love terracotta tiles; I like even slate tiles. Bringing the more raw, organic nature in — I love that," she said. "A large chunk of this season's kitchens [don't have] stark white cabinets. They're a warm cabinet, and it's beautiful — beautiful, warm design."
If you still adore your white kitchen and aren't on board with the return of dark colors just yet, that's okay too! Todryk explained that designs are constantly evolving, so it likely won't be long until your favorite trend is the next big thing again.

New episodes of "No Demo Reno" release Thursdays at 9 p.m. ET/PT on HGTV and are available to stream the same day on Max.