Clean & Condition Your Leather Couch With TikTok's Latest Find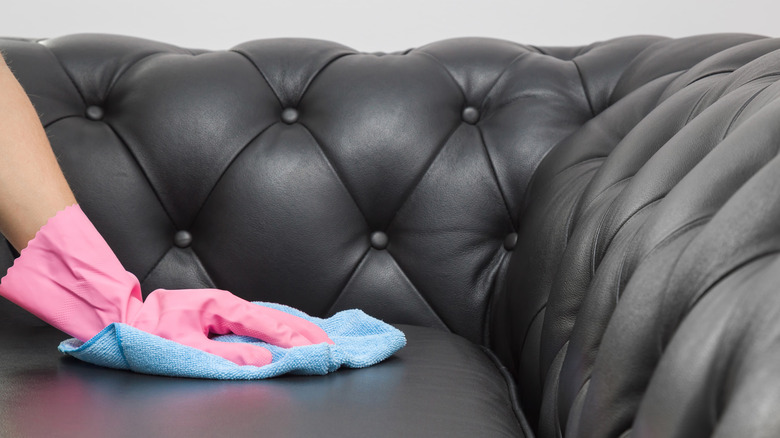 FotoDuets/Shutterstock
If you have a leather sofa that you want to make sure is sparkly clean, but don't know how to clean it, one nifty product shown by @cleansnob on TikTok could help to solve the issue. Say hello to Murphy Oil Soap. Although it's considered as an oil soap, it can do an impressive job of helping you clean your leather couch, transforming it from dull to shiny and like brand new. Likewise, it's also perfect if you're on a budget, as you don't have to use much product to get the job done. 
So, if your sofa needs a quick refresh, then grabbing some Murphy Oil Soap and water is all that you need. If you already have some stowed in your cupboards, this is also a perfect opportunity to use it. But how much do you need and are there any precautions to take? Below, we'll dive into the correct steps you need to take to clean and condition your leather couch.
You only need a small amount of Murphy Oil Soap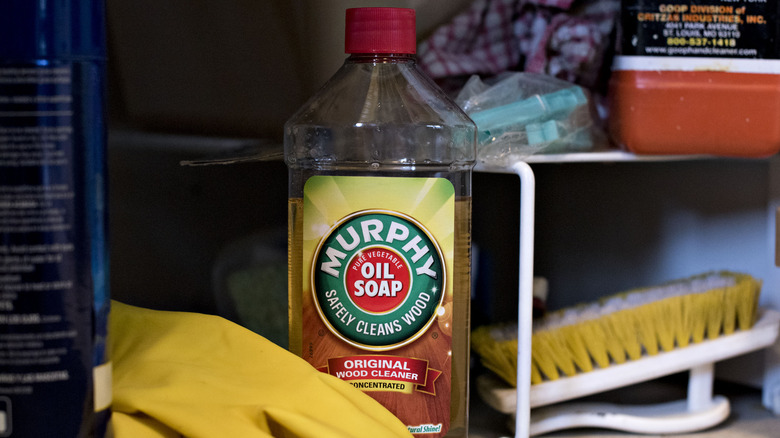 Bloomberg/Getty Images
In order to clean and condition your leather couch with Murphy Oil Soap, you first need to give it a quick dust. You only need a couple of drops of the product — less is usually more in this case. @cleansnob adds a few drops to a cup of water, then uses a cloth to wipe down the couch with the mixture. As a result of using this nifty cupboard staple, it should help to keep your leather sofa in good condition just as a normal conditioner would. What more could you want? However, you should be aware that too much of this product may end up marking your sofa with streaks or causing residue buildup, so it's best to keep your use to a minimum.  
While Murphy Oil Soap has a variety of different uses, such as cleaning wood furniture, the reason it works so well as both a cleaner and conditioner is because it helps to add moisture and shine, just as a conditioner would. Now, you can rest easy knowing you always have a way to treat your leather couch, or any other leather products you have around the house.