The Unique Way Joanna Gaines Adds A Bold Pop Of Color To Her Family Farmhouse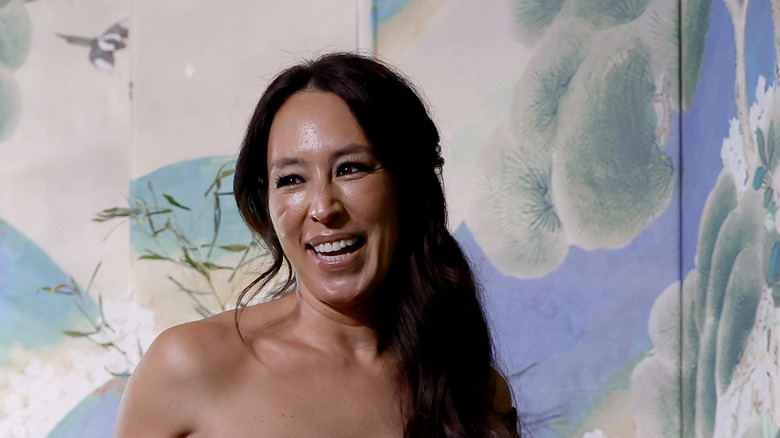 Anna Moneymaker/Getty Images
When it comes to adding distinctive decorating touches to a home, no one offers tips to tie a room together quite like Joanna Gaines. She does it time and again on "Fixer Upper" and often shares glimpses of her own farmhouse to provide inspiration to her fans on social media. In one particular Facebook post, Gaines shows the unique way she brightened up a corner of a room with a beautiful vintage piano cleverly painted green.
"I smile thinking about how many little hands have been pounding on its keys lately," Gaines wrote of the uniquely colored piano, sharing that the photo was taken for her book "Homebody: A Guide to Creating Spaces You Never Want to Leave." The piano offers a perfect pop of color against a white shiplap wall right next to a stairway outfitted with black railings. To complete the look, Gaines added black and white framed artwork and a squat vase holding a sprig of greenery to the top of the piano.
Adding a painted piano to your home for a pop of color
If you'd like to add the same type of feature to your home, you can try locating an old piano from online reseller sites like Facebook marketplace and redo it. If you don't have luck there, many estate sales offer upright pianos that would also work for this purpose. Be sure to factor in the high cost of moving a piano into your budget when acquiring one since they can be quite heavy, and many Facebook sellers and estate sales don't offer delivery.
When redoing your piano, green is one choice if you want to copy Joanna Gaines' look exactly. In reality, though, you can redo it any color you like to add a pop of color in the same way. Gaines opted to antique the piano. That is, giving it a less-than-perfect finish that highlights the fact that it's not brand new. This works great with farmhouse décor, but you can paint a piano with a high gloss paint for a modern look just as easily. Think about the statement you want to make with your piano redo, and you can add a functional musical instrument to your home that also serves as an amazing decorative accessory. You can also get creative and come up with ways to style a piano to make it your own, just like Gaines does.