Fixer Upper's Joanna Gaines Shared Her Biggest Tips To Tie A Room Together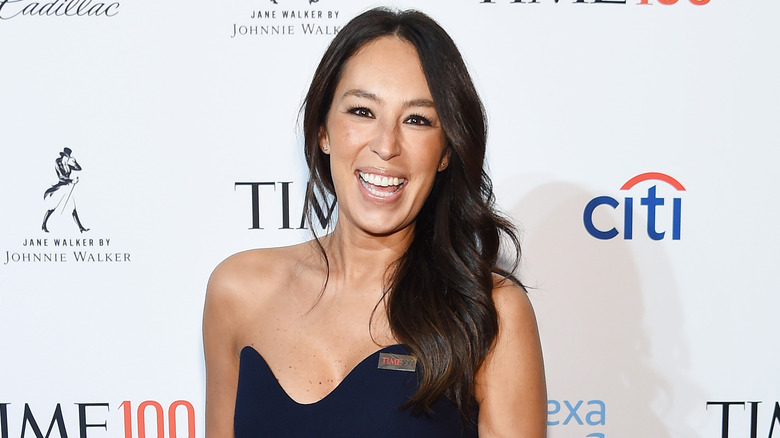 Larry Busacca/Getty Images
When redecorating a few rooms around the house, it's easy to get caught up in creating picture-perfect results. You go to multiple stores to find everything you need to decorate your space. Sometimes, things don't turn out how you want them to, and you return half of the décor you bought or keep things you don't actually love. Buying too many items at once is one of the problems with quick decorating. Instead of rushing the process, HGTV's "Fixer Upper" star Joanna Gaines suggests slowing down and taking your time when finding décor items to tie a room together. She says, "Don't design your home with meaningless elements simply to get it decorated," (via Architectural Digest). 
Your home should reflect your personality and the things you love, whether through paintings, knickknacks, decorative pillows, vinyl, or other items. Even if your walls and shelves are vacant for a few weeks or months, leave those places empty until you find things worth displaying. Gaines tells Elle Decor, "it's good to look at a blank wall and say 'I'm going to leave that wall blank until I find 'that very thing' that makes it meaningful to who I am.'" You can get inspiration from other interiors you see online, but avoid copying and pasting a design in your home. Focus on what you like and what stands out to you instead of compiling décor you think will look good together because someone else has the same possessions.
Find items that speak to you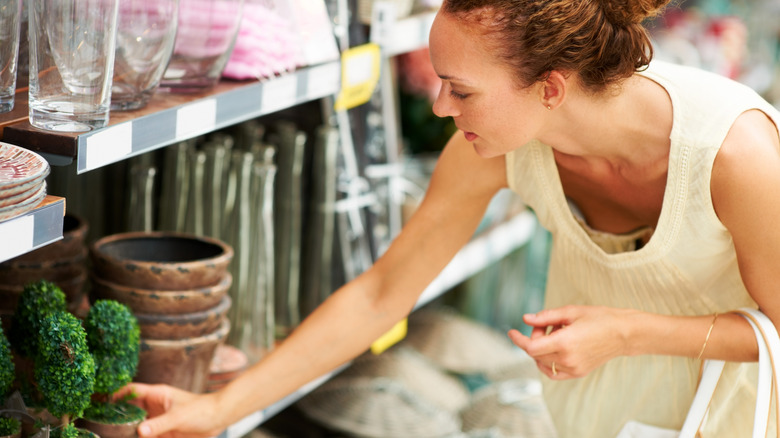 Urilux/Getty Images
Unless you're a full-blown minimalist, you probably want to add decorative elements to every room of your home. For example, if you're redecorating your living room, you might replace the décor by adding a new mirror or placing knicknacks on the shelves. Joanna Gaines claims that everything, from the furniture to the smallest design elements, should be thought about deeply before purchasing. "Ask yourself, 'will I love this in five years?' It's also great to incorporate those one-of-a-kind finds or antique pieces that are added details, but live on with you forever," Gaines says (per Elle Decor). Combining new and old embellishments helps tie together a room and your whole home. Plus, your space won't feel like it was taken straight out of a Pottery Barn catalog. 
An excellent way to prevent making your home look similar to other houses is by avoiding trendy embellishments like the food-themed benches folks raved over for a few weeks. Gaines states, "Find pieces that speak to you, and give yourself the freedom to tell your story in your own unique way," (via Architectural Digest). You might go on a family vacation and stumble upon stunning artwork that would look striking in your bedroom. Buying décor sporadically over time will remind you of the places you visited and your experiences, making them more meaningful. 
Focus on your family's story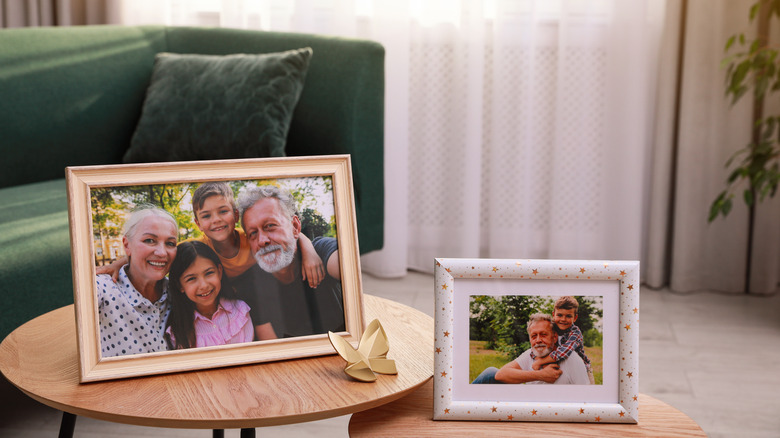 New Africa/Shutterstock
Whether you see something that reminds you of a family member or find something you think your sister would like, family is an excellent way of tying a room together. When looking for new décor items to display in your room, Joanna Gaines states, "Take your time and gather pieces that mean something to you, whether they're framed family photos, a beautiful antique clock that speaks to you, or a knickknack that reminds you of your grandmother," (via Architectural Digest). Print one of your favorite family pictures and hang it on the wall in your bedroom, or hang multiple and create a gallery wall. It'll be the first thing you see, reminding you to call a loved one or simply think fondly of them. Plus, framed photos make exceptional conversation starters, especially if they have a funny story attached to them.
Your home is a place you'll live in for years, so make it a space you never want to leave. Gaines advises to forget all about trying to make the interior look picture-perfect. She states, "I think it's important to be unapologetic about what resonates with you; there's something about having confidence in your own home that people can feel as soon as they walk in," per House Beautiful. Don't feel the need to impress others with what you decide to put in your home. Choosing items that showcase your family will tie any room together and make it feel complete.