In Her New Book, Erin Napier Reveals The Type Of Tile That Will Never Go Out Of Style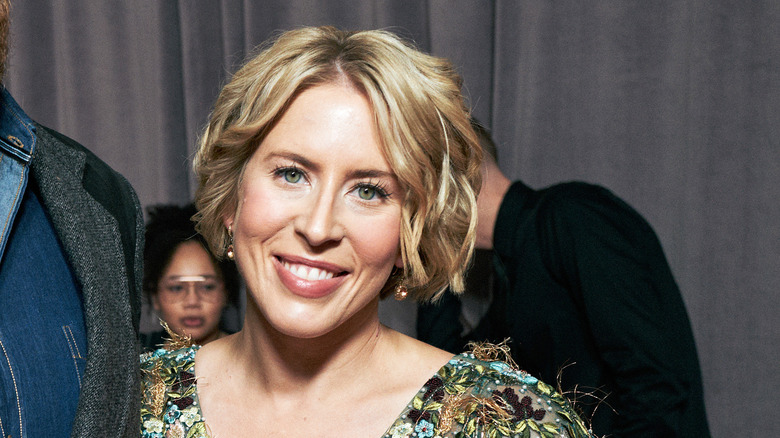 John Shearer/Getty Images
We may receive a commission on purchases made from links.
The environments we grow up in influence our sense of style and what catches our attention, from our fashion choices to our décor favorites. On her show "Home Town," Erin Napier has expressed her appreciation for Saltillo tile and the charm that comes from it being handmade. In her new book "Heirloom Rooms: Soulful Stories of Home," we learn a bit more about where her connection to this flooring comes from as she discusses key elements of her parents' home and how they formed some of her core memories.
"All of my life's pivotal memories before I had a family of my own happened in these rooms, and I feel there will always be beauty in the high-quality materials my parents chose when building the house in 1992. That oak kitchen and Saltillo tile will never go out of style!" she shares in an excerpt from the book. Napier's not alone in thinking this about Saltillo, as it continues to be a popular design choice for its comforting, classic feel, found mainly on kitchen floors but also on walls, backsplashes, counters, and even outdoor spaces.
What Saltillo tile is and how it's used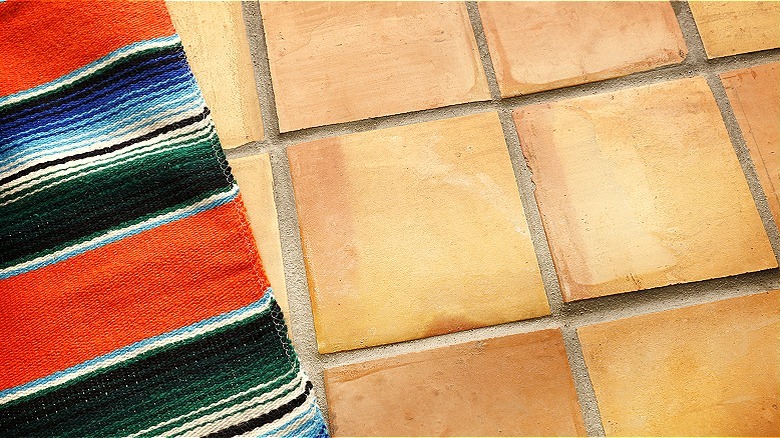 Dny59/Getty Images
The Saltillo tile that Erin Napier says will always be in style is a type of clay tile named after the city of Saltillo in Coahuila, Mexico, where it originated from. It's been widely used as a flooring and decorative material for centuries, loved for its natural appearance, production process, and practicality. Made from terracotta clay, the reddish-brown color and rustic texture give it a warm and earthy appearance, making it a natural choice for those seeking those types of aesthetics. It's a great addition to Mediterranean, Tuscan, or Spanish-style homes, for example.
Saltillo tiles are typically handmade using traditional techniques. Artisans shape the clay, sun-dry it, and then fire it in kilns to create the finished product. This results in imperfections that make every tile unique. As mentioned, Saltillo tiles can be used in various settings. In addition to being able to be a stylish addition to any space, they're also durable and well-suited for heavy traffic areas. The tiles are also capable of maintaining even temperatures, which means they stay cool in hot weather and retain warmth in cold.
Costs and value of investment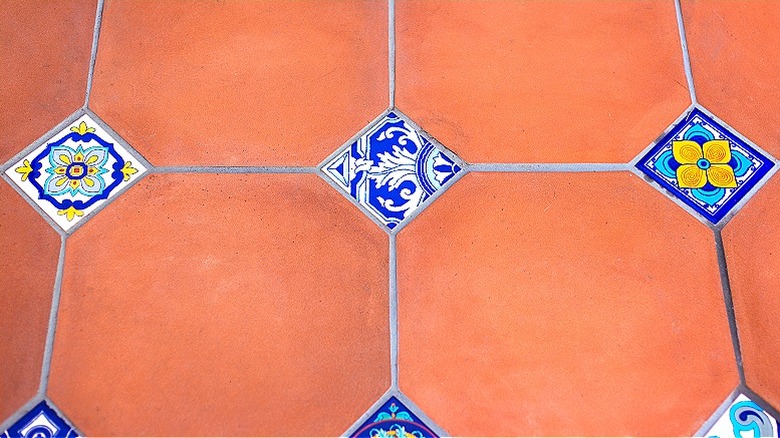 Jannhuizenga/Getty Images
On average, Saltillo tile costs around $6.50 per square foot for both materials and installation. Some additional costs to consider, however, are the transportation of the tiles to your location, clearing and preparing the site, and any special tile patterns you may want. While this isn't on the more expensive side, this flooring will require much more attention in the installation and maintenance stages.
Because of how hands-on the production process is, Saltillo tiles need to be installed with a lot of care and expertise. The floor first has to be prepped to be level and free of any substances, after which thin-set mortar is applied. Next, the sealed Saltillo tiles, followed by grouting. Note, sealing is required before Saltillo tiles can be laid and sometimes after the installation and later on to maintain their shine.
While it's possible to DIY, it's better to be on the safe side and hire a professional when it comes to Saltillo tile. Cleaning on the other hand is much more simple, as the tiles can be swept or mopped with water and soap. Considering all this, it makes sense that a high-quality material like this — which will never go out of style, as Erin Napier notes — requires the right level of investment in its installation and maintenance to ensure it'll stand the test of time.