Unsellable Houses' Leslie Davis Proves Ditching Brick Can Make All The Difference In Your Home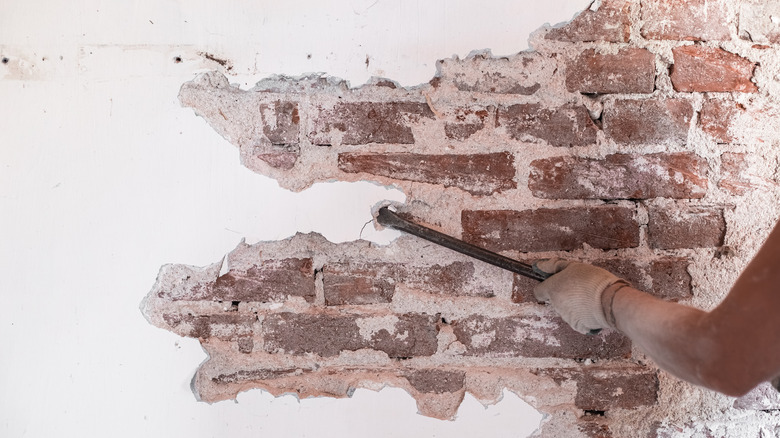 Natalia Kokhanova/Getty Images
Interior brick can give off a vintage, rustic, or industrial vibe in a home. But that's not everyone's cup of tea. In fact, it can come across as harsh and quite outdated-looking. That's why Leslie Davis, who co-hosts HGTV's "Unsellable Houses," says ditching brick can make all the difference in your home.
"Swapping the original brick pony wall in the living room with this white Concerto tile from Arizona Tile was definitely the right choice," she wrote in an Instagram post. Exposed brick has the tendency to make a house not feel like home, since it can be associated with commercial or industrial buildings.
Getting rid of it can make your home feel a lot cozier and more inviting. It's much harder to clean and can even become a health hazard over time. Brick walls can also force you to match all of your decor and furniture color schemes around them, which can be difficult.
Why you should ditch that interior brick wall
Leslie Davis covered over the brick wall she was working on with white tile to create a uniform look with a neutral palette that made the room look crisp and clean. Covering up that brick will also allow you to decorate, however you want without having to worry about matching with the brick. 
The difference between keeping your brick wall and losing your brick wall can mean hours spent cleaning. Brick can crumble, as well as shed dust that can be harmful when breathed in. Painting over your interior brick won't prevent that; it must be properly sealed.
And since bricks are porous, they can suck up moisture in your home. If your bricks become too moist over time it can create a mold problem, which is another health hazard. Brick walls often aren't the prettiest to look at and require a lot of maintenance. They tend to be more of a hassle than other materials. So, do yourself a favor and take a tip from Davis: tear down that pony brick wall. It's a fix that will pay for itself when it comes time to sell your home.