HGTV's Kim Wolfe Shares A Creative Way To Get Extra Airflow In Your Home Space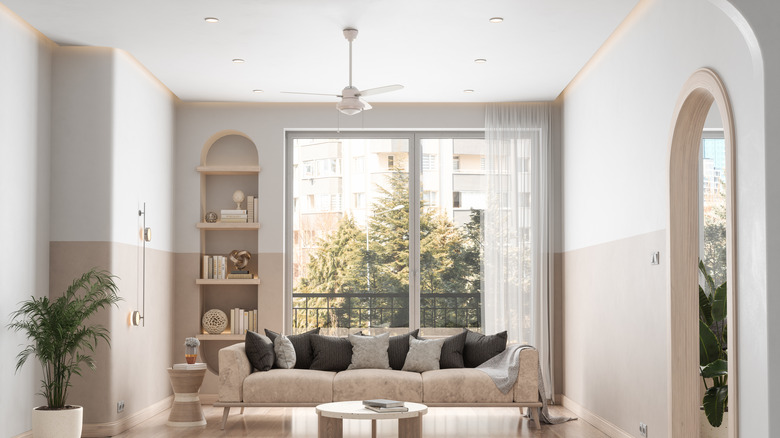 Onurdongel/Getty Images
Nothing is more miserable than feeling too hot to do anything. Sometimes, fans just don't work the way you want them to, leading to fatigue, frustration, and just generally feeling sweaty and uncomfortable. Rather than suffering through another heatwave, take Kim Wolfe's advice. The HGTV regular has a solution for those unbearably hot days, and it involves swapping out a regular ceiling fan for an oversized, industrial one.
In a video posted on Wolfe's Instagram, captioned, "Don't know how they do it in other places, but in Texas, you base your office search on finding a space that'll fit your favorite fan." The clip shows off her converted garage office that features a huge industrial ceiling fan. Not only are they better at circulating air, but industrial fans can also feature a chic look, meaning you're getting both style and function in one. However, unlike those approved for households, industrial fans do come with their own set of rules and regulations that we've laid out below.
Never feel overly hot and stuffy again
Safety codes dictate you can't put an industrial fan closer than ten feet to the floor, meaning you cannot install one in a room with ceilings lower than at least eleven feet. However, this can make them an ideal choice for an outdoor office, garage, or hallway. Additionally, industrial fans can be more dangerous because of the higher spinning speeds. Putting the fan high up enough should stop this danger, but always be aware of pets or children that may playfully try to get at the fan, as it could end in disaster.
They also tend to be on the noisier side, which isn't great if you work from home or are trying to watch a movie. As for how they work, industrial fans are designed to spin faster, thus circulating more air than a household fan, cooling down a room almost instantly. Because of this, if you have the space and live in a place with frequently hot, humid weather, it's well worth looking into purchasing an industrial fan for yourself.