What HGTV's Jasmine Roth Wants You To Remember When Designing A White Kitchen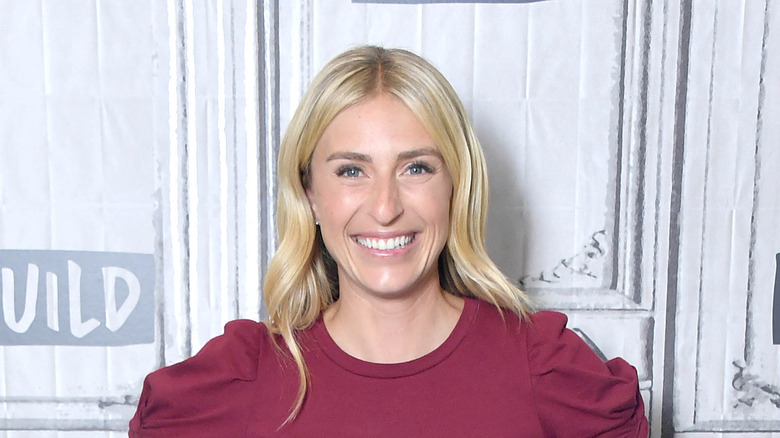 Michael Loccisano/Getty Images
Homebuilder and designer Jasmine Roth built a solid reputation transforming commonplace houses into extraordinary homes on HGTV's "Hidden Potential." Now she assists homeowners who bit off more than they could chew doing renovations to get back on track in her latest show "Help! I Wrecked My House." She's formed a few opinions after completing so many successful projects, including a few things to keep in mind when creating the stylish white kitchen of your dreams.
So, what's the most important thing Roth wants homeowners to keep in mind when contemplating a kitchen remodel? "I would say getting too caught up on having a 'white kitchen' because their last kitchen was dark. You want your kitchen to be bright and airy, I get it, but you still want to have a little something going on..." she shares on her blog. 
One of her suggestions includes adding texture with elements like reclaimed wood shelving. Color can also be introduced by painting an island an enticing hue. Even when light-colored cabinetry is a must-have, Roth reminds remodelers that adding color and texture is easy by choosing countertops in a color other than white. Another spot you can consider mixing it up is using backsplash in stone or quartz with graining, or a multitude of tile options.
Other ways to add texture and color to a white kitchen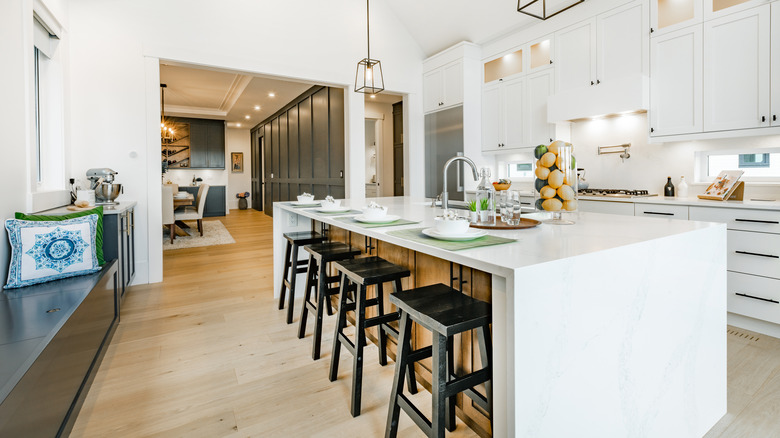 Sheila Say/Shutterstock
If you get a bit carried away with a white kitchen remodel and need to add some color and texture after the project is complete, all is not lost. The accessories and furnishings you select can make a big difference in the look of your bright new kitchen. For instance, a patterned runner or area rug can add both color and texture. The island seating can also provide contrast whether you choose natural or painted wood or leather stools or chairs. Small plants in pretty pots or fruit in a bowl can also add brightness to a counter or island.
Selecting eye-catching light fixtures can also add a bolder statement to a kitchen makeover. Look for black metal or wooden options to ground an airy space. The same can be true for faucets and cabinet hardware. These are simple additions that, when darkly-hued, break up an all-white room. Though minor, they can add the visual interest needed to avoid an overly sterile look.