We Used A Shower Curtain To Make An Outdoor Rug And Were Floored By The Result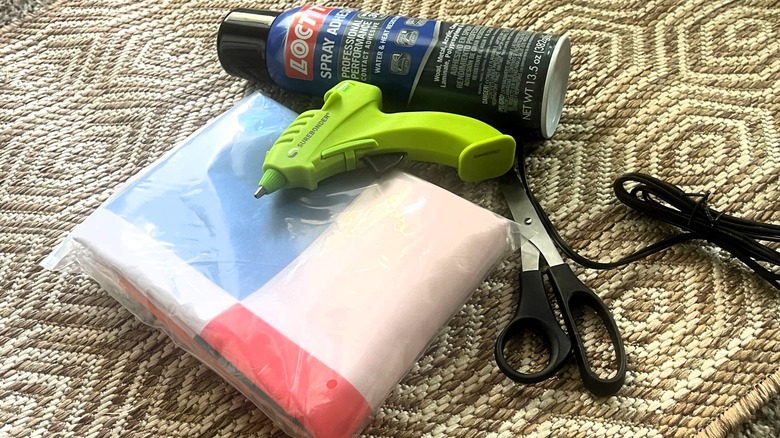 Erica Hawbaker/Static Media
We may receive a commission on purchases made from links.
Whether we are looking to bask in spring's grassy smell or fall's crisp air, everyone needs the perfect outdoor space to retreat to. However, casual living items are often impersonal and rather boring, and even the simple addition of an outdoor rug can be rather run-of-the-mill. When shopping around, you'll notice that design choices for small rugs are pretty limited. It can be a genuine struggle to find an outdoor rug that matches your taste. But what would you say if I told you there was a way to have that fun style in your outdoor environment? With this shower curtain hack, you'll be able to create your dream rug at home for your porch or patio.
While outdoor rugs may often lack variety in color and design, shower curtains certainly don't. Shower curtains also hold the water-proof and weather-resistant elements that make outdoor rugs so expensive. With just some glue, scissors, any outdoor rug, and a shower curtain of your choosing, you have all the means for a customizable DIY alternative. If you are suspicious about whether this is actually worth the extra time and effort, we tested it out for ourselves and were more than satisfied with the results. In a project that took us less than an hour and only needed a handful of supplies, here is how we created an outdoor rug with a shower curtain to save money and deliver a desirable design.
Gathering supplies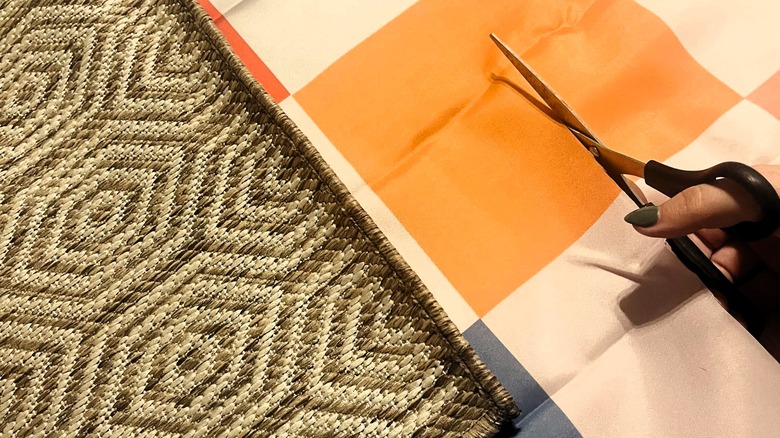 Erica Hawbaker/Static Media
One of the reasons this DIY is so affordable and accessible is that the list of supplies needed is relatively short, and you likely already have some of it lying around at home. You'll need to gather a few essential items, such as scissors, a hot glue gun, spray adhesive, an outdoor rug, and a shower curtain of your choosing. We chose a smaller 2-by-3-foot rug and a colorful retro checkered shower curtain. You can certainly make a larger rug; just be sure to double-check the measurements of your shower curtain, as it should at least be slightly bigger than the rug's dimensions. Spray adhesives vary in brand and pricing, but we used Loctie's water and heat-resistant spray adhesive.
We chose a 2-by-3-foot rug from Walmart, Loctite spray adhesive, and a funky, vibrant shower curtain from Amazon. We already had a hot glue gun and scissors at our disposal. Everything we needed for this fun and functional DIY was absolutely accessible. As preparing to craft this rug, we suggest you search for a place to complete the project, either outside or at an indoor location that can easily be cleaned. The DIY isn't necessarily messy, but the spray adhesive may stray from the targeted areas, and the last thing you want is sticky carpet or hardwood floors. 
Creating your outdoor rug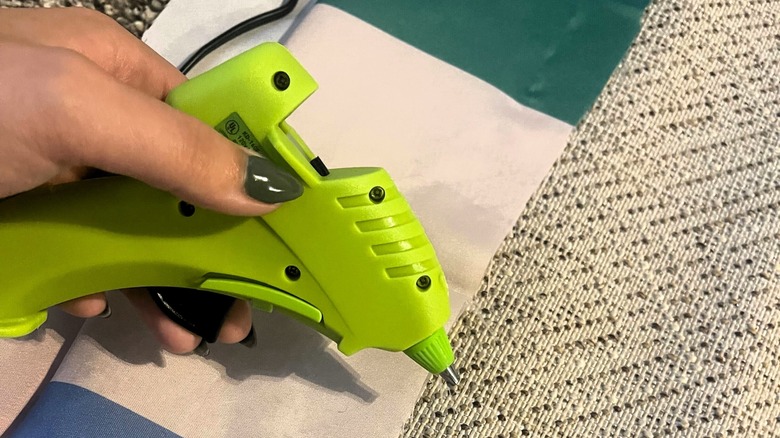 Erica Hawbaker/Static Media
The first step in making the outdoor rug is trimming the shower curtain to size by placing the rug on top and cutting it around the border. We made sure that there was about a few inches of extra space along each side. While keeping the lines clean is beneficial, there is no need to fret about them being perfect. By the end of the project, the cut edges won't be visible. Depending on how transparent the curtain is (like the one we chose), two layers may be necessary so that none of the rug's original color and pattern seeps through. Next, we followed the directions on the adhesive's can and sprayed a coating on the front of the rug. 
We gently place the shower curtain on top, smoothing out any wrinkles and bubbles until it's sealed down. Because we used more than one layer, we sprayed another round of adhesive coating and placed the second sheet on top of the first. As we secured our shower curtain pieces, we noticed that the spray adhesive was quite strong. It wasn't easy to adjust what had already been stuck together, so we recommend being precise and taking time to position the curtain how it should look the first time. When those layers are secured and looking as desired, we flipped the mat over to begin folding and tucking away the edges, securing them with your hot glue gun. Once all the edges had been folded back and glued down, we were finished with our fun and quirky outdoor rug. 
Is it worth the hassle?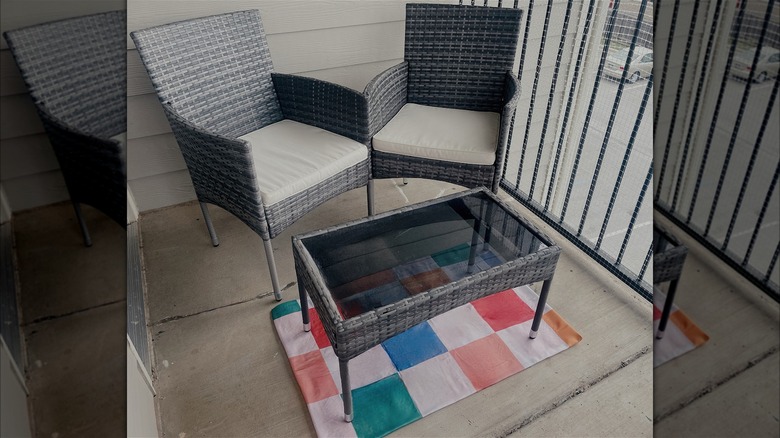 Erica Hawbaker/Static Media
There are many factors to consider when gauging whether or not a DIY approach is worth the effort, including the time it takes, the accessibility of items, and whether we were truly happy with the results. We were able to complete this project in under an hour, but this may vary depending on your own attention to detail, and the size of the rug you've chosen. All of the items were easily found at chain and online retailers, making them super accessible for anyone to try. 
Overall, we feel very pleased with the outcome. Finding an outdoor rug that meets one's design preferences is challenging. When searching to buy a colorful, checkered outdoor rug to add a fun aesthetic note to our porch, we faced an uphill climb. If we decide to change our rug in the future, the versatile selection of shower curtains and the small amount of time it took to complete this DIY project will make it that much easier. We definitely suggest this DIY for anyone struggling to find the perfect and affordable outdoor rug for their space.