HGTV's Christina Hall Shares How To Create The Perfect Balance Between Open Concept & Privacy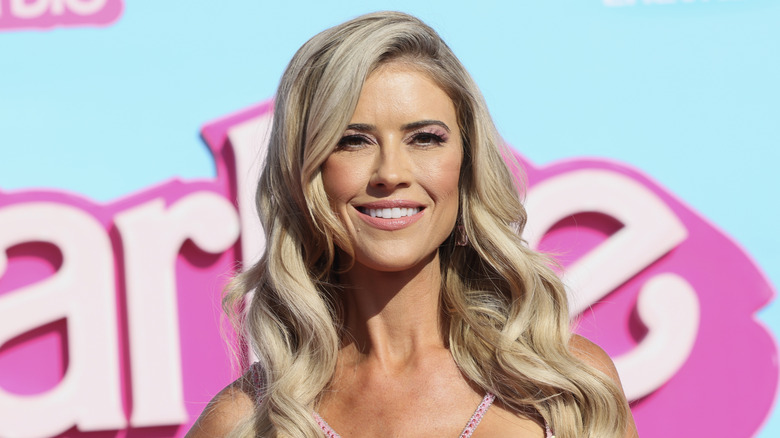 Rodin Eckenroth/Getty Images
If you're wondering where the verdict stands on open-concept floor plans — especially in the kitchen – 51.2% of homeowners find them desirable. You'll notice that in newer home builds, the kitchen almost always emphasizes an open floor plan, and it's a design gaining popularity in renovations. But, if you fall in the 48.8% of homeowners who still value their cooking and dining privacy, HGTV's Christina Hall found the perfect balance: cutting an opening in a non-load-bearing wall.
In a kitchen Hall recently renovated for a client, the star designer transformed the wall separating the kitchen and dining room. While it originally held the range and some counter space, the wall turned into sleek storage with an aquarium in the middle. By having the fish tank in the center portion of the wall, she created an open feeling by allowing views into both rooms while still ensuring privacy with the black built-in storage cabinets.
Open your kitchen wall
Wondering how to add a fish tank to your kitchen? First, you need to figure out if your wall is load-bearing or not. These walls are crucial to support your home's architecture, so this project is best on non-load-bearing walls to avoid jeopardizing the supported weight of your home. It's easy to identify load-bearing walls by finding the joists, which are typically in a basement or garage, and determine if the wall you want to cut through is perpendicular or parallel to them. Perpendicular walls are typically load-bearing, while walls that are parallel are not.
If your wall is load-bearing, you can still cut into it. However, you'll need to consult with a professional who has experience cutting through supportive walls like this. Additionally, installing a fish tank itself is a task most homeowners feel skeptical about doing themselves, so it's best to talk with an experienced carpenter or handyperson beforehand. You also have the choice to not use a fish tank at all and create an opening between your kitchen and other rooms. Having a cut-out in the center of your wall, without a fish tank, allows for sight into each room. This allows for a free-flowing feeling that open floor plans create and the privacy from the rest of the wall.