The Simple Way To De-Petal A Rose For Stunning Floral Decor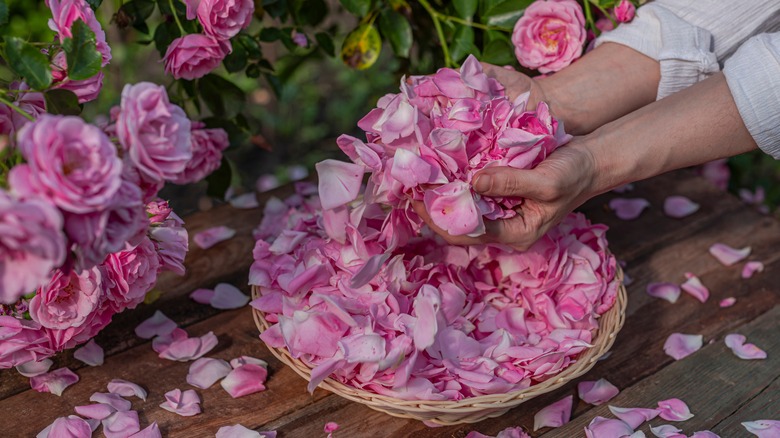 TSViPhoto/Shutterstock
Rose petals, whether dried or fresh, are a beautiful and fragrant element with a variety of uses, ranging from purely decorative to creating luxurious spa-like baths and edibles. Roses, however, can also be sensitive flowers, prone to bruising and damage that make them difficult to harvest from the stem. While some uses rely less on the aesthetics of perfectly formed petals, others might suffer from misshapen, crushed, and discolored blooms. A perfect way to keep your rose petals looking fresh for plucking is to take extra care when removing them from the stem, twisting the whole of the flower rather than plucking petals individually. 
Perfectly colored and shaped petals can be sprinkled in a rose-scented bath, creating a romantic trail through the house, Valentine's table decor, or tossing in handfuls at the bride and groom after a wedding. They are a great addition to bowls of potpourri, sachets, teas, handmade soaps, and candles. You can also press them or make exquisite handmade paper with rose petals for writing love letters.  
How to harvest perfect petals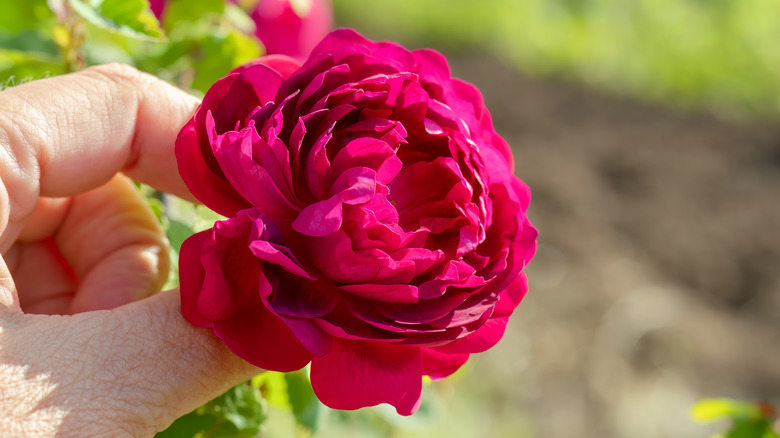 Lassi Meony/Getty Images
To remove rose petals from the stem without damage, carefully hold the stem with the flower pointed away from you. Slowly turn the head of the rose away from you and twist, letting the petals fall without pressing them too hard. This will allow you to quickly separate all of the petals — known as the corolla — from the top of the flower with little trauma to the petals themselves. Place the petals in a single layer on a paper towel or screen to keep them from decaying from contact with each other. 
For petals with the strongest scent, try to harvest the corolla before they begin to fall from the rose, as this is when the flower is at its most redolent. Full petals retain their scent longer than ground, so store them whole and crush them just before use.  If you are drying the rose petals, there are a number of fast ways, including using a food dehydrator or the microwave. For storage, use an airtight container like a mason jar to keep dried petals.