Use IKEA's Hanging Plant Hack To Decorate Your Boring Walls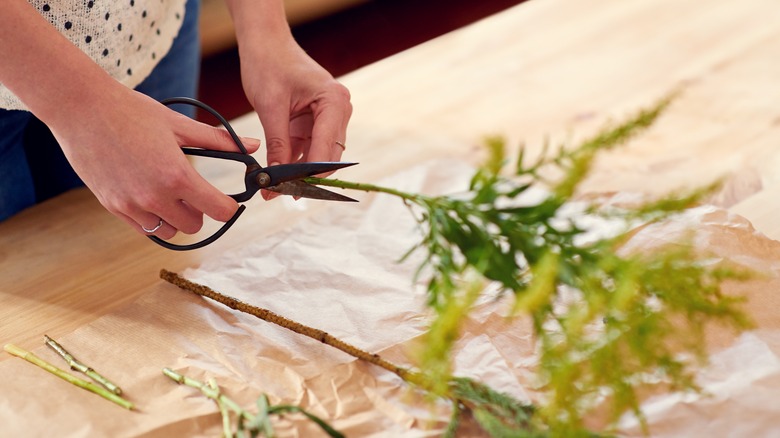 PeopleImages.com - Yuri A/Shutterstock
The search for stylish and dynamic wall decor, especially for large expanses of blank wall, can be both time-consuming and expensive. While the options include the usual suspects like traditional framed art, sconces, shelves, and other wall-mount items, there are also more creative options for filling space and creating cool and custom DIY decor. TikTok user @lizfenwickdiy recently showed off a great hack using IKEA seagrass baskets for holding faux plants and greenery that creates a beautiful botanically-inspired wall.
The inexpensive FRYKEN baskets from IKEA provide a deep recess for a variety of greenery, including small succulents and larger groupings. The 3D impact of the baskets mounted on the wall takes up more space and adds more dimension than traditional 2D decor. You can even outfit the baskets to hold real live plants with a few modifications (which we'll detail below). Sold in groups of three, they are great alone or mixed with more baskets or other items, particularly in boho style, farmhouse, and cottagecore rooms. They are also great as a greener, more lively alternative to a regular basket wall. 
Creating the IKEA hanging plant hack
You will need at least one set of FRYKEN baskets and faux plants or assorted greenery. Attach your baskets to the wall directly using command strips adhered to the bottom, or by feeding jewelry wire through the basket to create a loop that can be attached to a nail. Once the baskets are hung on the wall, begin adding your faux plants and greenery to create the desired fullness and look you want. If there is higher traffic near the wall and you are worried they will be jostled, you can also use small dabs of hot glue to hold the greenery in place or to secure the wire more fully to the baskets. 
To accommodate real plants in this hack, grab some waterproof pond liner or landscape fabric and use it to line the inside of the baskets. Now, you can add dirt or pebbles along with your plants, and the materials will prevent leaking during watering. Air plants are another great option for living greenery that's a little less messy.