The Unique Wall Plaster HGTV's Joanna Gaines Absolutely Adores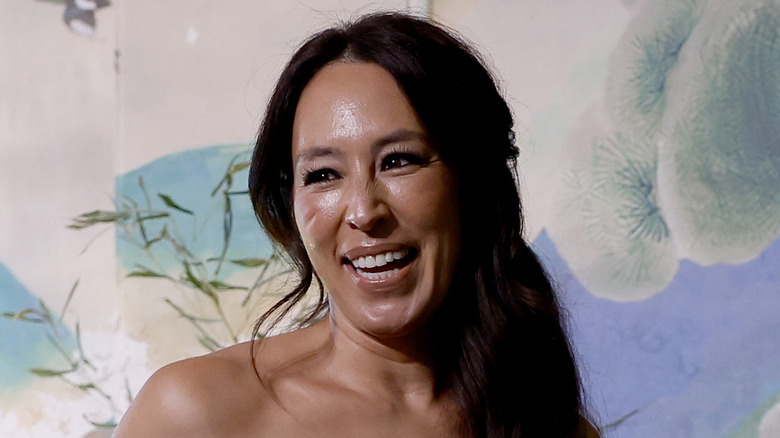 Anna Moneymaker/Getty Images
Joanna Gaines has shown us her flair for modern farmhouse design through HGTV's groundbreaking show "Fixer Upper." An avid Instagram poster, the designer shared a glimpse of some shiny, reflective walls that she absolutely adores. Noted as high gloss Venetian plaster, the lustrous surface appears like black marble amidst a quaint corridor within Gaines' forthcoming renovation of the historic Hotel 1928 in Waco, Texas. The sneak peek mentions the distinctive wall plaster as one of the Magnolia mogul's favorite parts of the 20th-century-inspired boutique hotel. Gaines is seen walking alongside the luxurious walls while her fingers glide down the length of the ultra-reflective surface, then stopping to smile and hug it.
What makes Venetian plaster so special? Made from lime slake, marble dust, and other natural minerals, the ancient Italian finish features a brilliant shine when burnished onto walls, ceilings, and other areas. When mixed with water, the workable putty (or plaster) can be applied to a variety of surfaces, including drywall, wood, and brick, which transforms into shimmery limestone after it's polished and dried. Venetian plaster may contain various levels of marble powder to achieve immaculate shine. While the exact type of plaster Joanna Gaines used on Hotel 1928's interior walls is uncertain, marmorino is known to produce the greatest glistening effects with an authentic marble appearance. With the right tools and materials, you can achieve a similar look to Gaines' glossy Venetian plaster walls that may have you hugging them, too.
Applying high gloss Venetian plaster is a multi-layer process
While reviving downtown Waco's former Grand Karem Shrine Building, Joanna Gaines couldn't go without showcasing luscious Venetian plaster walls. Gaines may love the lavish look because of its ability to brighten and make a room feel more grand. Highly durable and water-resistant, Venetian plaster may hold up well on both interior or exterior spaces within your own home. A highly reflective sheen would accentuate an isolated wall, including a kitchen backsplash or fireplace. You could also enlighten the walls of your everyday living spaces, including the bedroom, bathroom, den, or foyer. Wherever you decide, classic Venetian plaster is more accessible than before.
Applying high gloss Venetian plaster is a fairly simple process, although it requires dedication through a multi-layering process. Prep and smooth the surface with a sander, then brush or roll on one to two coats of quartz primer. Apply even layers of your plaster in gentle back-and-forth movements using a trowel or mud knife. Let it dry for a day, then apply a second coat using a variety of textured strokes while filling in any cracks. After completely dried, burnish (or polish) the plaster with your trowel while pressing firmly in repetitive movements throughout the wall. While plaster provides insulation, you could apply more layers as needed, including a top coat for additional wearability. A brilliant and elegant result, you can admire high gloss Venetian plaster walls just like Joanna Gaines.